Maryland Football: Michigan loss can't linger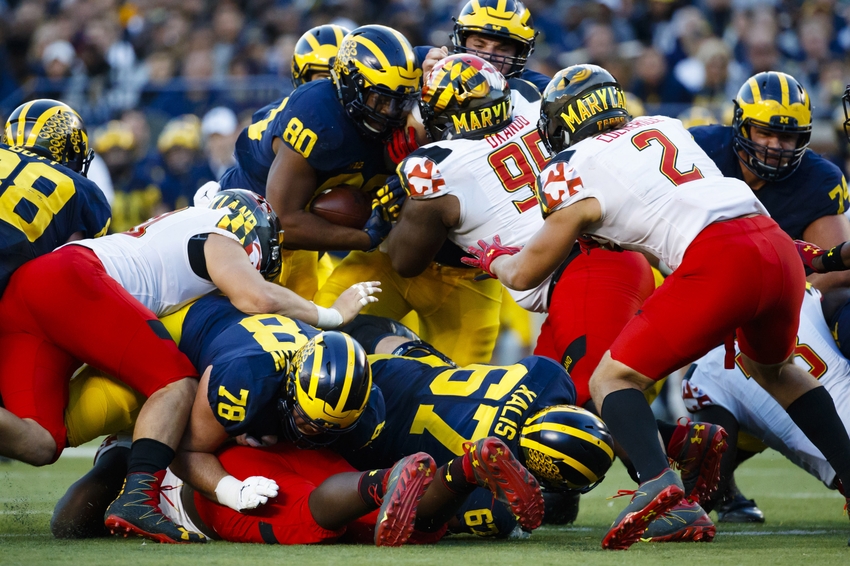 The Maryland football suffered one of its worst losses in recent history this past Saturday against Michigan.
As deflating as that result was, the Terrapins can't afford to let it carry over to this Saturday's matchup with Ohio State.
Maryland surrendered 660 yards of total offense to Michigan, including 387 through the air. It also didn't hurt that the Wolverines scored touchdowns on their first five possessions.
"Last week it was pretty apparent that we did not play our best football," offensive coordinator Walt Bell said. "When you see a score like that, you know we didn't do our job offensively."
The Terps only scored three points and those came in the fourth quarter when the game was well out of hand. Maryland did manage the move the football throughout the game, but came away with zero points on drives when they were in the red zone.
One of the positives that Maryland can take away is that the screen game worked wonders.
Levern Jacobs and D.J. Moore both had gains of 19 yards or more on screen passes. With a pass rush like Michigan and Ohio State possess, utilizing the screen game is one of the most effective tools that a team can use.
"Ohio State defensively is very similar to Michigan statistically," Bell added. "Obviously, they're a great football team and have a lot of great athletes. They're still rugged even though they're really young. Up front, they've got waves of guys that roll in there. They have eight or nine guys on the interior on their defensive line that all play. They play really well."
When Maryland made the move to the Big Ten, it was widely expected that the competition would be a lot stiffer than it was in the ACC. The Terps are 0-2 so far against the Buckeyes and have been outscored 101-52 in those two meetings.
Maryland did turn in an admirable effort last year despite Randy Edsall being on his way out the door. Perry Hills rushed for 170 yards and a pair of touchdowns and even led by a touchdown in addition to tying the game in the second half.
"I'm not worried about Ohio State, Rutgers or Nebraska," Bell said. "I'm worried about us being the best us we can be. Last week, more than anything else, there's good to build on there and hopefully the things we struggled on we can correct and fix."
Maryland football may have turned in a brutal performance against Michigan, but it's about putting it behind them. The Terps are in one of the toughest conferences in the country.
"We play good people in this league every week, and Michigan and Ohio State are in the upper tier of the league right now in terms of how they recruited," Bell proclaimed. "I'm not saying they're not as skilled as two groups we'll play back to back, but the speed of the game, especially for your more mature kids, is what it is. For us, we're still in a building mode where we don't care who we play because the end goal is to be the best us that we can be."
More from Terrapin Station
This article originally appeared on