Maryland Football: Ground game leads offensive attack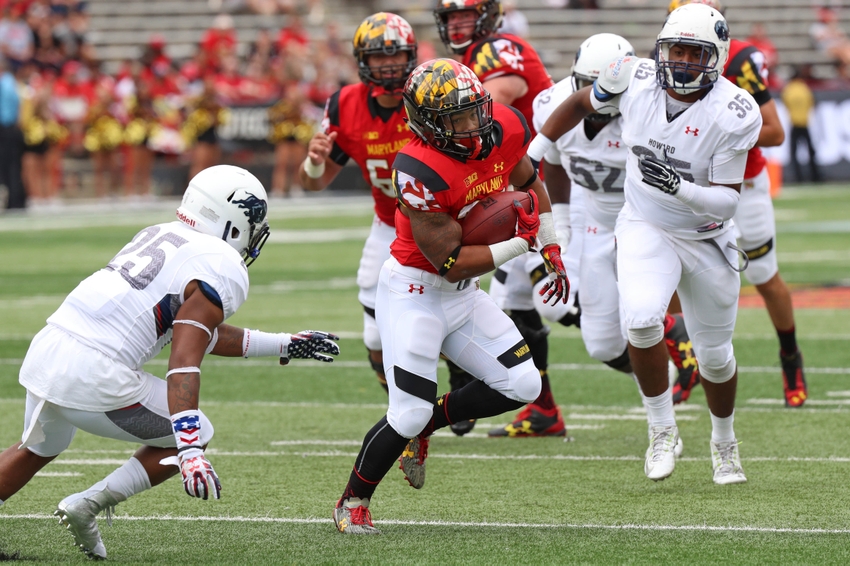 The Maryland football team didn't miss a beat in their 52-13 win over Howard on Saturday afternoon.
In the convincing win, the ground game proved to be a huge focal points of the Terrapins offensive attack.
The running game is one of the largest components of Walt Bell's offenses. On Saturday, Maryland totaled 315 rushing yards and six touchdowns on 44 carries.
No Terp tailback registered more than nine carries on the afternoon.
Freshman Lorenzo Harrison led the way with nine carries for 67 yards and a touchdown. Harrison averaged 7.4 yards-per-carry while displaying a variety of positive attributes against the Bison.
Harrison is an extremely shifty back that uses his speed to get to the next level. He also possesses superb field vision and made the right cuts on several occasions against Howard.
He may not be the biggest back in the world, but Harrison can flat out make defender look silly in the open field.
Maryland ran a large majority of their running plays out of a shotgun formation. Depending on which tailback was being utilized, they ran anything from jet sweeps to draws throughout the game.
One of the other positives was that the Terps were able to mix in fullback Kenneth Goins on the ground. Goins even scored Maryland's first touchdown and his token touchdown in the season opener.
Similar to Goins' running style, Trey Edmunds also had a superb showing on Saturday. Edmunds is the more physical of the Maryland running backs.
He thrives off contact, but also has a significant burst that can get him to the next level. In fact, he broke off a 29-yard run on Maryland's first drive and added a touchdown on the second.
Bell's offense is about as up-tempo as it gets. One of the surprising statistics from Saturday's game was that quarterback Perry Hills only carried the ball one time.
Maryland relied on their talented stable of running backs instead of leaving their signal caller vulnerable to injury. After all, the Terps wanted Hills to slide more last season.
While it's only one game, it appears that Maryland is going to run the ball a ton this season. If they continue to have even close to the amount of success they had against Howard, this could be a team that is playing in a meaningful bowl.
More from Terrapin Station
This article originally appeared on