Maryland Football: Buckeyes Shell Shock Terrapins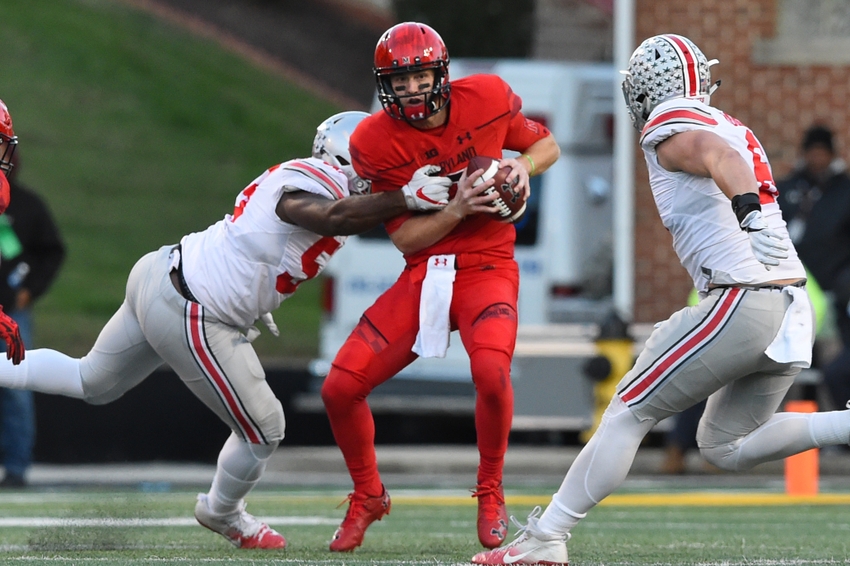 Well, not much was expected of the Maryland football team against No. 5 Ohio State, and not much is what everyone got.
Before the game even started, the Terrapins announced that freshmen running back Lorenzo Harrison, wideout D.J. Turner, and linebacker Antoine Brooks had all been suspended indefinitely for a violation of the Student Code of Conduct.
It really wouldn't have made much of a different as Maryland was defeated by Ohio State 62-3 on Saturday.
Maryland won the toss, deferred to the second half, and kicked off to Ohio State. On the second play of the game, quarterback J.T. Barrett threw a pass that cornerback J.C. Jackson jumped on, intercepted, and ran back for a touchdown.
The game would go down hill from that moment, as Jackson's play was called back for pass interference. He bumped the receiver from behind as he caught the ball then Barrett would lead his team down for their first of many touchdowns.
By the end of the first quarter, the Terrapins found themselves down 21-3 with Caleb Rowe in at quarterback for Perry Hills. Hills started the game, but was pulled after hurting his shoulder on his second three-and-out.
Ohio State had 168 yards on 18 plays in the first quarter, which abolished any hope that D.J. Durkin's squad may have had. It was balanced attack that included 85 passing yards from Barrett and 83 rushing yards from Curtis Samuel, Mike Weber, and Barrett himself.
Maryland just did not have an answer for anything Ohio State tried. The Terps allowed 580 yards and only gained 176, which is never good.
There were a few positives that the Terps provided.
After Hills went out, Rowe came in and there was a noticeable change of pace. Rowe was able to complete passes and drove Maryland 76 yards in 13 plays for their only score of the game on an Adam Greene 23-yard field goal.
Also, with the game getting away, a few more players got some playing time. Jake Funk, especially, got a bulk of carries in the second half. With Lorenzo Harrison suspended, he may see a very increased role to close out the 2016 campaign.
Durkin and this team have two games remaining to get win number six and become bowl eligible. On the road against Nebraska looks bleak at this point,  but Maryland must be all in against Rutgers at home on Thanksgiving weekend.
More from Terrapin Station
This article originally appeared on