Maryland Football: Bigger impact in potential Rutgers win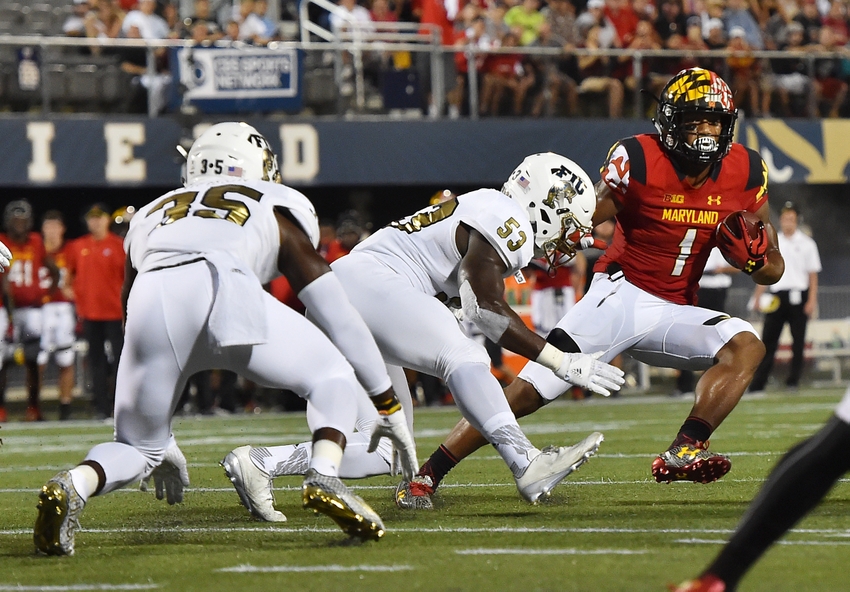 The Maryland football team has had their fair share of struggles over the last month.
Despite four consecutive losses, the Terrapins have a chance to end the regular season on a high note this Saturday.
On Saturday, Maryland will face a program that has been struggling more than just about anyone in the nation. Rutgers hasn't won since Sept. 17 when they beat New Mexico by a 37-28 decision.
On the contrary, Maryland hasn't tasted victory since an Oct. 22 triumph against Michigan State in College Park.
Obviously, a win for the Terps could be a great confidence booster to end the season. A victory would certainly be positive, but a win over the Scarlet Knights isn't exactly going to have screaming fans parading down Route 1.
It's so much more than just a simple win against a Big Ten foe.
If you look at the big picture, it's pretty clear why a win over Rutgers could be a big deal.
First of all, Randy Edsall didn't exactly leave the best product for D.J. Durkin to work with. Maryland's struggles led to the program ultimately losing key recruits like Dwayne Haskins and Keandre Jones from the 2016 class.
Durkin has forced to scramble to put together a solid class and weeding out the Edsall commitments that he didn't think fit the program. He did manage to put together a solid recruiting class given the limited time that he had to work with.
With that being said, Maryland came into the 2016 season with not a whole lot being expected of them. In 2015, the Terps only won three wins and just one of those wins came during Big Ten play.
That victory came against Rutgers on the road in the regular season finale under interim coach Mike Locksley.
In just one calendar year, Durkin has a chance to double Maryland's win total with a large amount of the same talent. If the Terps can beat Rutgers, it'll get the program to six wins and most likely lead to them playing in a bowl game this holiday season.
If Maryland does beat Rutgers on Saturday, it's a sign of good faith to some of the more highly-rated recruits. Currently, the Terps have a very strong class that is ranked among the top 25 in the nation, according to 247Sports.
Four-star cornerback commit Deon Jones eased some Maryland fans' worries as he tweeted that he's fully committed to the program.
I Do Not Care About The Situation We Are In, I AM 100% COMMITTED TO THE UNIVERSITY OF MARYLAND !

— Deon Jones (@DreamChasin_2) November 23, 2016
There's been rumblings about prized five-star pledge Joshua Kaindoh reopening his commitment and potentially heading to Penn State. A win against Rutgers certainly wouldn't hurt in the eyes of a recruit like that.
While it will be great if Maryland can beat Rutgers on Saturday, it's more about the big picture for the program going forward.
Getting that sixth win and having the program trend upward in just a year's time is remarkable. The 2015 season was an extremely gloomy one and fans certainly can expect bigger and better things going forward from the Terps.
More from Terrapin Station
This article originally appeared on