Maryland Basketball: Terps host Towson in local affair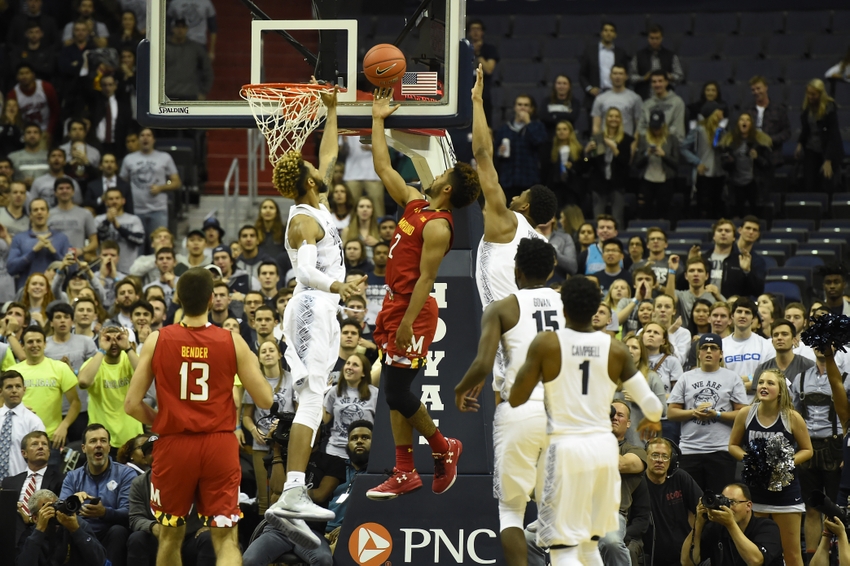 The Maryland basketball team is off to a 3-0 start this season.
With a win over Georgetown earlier in the week, the Terrapins will host another local program in Towson on Sunday afternoon.
Maryland is coming off a week in which they had a thrilling comeback win over Georgetown and a blowout victory against St. Mary's College (Md.). In just three games, we've seen both ends of the spectrum from this group of Terps.
Guard Melo Trimble is off to a phenomenal start this season. Through three games, Trimble is averaging 17.0 points and 2.0 assists.
Trimble scored 22 points against both American and Georgetown and really helped lead the comeback against the Hoyas. The star junior sunk the two free throws that resulted in the 76-75 win.
Maryland is also getting superb contributions from freshman guard Anthony Cowan.
Cowan is averaging 10.3 points and a team-high 6.3 rebounds per contest. The former St. John's College (D.C.) standout has really had a knack for swiping the basketball (2.7 steals-per-game).
Keys to the game
1.) Continue to excel on the glass – Maryland has been rebounding the basketball surprisingly well through the first three games. The Terps are currently sixth in the rebounding department and forward Justin Jackson ranks in the top 10 in the Big Ten in both offensive and defensive rebounds. Ivan Bender and Damonte Dodd continue to get better and will be huge forces on Maryland's front line.
2.) Damonte Dodd's progression – Dodd certainly had a season debut to forget as he only scored three points and didn't grab a single rebounds in limited minutes. However, the Eastern Shore native has played well the past two games, including a four-block performance against the Hoyas. Dodd may not be expected to help carry the load offensively, but will be needed to rebound and alter shots. He's going to need to continue to do that.
3.) Take care of the basketball – Over the first three games, the Terps are averaging 15 turnovers-per-game. Both Cowan and Trimble are giving up the ball 2.7 times per contest, which certainly isn't ideal. You can't have both of your starting guards coughing up the basketball that frequently. That'll be something to keep an eye in this game and going forward.
Players to watch
Mike Morsell (Guard) – Morsell is the do-it-all guard for the Tigers, similar to what Trimble is for the Terps. While he's only shooting 22.2 percent from beyond the arc, he's a very talented shooter from the perimeter. Morsell also has the ability to drive to the basket, which is something that Maryland will need to keep an eye on.
Arnaud William Adala Moto (Forward) – Adala Moto, who played for Wake Forest for two seasons, is a very talented forward that has a knack for finishing around the rim. He's averaging 20.5 points and 9.5 rebounds over Towson's first two games. He's not afraid to bang down low, but Adala Moto can also shoot from beyond the arc. He's shooting 44.4 percent from three so far this season.
Prediction
Towson is definitely more of a challenge than St. Mary's College was. The Tigers should be more on par with the challenge of American as they're consistently a solid team in the CAA.
It was evident that Maryland was a very young team against American, but they're plenty more experienced after a hard-fought win against Georgetown. Maryland should be able to handle Towson. I'll say the Maryland basketball team wins 74-60.
More from Terrapin Station
This article originally appeared on