Maryland Basketball: Terps host Pittsburgh in ACC/Big Ten Challenge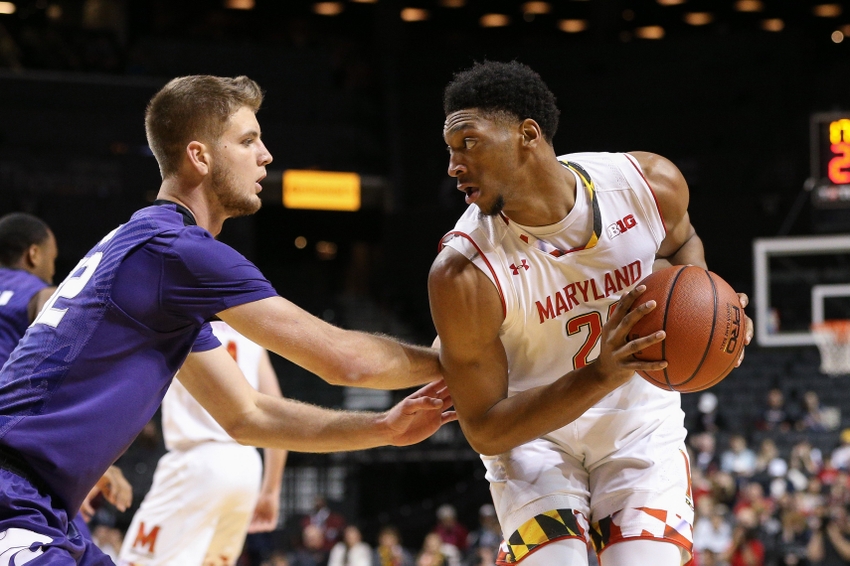 The Maryland basketball team is certainly getting used to be on the Big Ten side in the ACC/Big Ten Challenge.
In their third season as a member of the Big Ten, the Terrapins will face Pittsburgh for the first time since exiting the conference.
Maryland is fresh off of winning the Barclays Center Classic this past weekend. The Terps defeated Richmond on Friday and Kansas State on Saturday to win the tournament.
Both games were decided in overtime or the final seconds of regulation.
Melo Trimble continued his stellar play as he averaged 24.5 points during those two games. For his efforts, the junior guard was named the tournament MVP.
In the Kansas State game, Trimble was able to convert a tough layup with 6.6 seconds left in regulation to give Maryland a 69-68 victory. It also didn't hurt that he continues to get to the free throw line.
Michal Cekovsky also turned in another fine performance with 16 points and eight rebounds. Cekovsky is averaging 10.3 points and 5.3 rebounds since his return from injury last week.
The Terps certainly haven't been afraid to take games down to the wire, but a 7-0 start is never a bad thing with a young group like this.
Keys to the game
1.) Win the rebounding battle – This continues to be an issue for the Terps. While it was a close margin against Kansas State (34-33 in favor of the Wildcats), it's been an area that Maryland needs to improve in. Cekovsky's return couldn't have come at a better time and he's playing the best basketball of his collegiate career. Damonte Dodd is easing his way back from a concussion. Dodd's emergence could make this a very capable unit on the glass.
2.) Protect the paint – The Terps had one of their best games of the season on the defensive end. Maryland registered an impressive nine blocks with Dodd and Justin Jackson combining for seven of them. Jackson's length has been a big positive for the Terps and this game was a prime example. This is a group that can definitely defend even with their guards. Kevin Huerter is a very underrated defender as is Anthony Cowan. If they can limit Jamel Artis and Michael Young on the interior, it'll be a long way towards a win against the Panthers.
3.) Build a lead – It seems like Maryland almost prefers to have to come from behind in the final minute. However, eventually they're going to drop a contest against a high-profile opponent. Pittsburgh is a team that averages 81.3 points a night, so creating some separation early would be huge. This is a team that can score at a high rate and Maryland could have their hands full.
Players to watch
Michael Young (forward) – This guy is the total package. He's a slasher that can get to the rim at a moment's notice while also possessing the ability to beat you with his jump shot. Young is currently averaging 23.3 points and 8.2 rebounds for a talented Panthers team. It definitely wouldn't be a surprise to see Mark Turgeon have Jackson guarding Young throughout the game.
Jamel Artis (forward) – Artis is one of the better athletes that you'll find in the ACC. He scores at a very high rate and leads the team with 3.8 assists per contest. He's not the greatest shooter in the world, but he can attack the rim like there's no tomorrow. Combine that with Young and no wonder the Panthers average 81.3 points a night.
Prediction
Tight games and Maryland basketball certainly go hand-in-hand. While it would be nice to see the Terps pull away in a game, it doesn't look like this will be the one.
Pittsburgh is a very talented team that scores the ball at a very high clip. However, the Panthers also surrender the second-most points in the ACC. With the way Trimble is playing combined with the rest of the roster, Maryland definitely has talent to win. The Terps survive another close one 77-72.
More from Terrapin Station
This article originally appeared on