Mark Richt Says Players and Coaches Have Been Buying In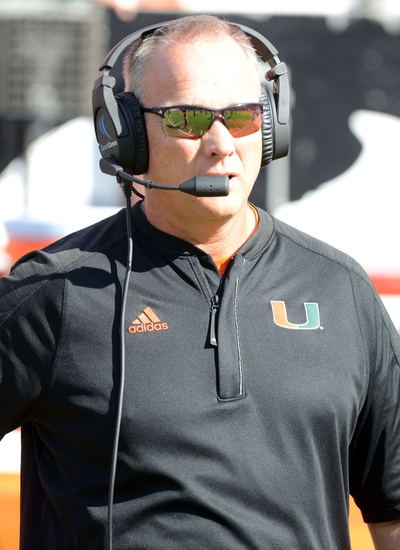 Appearing on the Joe Rose show on WQAM on Monday morning, Miami Hurricanes Head Coach Mark Richt said that the players and coaches are buying in.
The Miami Hurricanes have had an up and down season during Richt's first year at the U. They began the season with a four-game winning streak, lost four in a row and have a three-game winning streak heading into their last game of the regular season on Saturday.
Richt had a lot to say during his weekly segment. He spoke about Freshman Wide Receiver Ahmmon Richards' big season, the status of players that are and might be headed to the NFL, on Saturday's Senior Day and the status of the team.
CBSRadio did a good job of cataloging some of RIcht's thoughts.
Richards broke Michael Irvin's school record for receiving yards by a freshman in Saturday's Victory over NC State. He has 849 yards on 43 receptions with two touchdowns this season. He leads freshman receivers nationally in yards per catch, yards, and yards per game. He is 11th nationally in YPC.
When discussing Richards, Richt said, "He's a guy that isn't just happy to catch the ball he wants to get the yards after the catch and it's been big for us."
Stacy Coley, Corn Elder, and a few other Seniors will be heading to the NFL after the season. Quarterback Brad Kaaya and Tight End David Njoku will have to make decisions on whether to enter the NFL Draft or return for their senior seasons.
Richt discussed the draft process with Rose: "We will talk during the time between the end of the season and the bowl game.  I know enough people in the league and they will tell me what they see in these guys, our goal is to educate the guys with the best NFL information we can, that's the kind of thing we will be having here in the next few weeks."
Saturday's game with Duke is Senior Day. Many keys players, including Coley, Elder and Safeties Jamal Carter and Rayshawn Jenkins will be making their last appearances at Hard Rock Stadium as players. Richt discussed the meaning of Senior Day.
"I know the fans are going to honor our players, it's bigger than you think, when they play in that stadium for the last time in their career it's going to mean a lot to them."
Richt's final thought revolved around the progress that the team has made since he took over last season and the process of building a team and a program. He was happy with the direction of his staff and the players.
Mark Richt "From January to the season you have the chance to build a team, I think our players and coaches have been buying in.  These guys are young at 18-22 and you don't know how guys are going to react but when you treat them with love it reciprocates when times get tough."
Getting an extra three weeks to a month after the end of the regular season on Saturday is going to be vital practice time for the Hurricanes young roster. Eight Freshmen or sophomores are listed as starters on Miami's depth chart for Saturday's game against Duke. Six of them are on the defensive side of the ball.
This article originally appeared on