Mark Richt Owned Georgia Tech at Georgia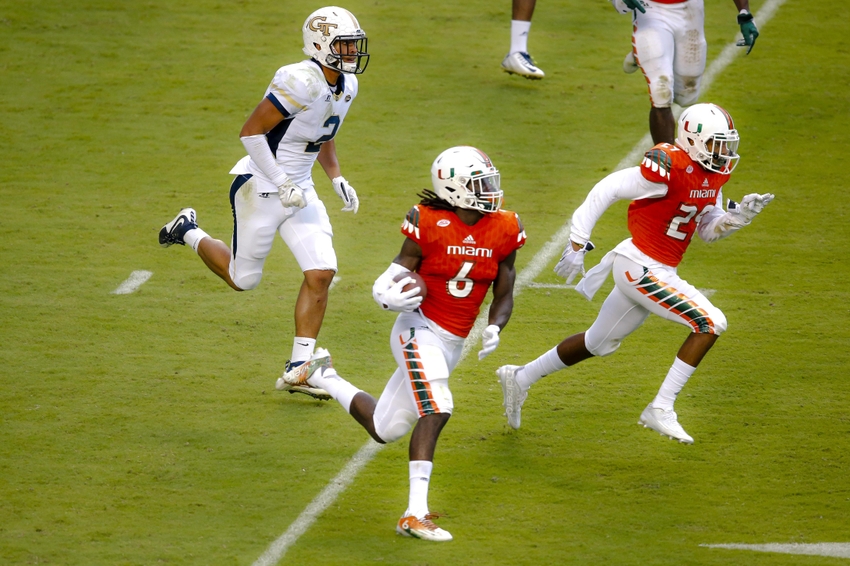 In his 15 seasons coaching at Georgia, Mark Richt owned a 13-2 record against the Yellow Jackets. Saturday the Miami Hurricanes travel to Bobby Dodd Stadium to play Georgia Tech. Richt's Georgia Teams were 8-0 at Dodd against GA Tech.
For the first time since his dismissal at Georgia at the end of last season, Richt returns to the state where he coached for 15 seasons. Richt was 148-51 in 199 games with the Bulldogs. He was let go by Georgia for his inability to have the Bulldogs to consistently challenging for a national championship.
Georgia won two SEC titles and played in three Sugar Bowls during his tenure. Richt was 1-3 against Alabama since Nick Saban took over in 2007. That includes a 32-28 loss in the 2012 SEC Championship game.
The Bulldogs went to five SEC Championship games total in Richt's tenure going 2-3. The Georgia Tech game was traditionally the last game of the regular season. Richt's success against Tech at Georgia provided the Bulldogs with a good springboard to the postseason.
Georgia had a 163 point advantage against Tech in Richt's 15 seasons. He is 6-2 against current Georgia Tech Head Coach Paul Johnson. Richt was plus 57 at Georgia against Johnson and the Yellow Jackets.
Could Miami-Florida State Be Headed to Prime Time?
Johnson coached at Navy before being hired at Georgia Tech. The Midshipmen were 45-29 under Johnson, 43-19 in his last five seasons. The Yellow Jackets missed their first postseason under Johnson and had only their second losing season during his tenure in Atlanta.
Johnson runs a triple option offense. Much like Nebraska and Oklahoma under Tom Osborne and Barry Switzer, the key is stopping the run. Georgia Tech has averaged 253.9 rushing yards per game under Johnson against Richt. They had 409 yards last season and 411 in 2014 when they led the nation in rushing. 
Jeremy Pruitt was Richt's defensive coordinator last season at Georgia. Pruitt is now the defensive coordinator at Alabama. He took over for Kirby Smart who replaced Richt at Georgia.
Richt's new defensive coordinator for the Hurricanes is Manny Diaz. Before joining Richt with the Hurricanes. he was the DC at Middle Tennessee State from 2006-09, Mississippi State in 2010 and 2015, Texas from 2011-13 and Louisiana Tech in 2014.
After four weeks of the 2016 college football season, Miami is fourth allowing just 65 yards per game rushing. The Hurricanes are allowing just 1.57 yards per carry. That ranks second nationally to Houston who allows 1.45 YPC and also leads the nation allowing just 37 rushing yards per game.
Diaz' defenses have been hit or miss against the run. In ten seasons as a defensive coordinator, his teams give up an average of 149.4 yards per game against the run. His teams have had some great seasons against the run. Four of his ten years as a coordinator, his teams allowed 120 yards or less per game rushing.
Diaz has never faced a Johnson coached team. He seemed to just miss by a year at Mississippi State. La Tech and MTSU.
More from Canes Warning
This article originally appeared on