LSU vs Texas A&M Live Stream: Watch Tigers vs Aggies Online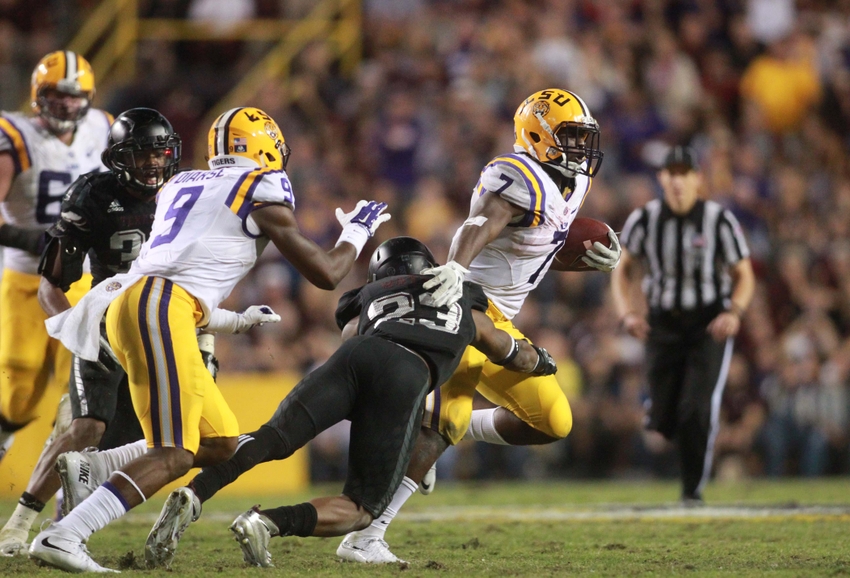 You can watch Thursday's Texas A&M vs LSU game from College Station live online, and we've got the information on how you can do it.
The LSU Tigers and Texas A&M Aggies are two of the reasons that we all love college football. They're also two examples of the unpredictable nature of college athletics. We watch and will continue to watch week after week because what's supposed to happen doesn't always happen.
Both started the season with aspirations of a College Football Playoff appearance. The Tigers would see their hope take a major hit on the opening weekend of the college football season with a loss at home to the Wisconsin Badgers. It appeared that just about all hope was lost when, for the second time in four weeks, they lost again on September 24th. They went down to the Auburn Tigers on that day. They also fired a legendary head coach, Les Miles, in 2016 and replaced him with Ed Orgeron. The fans' appetite for more exciting on-field play was appeased. The Tigers have proven they can beat anybody in college football on any given Saturday (minus the Alabama Crimson Tide).
The Aggies aren't immune to the highs and lows of a college football season either. Head coach Kevin Sumlin always seems to be the subject of rumors of dismissal, but that seemed to change following six straight wins to start the season. They scraped their way to a top-five ranking despite a 33-14 loss to the Crimson Tide. Then just as quickly as that happened, they lost two straight to the Mississippi State Bulldogs and the Ole Miss Rebels, and they lost Trevor Knight to injury.
Here's how you can view Saturday's game:
Start Time: Thursday, November 24 at 7:30 PM EST
Location: College Station, Texas
Venue: Kyle Field
TV: ESPN
Live Stream: Watch ESPN
This has all the makings of a Thanksgiving Day classic. Yes, neither team is where they thought they'd be. No, this game doesn't have nearly the same feel it had when the season kicked off, but if you think both teams aren't going to show up and give this one everything they have, think again. There's no Les Miles, and there's no discussion of a College Football Playoff or an SEC Championship appearance. It's still Texas A&M and LSU. That's reason enough to watch. Expect LSU to win a close one, but don't be surprised if that doesn't go the way we think it will. Don't be surprised by anything with these two anymore.
Prediction: LSU 27, Texas A&M 24
More from Saturday Blitz
This article originally appeared on