LSU Tigers Jump Big In Latest College Football Playoff Rankings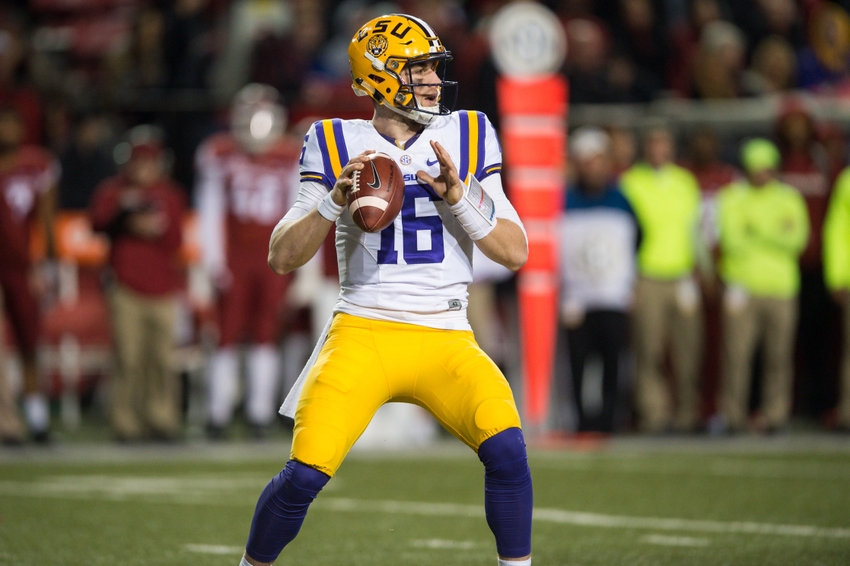 The LSU Tigers came in at number 16 in the latest top 25 rankings
After a heartbreaking loss to the Alabama Crimson Tide two weeks ago, the LSU Tigers saw their position in the College Football Playoff rankings absolutely plummet. They fell out of the top 15, barely getting into the top 25 at the 24th spot.
This past Saturday, Ed Orgeron and company traveled to Fayetteville to take on 25th ranked Arkansas. The Razorbacks have had a disappointing season to this point, but consensus was that the win over a ranked opponent would help the Tigers move back up, potentially putting them in the top 20.
LSU didn't just beat the Hogs, they dominated them. The Tigers topped Arkansas 38-10, re-establishing themselves as one of the hottest teams in all of college football. The Playoff Committee recognized that, as in the latest installment of their rankings the team jumped eight spots to number 16.
LSU is essentially completely out of playoff contention, but the jump gives the Tigers a unique opportunity going forward. With games against Florida and Texas A&M still on the schedule, this team has the opportunity to add even more quality wins to a relatively nice record. With the potential opportunity to also play in a prestigious bowl game such as the Sugar Bowl, this LSU team could very well make its way back into the top 10 by the time all if said-and-done if they can win out.
With a midseason coaching and quarterback change and three losses on the year, it's absolutely remarkable that LSU is in position to possibly finish in the top 10. They still have to go out and win a few games, but it's very much in reach.
More from Death Valley Voice
This article originally appeared on