LSU taking page out of Clemson's book by permanently hiring Orgeron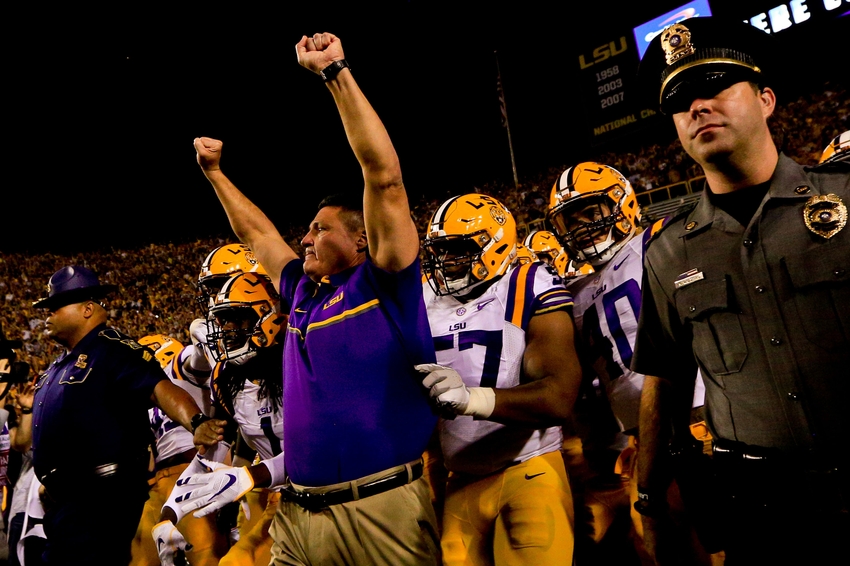 The LSU Tigers recently hired Ed Orgeron as their permanent head coach. The road to being the head man was not straight and narrow for Orgeron. Just this September, Orgeron was the defensive line coach for then head coach Les Miles. Thanks to a last second loss to Auburn, Les Miles was fired and Orgeron was named interim head coach.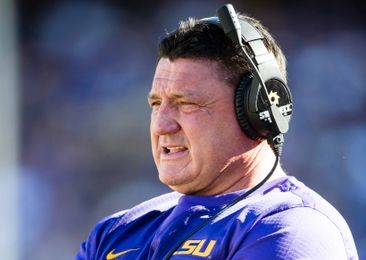 Orgeron lead the Tigers to a 5-2 record in their final seven games. However, there was still some speculation that Houston's Tom Herman was going to take over in Baton Rouge next year. Despite the reports, Orgeron was able to save his job by laying out his blueprint for the Tigers to LSU athletic director Joe Alleva.
Chip off of Howard's Rock
LSU is in a situation eerily similar to the one Clemson was in eight years ago when they named energetic wide receivers coach Dabo Swinney their permanent head coach.
Swinney took over for Tommy Bowden halfway through the 2008 season. Clemson was sitting 3-3, in a season that they were favored to win the ACC Championship. Swinney managed to straight the ship, guiding Clemson to a 7-6 finish.
When Orgeron took over for Les Miles, LSU was sitting 2-2 in a year in which many predicted they would make the College Football Playoff. Orgeron was able to lead LSU to a 7-4 finish.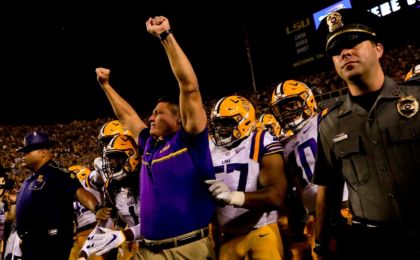 Recruiting
Both Ed Orgeron and Dabo Swinney are revered for their ability to recruit. The two coaches have infectious personalities smothered in southern hospitality.
Orgeron was named national recruiter of the year in 2004. Over his career Orgeron helped build the dynasty that was USC under Pete Carroll. He was also apart of the Miami dynasty during the 1980's under both Jimmy Johnson and Dennis Erickson.
Swinney has drastically improved the talent level at Clemson, bringing in guys like C.J. Spiller, Gaines Adams, Da'Quan Bowers, Sammy Watkins, and Deshaun Watson.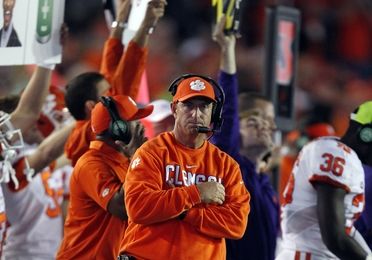 Blue-print
Dabo Swinney has won 10+ games for six consecutive seasons. Much of that success is due to his ability to consistently make good coaching hires. In 2011, Swinney hired offensive coordinator Chad Morris from Lake Travis high school in Texas in an attempt to breath some life into the program.
Boy did that pay off. The Tigers were one of the most explosive offenses from 2011-2014, however, Clemson's defense was an issue as evident in their 70 point blowout loss to West Virginia.
So what did Swinney do?
Hire none other than current defensive coordinator Brent Venables who has turned Clemson's defense into one of the best units in the country year in year out. Now Swinney has Clemson knocking on the door for a National Championship.
LSU
Orgeron reportedly sold LSU athletic director Joe Alleva on his plan for the future. That plan included keeping defensive coordinator Dave Aranda on board, which Orgeron has since accomplished. The plan also includes hiring an offensive juggernaut in Lane Kiffin. I can't see that happening. The only way Kiffin is leaving Alabama is for a head coaching gig.
LSU is banking on Orgeron's ability to surround himself with an elite coaching staff, which I think he can accomplish. As good of a recruiter as Orgeron is, I don't see why he wouldn't be able to persuade a great offensive coordinator to LSU. Baton Rouge is a destination job in itself, Ed Orgeron's people skills are merely extra incentive.
Should Ed Orgeron follow through on his plan, I believe LSU will be very happy with their decision to hire him permanently. If not they can blame Clemson for giving them false hope.
More from Rubbing the Rock
This article originally appeared on