CFB AM: Les Miles puts Katy Perry in her place for LSU corn dog joke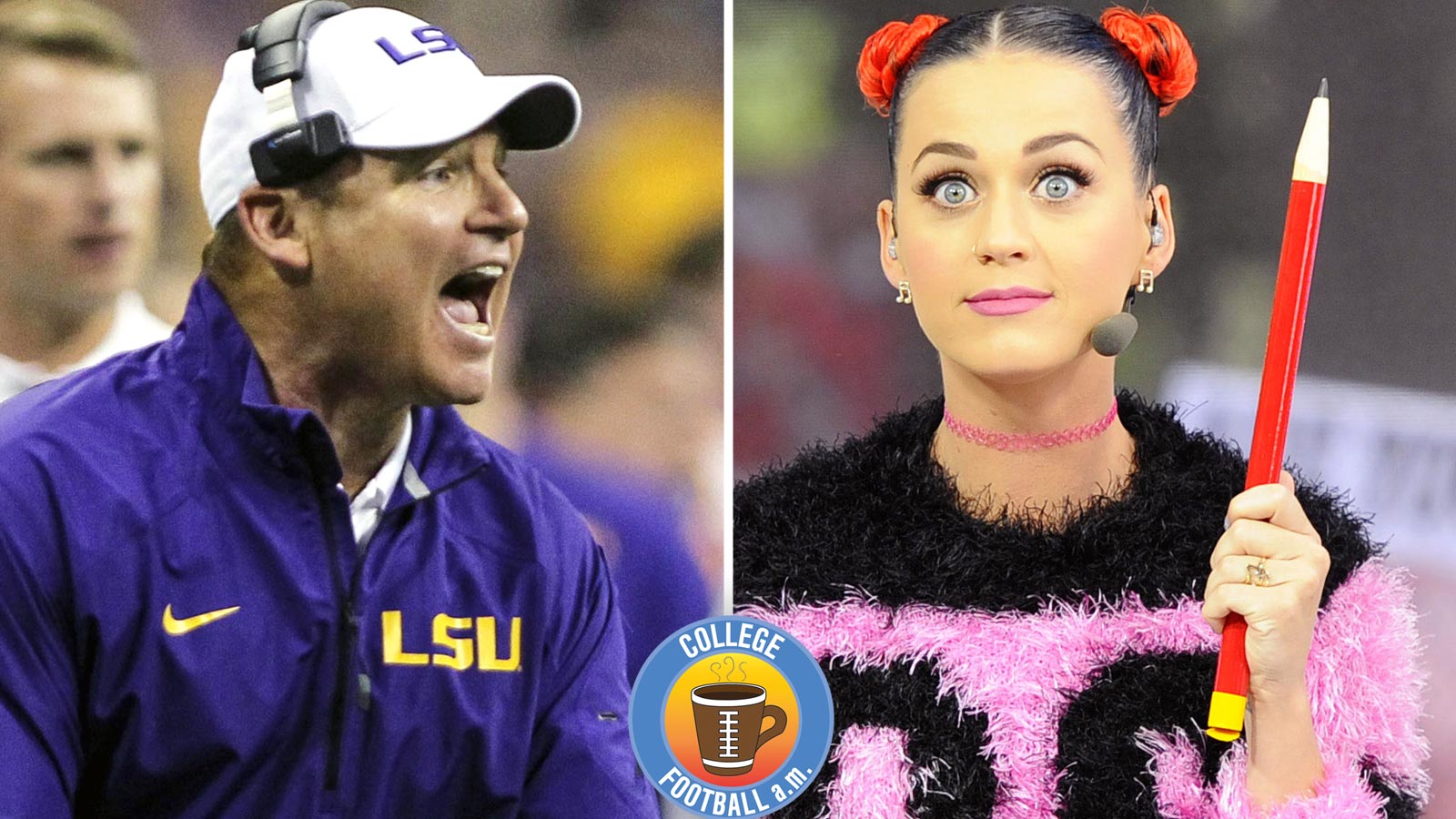 A few weeks ago, singer Katy Perry tore through Oxford, Miss.
She was in town for the Ole Miss-Alabama game and was the guest picker on College GameDay, where she hit on Oklahoma QB Trevor Knight and threw corn dogs. She pulled the corn dogs out when picking the LSU-Auburn game, a nod to an old joke about LSU's Tiger Stadium smelling like corn dogs.
Katy Perry's doing GameDay in what appears to be an Oregon jersey. Also: LSU CORNDOG http://t.co/W72f1Ah6M2 pic.twitter.com/nh56ELT4ll

— SB Nation (@SBNation) October 4, 2014
Later, after the Rebels knocked off the Crimson Tide, she capped the night by chugging beers and jumping off a bar at a local establishment. It was quite a performance and sadly the last we thought we'd hear about her.
Thankfully, Les Miles has moved the story forward. "What happened? She likes corn dogs?" Miles said the other day after practice when asked about Perry's joke on TV. He hadn't seen it, so he then was filled in.
"Oh no she didn't," Miles responded. "I guess there's things to talk about that are important and things that are not, right? I'd have to say that people who make observations about how other people smell based on the fact that their nose doesn't work well. I guess if that's the issue — I want you to know one thing and I'll say it very honestly: I have gone to Tiger Stadium and never smelled corn dogs."
That's because you're too busy smelling grass, Les. Nonetheless, we score this round a win for Miles. You know I love you Katy, but you don't mess with our guy Les!
THREE THINGS YOU NEED TO KNOW
1. A former Florida Supreme Court Justice has been picked to preside over Jameis Winston's code of conduct hearing at Florida State. Major B. Harding, 79, served on the Supreme Court from 1991-2002 and is currently a practicing attorney. In case people are worried about his connections to FSU, he has none, at least on paper. He's a North Carolina native and Wake Forest alum. Harding will be tasked with deciding whether Winston is guilty of four different violations of the student conduct code. If Harding finds Winston guilty of all four, expulsion from FSU is in play.
2. We had a little football Thursday evening if you were occupied with some other things. In the main event, Miami stomped on Virginia Tech 30-6 in Blacksburg. The Hokies lost three fumbles while the Hurricanes had zero turnovers, and Miami running back Duke Johnson was beastly – 29 carries for 249 yards and a TD. VT is now 4-4 (1-3 ACC) while Miami is 5-3 (2-2 ACC) and still in the Coastal division race. Three teams are ahead of the Canes – Duke, Virginia and Pitt — and they hold the tiebreaker over Duke while games against the other two still remain. Al Golden could get off the hot seat by getting Miami to the ACC title game. Here's a comprehensive recap of the VT game from our SB Nation friends.
In the other contest Thursday night, No. 18 East Carolina beat UConn 31-21 to improve to 6-1 (3-0 American). Unfortunately, WR Justin Hardy won't be available for the rest of the season after being charged with indecent exposure.
3. So, the guy who leaked the Todd Gurley story to media outlets and prompted Georgia and NCAA investigations now says through his lawyer that he wants to see Gurley back on the field. "He thinks he ought to be playing football this Saturday and thinks that he should not be punished," Ed Garland, the attorney for Bryan Allen, said. "He greatly regrets that he made the one payment to him — $400 — he wishes he never had."
Oh, how convenient! The best thing for Bryan Allen to do is to take his 15 seconds of infamy back into oblivion and never say anything public again. He's already taken advantage of a young man and put a blotch on his college career.
THREE THINGS YOU SHOULD KNOW
1. Texas A&M backed out of a home-and-home series with Oregon for 2018-19, Bruce Feldman reported on Thursday. When the schools agreed on the deal in 2009, they included a clause in the contract that said the Aggies could get out of it if they changed conferences. A&M has since moved from the Big 12 to the SEC. Bummer – that would have been a fun game four years from now.
In a corresponding move, the Aggies inked a home-and-home deal with Clemson for those two seasons. A&M Eric Hyman said playing at Oregon in 2018 would have left the Aggies with only six home games. In this Clemson deal, they'll play 2018 in College Station, and thus get the seven home dates per year they desire.
2. Conference USA hired a PR firm to help push Marshall's College Football Playoff campaign, to which the committee said, "Interesting stuff, guys, but a quick question about Marshall's schedu-hahahaha."
3. A report indicates Mack Brown and SMU have had "preliminary" conversations about a deal worth $4 million per year. That may or may not be true, but it's presumed Brown is interested in one more coaching job and SMU would be an ideal fit for him given his profile in Texas. Would be fun to see.
THREE THINGS YOU MAY WANT TO KNOW
1. Notre Dame is on a bye week, so what did one freshman do? Attend a Knicks game with a 42-year-old porn star. The Irish will hate this, because these are the kind of things that draw phone calls from compliance people, but more power to you dude!
3. Michigan will lower its student season ticket prices almost 40 percent next year, from $280 to $175. Good call from AD Dave Brandon, as the students are likely to be cheering a mediocre product next year, too, in the first season under a new head coach (and possibly with a new AD).
LASTLY
* According to a report, Syracuse's athletic department, including the football program, is being investigated by the NCAA.
* A Northwestern player has decided to retire from football after learning in June that he has only one kidney.
* The fear in Tucson that Arizona coach Rich Rodriguez could be a prime candidate for the Florida job (should Will Muschamp officially be fired) is very real.
* Tennessee fans play pin the tail on Lane Kiffin at a tailgate. We still have a full day until the game, and I'm already tired of this Kiffin-returns-to-Knoxville narrative, as funny as these jokes are.
* Mississippi State's hype video for the Kentucky game this weekend is pretty awesome and has a nod to "Breaking Bad" at the end. Enjoy.
Have a great weekend, all, and enjoy Week 9 – the final weekend of games before the first-ever College Football Playoff poll comes out.
Teddy Mitrosilis is an editor and writer for FOXSports.com. Follow him on Twitter @TMitrosilis and email him at tmitrosilis@gmail.com.