LSU Football: Will Tom Herman Be Next Tigers Head Coach?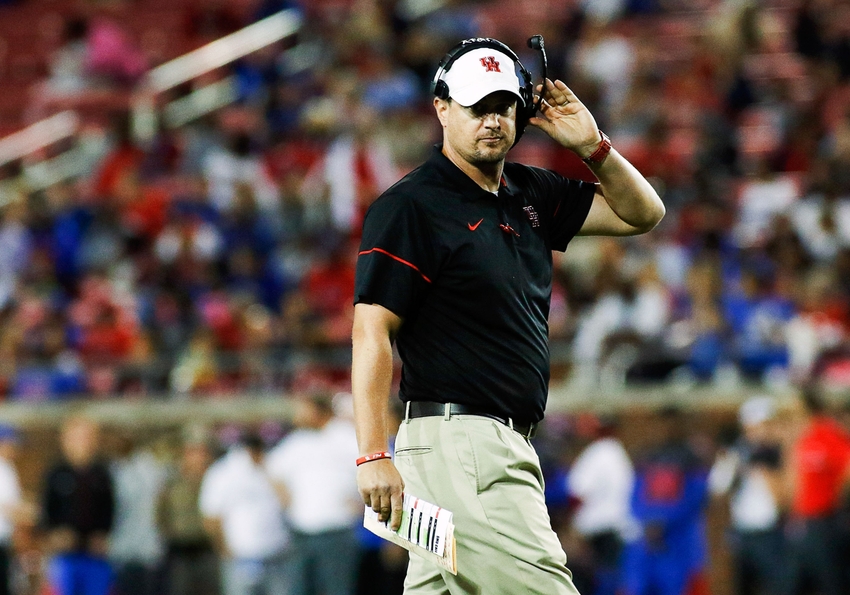 The LSU football team was on the field giving their all against Texas A&M, but all the attention was on a rumor that Tom Herman is negotiating to become the next LSU head football coach.
If you follow LSU football at all, then you've undoubtedly been blasted with the tweets, reports, television crawlers and radio hosts talking about Tom Herman and LSU.
According to ESPN reporter Chris Low, LSU has entered into negotiations with Herman – currently the Houston Cougars head coach – and an announcement could come as early as Saturday.
If you're one of the fans who looks at this as fantastic news, don't get too excited just yet. Every season situations like this play themselves out to an end that no one expects. Herman has two other bidders – his current employer, and Texas – who will also have a say in how this ends.
LSU vs Texas A&M Live Stream: Watch Tigers vs Aggies Online
Not to speculate on the rumors, because that's all they are at this point, there's a lot to think about in the potential hiring of Herman.
A successful coach? Yes, to a degree. Herman went 13-1 in his first season at Houston (a surprise to many teams in the American Athletic Conference), and is 9-2 so far in his second season. But with all due respect to Houston, this is not an SEC schedule that Herman has been facing.
Houston has been beating up on the likes of Tulsa, UCF, Cincinnati, Memphis and Temple. Not exactly like playing in the SEC East, less yet the SEC West. The Cougars lone loss in 2015 was to UConn…yes, that UConn. It was their inexplicable blowout win over FSU in the Peach Bowl that really put Herman on the map.
This season, the Cougars (who were supposed to be even better), managed to drop games to SMU and Navy in the same season they pulled off huge upsets over Oklahoma and Louisville – both ranked in the top five when Houston played them.
There simply isn't enough of a body of work showing consistency, as well as the wins against top teams to be this sold on Herman at this point.
The worst thing about this entire situation is the timing. The Tigers were on the field…on the damn field…playing against Texas A&M when this news started to circulate. Is it just me, or does Joe Alleva not know how to handle potential coaching changes at all?
To have this happen while both the season and game were going on is an insult to interim coach Ed Orgeron, who has done a fantastic job of keeping this program together following the early-season ouster of Les Miles.
Coach O may not be Alleva's choice for head coach, and that's his prerogative, but it shows a complete lack of respect for Orgeron and for the players who are out there breaking their butts for him. There's no reason this couldn't have waited until the weekend, or even Monday for that matter.
Want your voice heard? Join the Death Valley Voice team!
Will Tom Herman be the next LSU coach? There's no way of really knowing. Plenty of "done deals" have turned out to be a lot of smoke, so we'll just let it play out.
More from Death Valley Voice
This article originally appeared on