LSU Football: Top 5 Things Ed Orgeron Needs To Do in 2017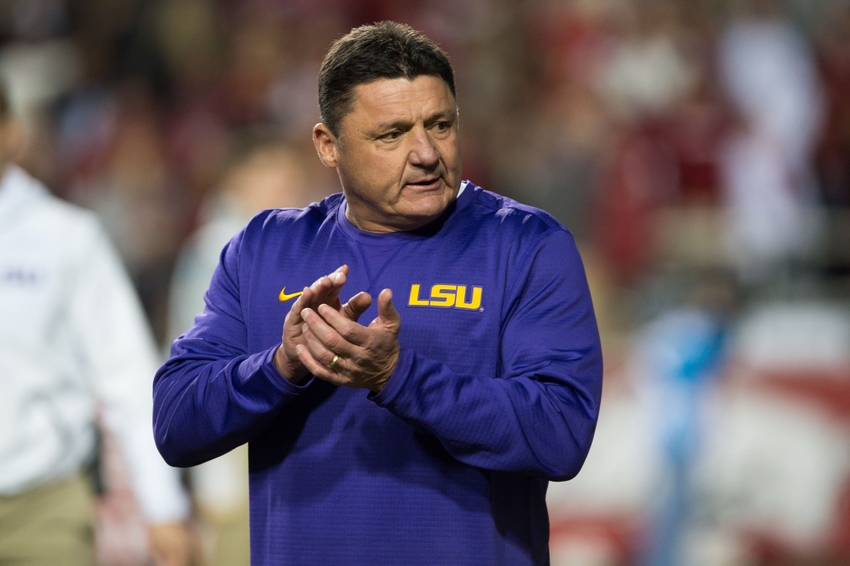 Now the Ed Orgeron has officially been named the permanent LSU football coach, it's time to look at what must be done as he takes over the program in 2017.
After all the drama, rumors and unflattering looks from the LSU football program, a new permanent head coach is in place. Ed Orgeron, who took over as interim coach when Les Miles was fired, was officially named head coach after leading the Tigers to a 7-4 record (5-2 with Orgeron as coach).
Now the planning will begin to assemble a staff, find new recruits and get the Tigers back on track to competing in the SEC.
Oregeron – whose only FBS head coaching experience was at Ole Miss from 2005-2007, and interim coach at USC in 2013 – has his work cut out for him. There is always pressure to win in the SEC, but with all the support shown to Coach O by the players and fans, he'll need to deliver in a hurry.
Ed Orgeron's head coaching record in the FBS.
Here are the five things that Ed Orgeron must focus on getting accomplished in 2017 to get his first year off to a good start.
Hire a Top Offensive Coordinator
While coach Orgeron's offense certainly showed more fire than Les Miles, there's still a long way to go when facing top SEC defenses.
The key to making this work will be finding a top offensive coordinator who can develop the talent and utilize the star power on the offensive roster.
The first name which leaps to mind is, of course, Lane Kiffin – who has a long-standing relationship with Orgeron and coached with him at both USC and Tennessee. Pulling Kiffin away from the glitz and glamour of Alabama won't be easy, and there's always a possibility he'll be offered one of the many head coach jobs that will open up.
If not Kiffin, there are several other candidates who would be worthy. What Orgeron can't do is stand pat with the current staff. Some changes need to come in philosophy and scheme to bring the Tigers offense to a competitive level.
Recruit a Top Quarterback
With all due respect to junior transfer Danny Etling – who has done a nice job since stepping in as the starting QB – coach Orgeron needs to use his well-known recruiting skills to lure a top quarterback to Baton Rouge.
Quarterback play has been a sore spot at LSU for too many years, and has cost them to many games. The Tigers need a speedy, accurate dual-threat quarterback who can run a modern spread offense and keep defenses from loading the box against the Tigers.
The nation's top dual-threat QB, Tua Tagovailoa, is currently committed to Alabama. If Kiffin were to come join Orgeron's staff, there's a good chance he could help bring the Honolulu, Hi. product to LSU with him.
The No. 3 dual-threat QB in the nation, Sam Ehlinger, has committed to Texas, who just today fired their head coach, Charlie Strong. Essentially any recruits who the Longhorns have could be up for grabs.
There are a number of options out there, Orgeron just needs to use his persuasive skills to get one or two of them to give their hard committment to LSU in 2017.
Restock the Defensive Cupboard
Once again, LSU ended the regular season with one of the top defenses in the nation, finishing 7th in scoring defense (16.4 ppg), 19th in rushing defense (121.82 ypg), but only 34th in passing defense (201.2 ypg) nationally.
More from Death Valley Voice
While the defensive performance this season has been exceptional, there will be once again a number of players both graduating and leaving for the NFL, particularly in the secondary.
Orgeron and his staff will need to not only coach up many of the freshmen and sophomores on this defense, but be sure there are plenty of young talented players coming in behind them. Targeting strong, tall defensive backs will need to be a priority, and restocking what will probably be a number of holes in the linebacker corps will need attention as well.
The Tigers need to get back to playing ball-hawk football in the secondary to keep these up-and-coming young SEC quarterbacks honest.
Get Some Wide Receiver Help
Whether its Danny Etling or anyone else starting at quarterback, the Tigers desperately need some breakout wide receivers to take some pressure off the run game.
LSU finished 101st in the nation in passing offense, totaling only 187.6 yards per game this season. While some of that can be blamed on quarterback play, a lot of it boils down to a lack of big, fast targets to the quarterback to hit.
Malachi Dupre – who is a likely player to declare for the NFL draft – was the Tigers' leading receiver this year with only 34 receptions for 454 yards. This compares to Alabama's top receiver, ArDarius Stewart, who hauled in 39 catches for 683 yards in an offense which compares to LSU's.
The new wide receiver is molded in the Calvin Johnson mold, and that's what Orgeron needs to go after in his first recruiting class.
Beat Alabama
While winning the SEC would be a nice goal for Orgeron's first year, you probably need to keep the goals reasonable. If you want your first full season as head coach at LSU to be considered a wild success, just beat Alabama, and all else will be forgiven.
The Crimson Tide have won the last six meeting with LSU, including the 2012 BCS Championship Game – a rematch of the 9-6 LSU victory earlier that season (and the last time the Tigers won).
The 2017 game will be at Bryant-Denny Stadium in Tuscaloosa, so a win for the Tigers in that game would be sweet revenge for Coach O, given the 10-0 struggle the Tigers lost to the Tide in Baton Rouge this season.
Add the possibility of Lane Kiffin being dressed in purple and gold rather than crimson and white, and the game would have an incredibly interesting twist.
Want your voice heard? Join the Death Valley Voice team!
There's a lot for coach Orgeron to get done, but these five items will go a long way to adding at least two wins to the Tigers total and putting them on the path to being back on top of the SEC West and headed to Atlanta for the first time since 2011.
This article originally appeared on