LSU Football: Tigers Win in Record-Setting Night Amid Coaching Controversy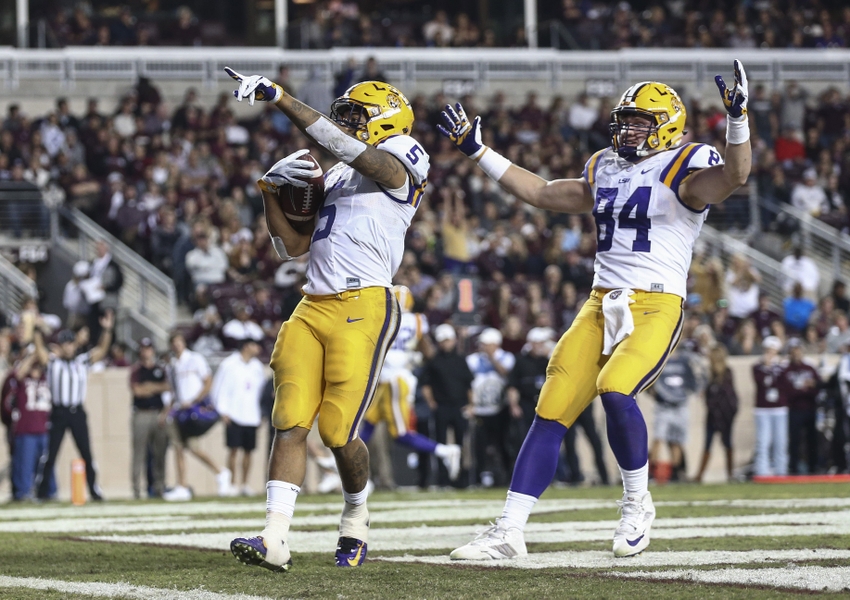 LSU football ended the regular season on a winning note against Texas A&M, but there was a lot more than just a football game going on.

54

39
The Tigers walked away from tonight's game with a 54-39 victory.  However, this weekend most LSU fans will be discussing the action that took place off the field rather than the excitement that was on it.
With strong rumors of Tom Herman's possible arrival to Baton Rouge as the next head coach, many fans may have had their attentions split from the fireworks that Danny Etling and Derrius Guice provided during the game.
LSU got the ball first to start the game, and what took place on the first play from scrimmage would be indicative of how the night would unfold for the Tigers. Derrius Guice took the initial hand off for a 19-yard gain. It would be the first, of many long runs on his record-setting night. Three plays later, Guice capped a four play, 75-yard drive with a 45-yard touchdown run.
Later, Tiger fans got a sneak peek of another great sign of things to come. During LSU's third possession of the 1st quarter, Etling did something that it took him an entire half to do against Florida -complete a pass to a wide receiver.
Malachi Dupre caught his first pass at the 5:37 mark, and D.J. Chark, Jr. caught his at the 5:13 mark. Although the possession ended with a FG, it was a confidence builder for Etling moving forward.
During the 2nd quarter, not only did the offense start to get a little stagnant, but that is when the coach search controversy started gaining steam. It had already been announced during that time period that University of Houston coach, Tom Herman, was nearing a deal to become LSU's next Head Coach.  The deal was rumored to be finalized as soon as Saturday.
Tweets started pouring in from Mark Schlabach of ESPN, Chip Brown from scout.com, and Ross Dellenger from The Advocate.  All but saying that Herman to LSU was a done deal. Soon afterwards, inside reports from LSU would debunk those rumors, and most of us could go back to focusing on the game.
Once the two teams returned to the field from half time, it appeared as if both defenses took an extended smoke break. Once the Tigers had gone up 34-10, the LSU defense began to whither, and the scoring frenzy was on.
Trayveon Williams would end an A&M 75-yard drive with a 33-yard TD run to make it a 34-17 game heading toward the end of the 3rd. On the next possession, LSU would cap a 77-yard drive with a 7-yard TD reception by D.J. Chark to start the 4th quarter at 41-17.
From that point it was back and forth, each team showing little resistance, and each offense marching quickly down the field. All in all, Danny Etling finished with 324 passing yards on the night, and Derrius Guice broke teammate Leonard Fournette's single-game rushing record with 285 yards.
This would be the first time in LSU History that there was both a 300-yard passer and 200-yard rusher on the field in the same game.
Want your voice heard? Join the Death Valley Voice team!
But could this be a history repeating night as well? Last season Les Miles was able to retain his job by beating Texas A&M in the final game of the season. With the players all supporting him, could Ed Orgeron be the benefactor of the same fate, or has the decision to make a change already been made?
More from Death Valley Voice
This article originally appeared on