Lovie Smith and Illinois look like a perfect fit in the Big Ten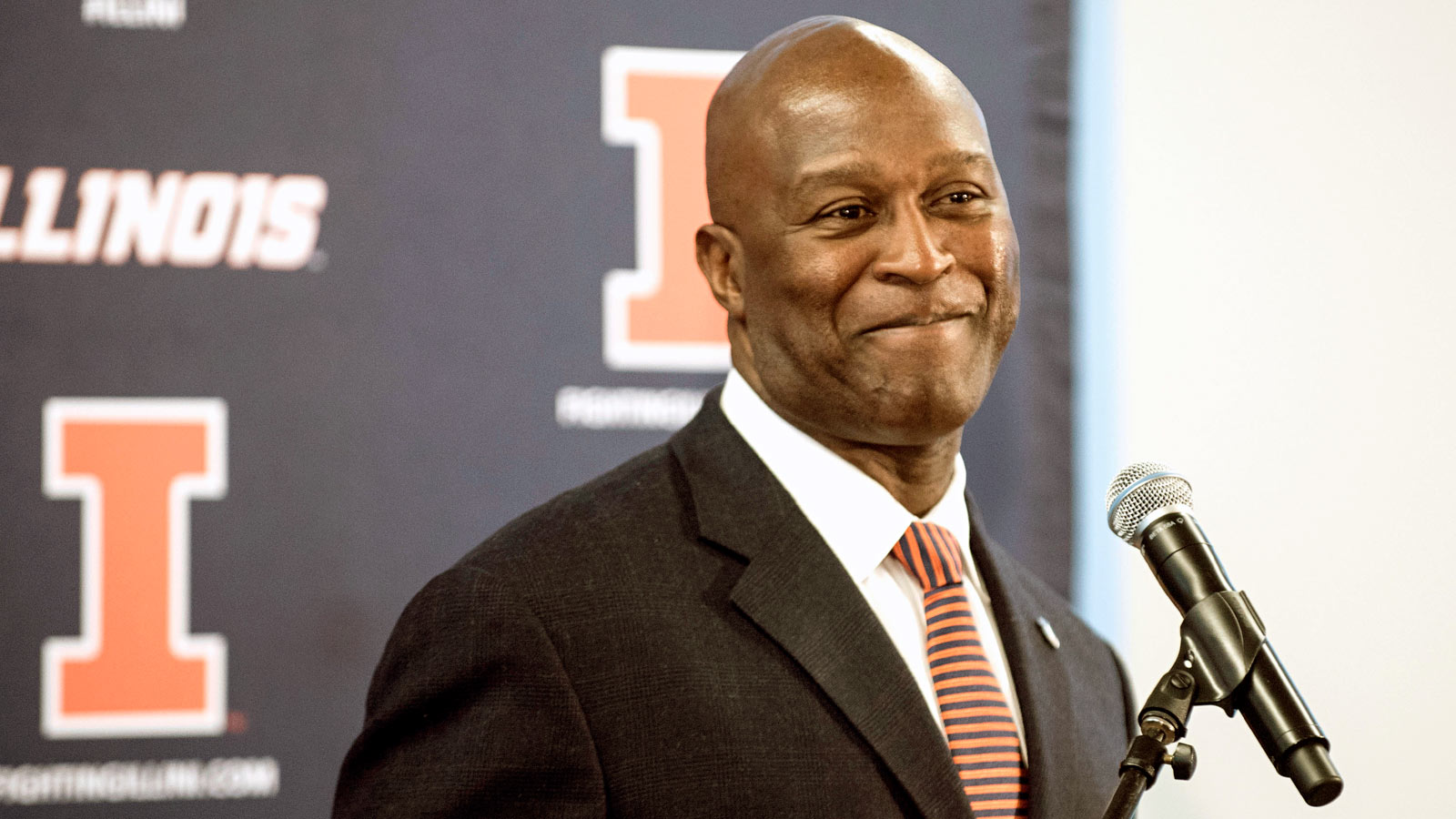 When the University of Illinois announced back on a Saturday morning in early March, that they'd fired head football coach Bill Cubit, it sent shockwaves through the college football community. It also left fans saying 'here we go again' with one of college football's most woebegone programs.
Simply put, there are — or at least 'were' — few teams in college football with as little overall identity as Illinois had at the time of the firing. Well actually, that's not entirely fair, they did have an identity. Most of it involved the words 'chaos' and 'mediocrity.' Take the largely forgettable reign of Ron Zook (with the exception of a bizarre, once-in-a-blue-moon trip to the Rose Bowl), the alleged mistreatment of players under Tim Beckman (who was fired right before the start of last season) and a one year transition under Cubit, and it seemed like the firing was just the latest in a long line of 'what the hell is Illinois football?' doing moments that have popped up over the last couple years.
Of course by the end of the day, we all realized we were wrong, and that new Athletic Director Josh Whitman had a plan in place when letting go of Cubit. He also had a new coach too, as just hours later, he announced that Lovie Smith would take over as head coach of the Illinois football program. Effective immediately.
And ultimately that is when the real shockwaves of the day began, when just about everyone in the college football world reacted with the same, simple emotion: Wait… Illinois hired… WHO???
Lovie Smith?
Like, the guy who coached in a Super Bowl a few years ago? THAT GUY is going to coach Illinois football? WHAT?!?!?!
"Today, we took a bold step forward with our football program…" #Illini #WeWillWin pic.twitter.com/UdGTXBlKXP

— Josh Whitman (@IlliniAD) March 7, 2016
That's right, and that right there — that exact reaction — is why I'm going to say something I never thought I would. In an off-season in which Ohio State dominated the NFL Draft like few others in football history, and Jim Harbaugh and Michigan stole just about every headline available since, it was the Illinois Fighting Illini — yes, freakin' Illinois — which had the best off-season of anyone in the Big Ten. If not college football.
For starters, let's go back to the beginning and give Whitman credit here. Understand that as a recently hired AD (his first day on the job was when Cubit was fired and Smith was hired), it would have been easy to sit back, evaluate his program and try to be patient. Barring an unexpected monster season from Cubit (which no expected) he could have easily made the safe, logical move of firing Cubit in December, rather than just a few months after the previous regime gave him an extension. Heck, not only could he have made the firing, he probably could have even hired Smith to replace him. Honestly, if Lovie was unemployed in early March (which he was), chances are reasonable he would have been in early December as well.
Instead Whitman didn't wait, and really that's where the genius of this all begins. Whitman knew that the single most important thing an AD does in 2016 is hire a football coach, and that fair or not, his or her career is inextricably tied to him. Basically, if the football coach thrives, the AD keeps their job. If the coach doesn't, then he or she is probably gone too. Whitman understood that, and let's give him credit. He basically threw down the gauntlet on Day 1 and said this: 'If I go down, I'm going down with my guy.' Not after a year or two. From the beginning.
Of course that's all background to the important part of Lovie himself, and what he brings to the table. And what he brings, is pretty self-explanatory at this point. Smith is a guy with 11 years' head coaching experience in the NFL, including an insanely successful nine-year run with the Chicago Bears. That included three playoff berths, two NFC Championship games, and an appearance in Super Bowl XLI.
Again, let me pause to let that all sink in: Illinois football, one of the most non-descript programs in the country, just hired a guy… who coached in a freakin' Super Bowl within the last decade. That's, quite literally (at least in a football sense) insane to think about. Only that's the reality we live in. In an off-season where everyone from Georgia to USC to Miami all had job openings, Illinois unquestionably hired the best coach. Again, insane.
Welcome Coach Lovie Smith! 👏 #Illini #WeWillWin https://t.co/JWeL4e56f6

— Illini Football (@IlliniFootball) March 7, 2016
But aside from what Lovie brings from strictly a resume standpoint, he brings something else entirely more important: He brings an identity. It's something Illinois football has pretty much never had (even in their Rose Bowl season under Zook), but it's exactly what they have now.
Say what you want about Lovie in the NFL, his successes and failures, but one thing you can't deny is that at this point, we all know what we're getting from a Lovie Smith coached football team. We're getting toughness. We're getting accountability. We're getting smart, physical football. Those are words that you'd have never used to describe Illinois football, at pretty much any time in my life. Only again, that's the new reality of the world we live in.
Oh, and there's one part to the Lovie Smith identity as well, one thing that is inextricably tied to the program for at least the first few years he's in Champaign. That's his NFL pedigree. It sounds crazy, but when Smith goes into the home of recruits, who can claim to know more about the NFL, how to get there, and how to stay better than Smith does? Outside of maybe Jim Harbaugh at Michigan and Nick Saban at Alabama, the answer is no one. Which is incredible, since again, that means that folks are talking about Illinois football in the same sentence as Alabama and Michigan.
#WEWILLWIN pic.twitter.com/eIC379IiyD

— Josh Whitman (@IlliniAD) March 7, 2016
Beyond just Lovie, look at the staff he assembled. It's chock full of guys with NFL coaching and playing experience. Defensive coordinator Hardy Nickerson played in the league for 16 years, and coached there for another couple. Run-game coordinator Mike Phair spent 12 seasons as an assistant in the NFL, before spending last season, ironically at Illinois, where he was retained by Smith. Offensive line coach Luke Butkus (the nephew of Dick), played in the NFL for two years and has coached there 10 more before coming to Chaimpaign.
So with that, I'd ask again: If you're a recruit, and you want to play in the NFL, at this point, don't you have to at least consider Illinois?
It's a fair question, which of course is going to lead to some natural backlash, since well, there are plenty of reasons to believe Smith won't succeed in Champaign. He hasn't coached in college in 20 years, meaning that recruiting will be new to him (and a lot of his staff), as will the idea of trying to cram a week's worth of game-planning into the NCAA-allotted 20 hours of practice time. There's also the possibility that Lovie could go back to the NFL at some point during his time in Champaign.
Of course Lovie addressed the idea of going back to the NFL in his opening press conference, referencing that, with a six-year contract at Illinois, what's the rush? After getting unjustly fired (at least in the eyes of most) after two years in Tampa Bay, don't you think there's at least the possibility that he could enjoy the stability college provides (assuming he wins at some respectable level)?
And even if he does eventually go back to the NFL, so what? It still means that, for at least a few years, Illinois will have a former NFL head coach place. Chances seem at least reasonable that if he does leave, he will leave the program better than he found it, making it that much more appealing to the next guy.
But even if that does happen, that seems in the very distant future.
That's because right now, Lovie Smith is at Illinois, and Fighting Illini fans get to enjoy all the spoils that come with it.
Those spoils? For the first time in a long time, Illinois has an identity, a sense of direction, and an understanding of who they are as a program. They have a coach that people respect (sorry to Ron Zook and Bill Cubit, but nobody was really saying that before) and a staff that, at least on paper, seems on par with just about anyone in the Big Ten.
Does this mean that Illinois will be a Big Ten title contender, or National Championship contender any time soon? Of course not.
But for the first time in a long time, there's hope.
That's something Illinois fans haven't had much of in recent years.
And they do now, thanks to Lovie Smith, the best coaching hire of the entire off-season.
Aaron Torres covers college football for FOXSports.com. Follow him on Twitter @Aaron_Torres or Facebook. E-mail him at ATorres00@gmail.com.