Louisville Football vs. LSU: 5 Players To Watch On The Tigers' Offense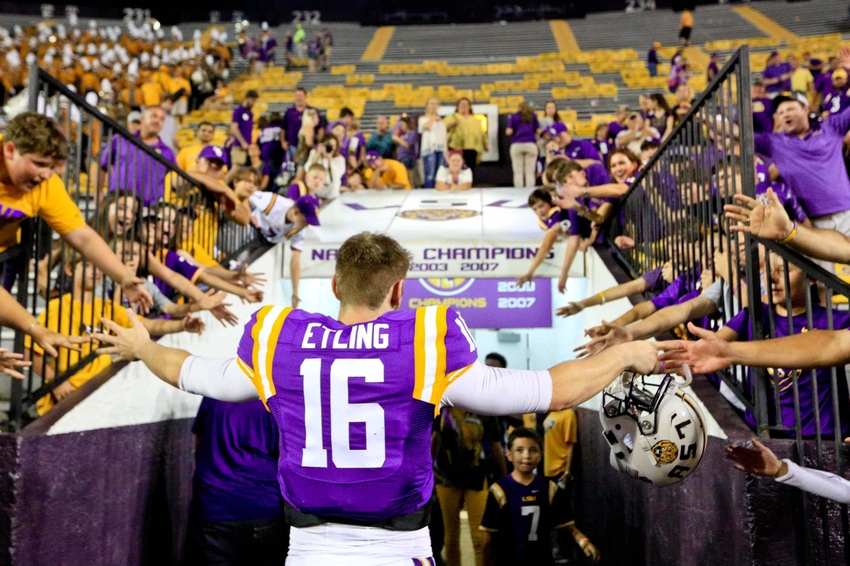 We take a look at five players from LSU's offense that the Louisville football team needs to watch out for in the Citrus Bowl.
The Louisville Football team learned about their bowl-fate on Sunday afternoon, as they will be heading down to Orlando, Florida to be facing off against the LSU Tigers in the Citrus Bowl.
The Cardinals were hoping for an Orange Bowl bid, but losing their last two games of the season didn't give anyone a reason to believe they deserved a New Year's Six Bowl opportunity.
However, a win in the Citrus Bowl would still give every Louisville football fan a reason to believe in the potential of next season's squad.
LSU is currently 7-4 and has an extremely talented defense. It could be a long day for Louisville if their offensive line cannot get their play to a higher level.
With that being said, Let's take a look at five players from LSU's offense that Louisville needs to be game-planning for at the end of December:
5. Quarterback, Danny Etling
Let's be clear about one thing, if the Cardinals let Danny Etling beat them by throwing the football, then it could be a long day. Louisville approached the Kentucky game the same way and ended up getting torched by Stephen Johnson. The Cards cannot afford for that to happen in their match-up with LSU.
Etling has done a pretty good job at quarterback for the Tigers ever since taking over for Brandon Harris. While he isn't an elite quarterback, he is a guy that Louisville needs to account for.
Over ten games this year, Etling has thrown for 1,906 yards and 9 touchdowns. He is currently at a 60 percent completion rating and has only thrown 4 interceptions.
Etling isn't a guy that will lost the game for the Tigers, but he could definitely beat them if they aren't prepared for the passing game.
4. Running Back, Derrius Guice
This dude is a stud running back that is the future of the Tigers' rushing attack. He has been killing it all season long in Leonard Fournette's absence and hasn't looked back since. As only a sophomore, Guice has run for 1,249 yards and 14 touchdowns in 2016.
Not to mention, he has a ridiculous 14.3 yards per carry average over the course of 11 games. That is highly impressive for a young back in the Southeastern Conference.
It's not like the Cards haven't already faced some elite running backs this season. However, they have gotten worse against the run since their win over Florida State back in September.
Fournette had to miss the Tigers' last game against Texas A&M. Therefore, if Fournette isn't able to suit up, then the Cardinals still have a huge challenge of trying to get Derrius Guice and the LSU offense off the field.
3. Wide Receiver, Malachi Dupre
Dupre ended the 2016 season as the leading receiver for the LSU Tigers' offense. However, it's not like he ran away with it, as he only has about 30 more yards more than the guy right beneath him. It's going to be very important for Louisville's secondary to be prepared for his size and ability to go get the football.
Dupre only had one game this year where he had at least 100 receiving yards. It was also the game where had caught two of his three total touchdowns this season as well. You will be pleased to know that the Tigers played against Southern Mississippi that afternoon.
LSU tends to spread the ball around to many different guys, but they love to stick to their ground game.
However, at 6-foot-4, Dupre will have many mismatches that he can take advantage of in the Citrus Bowl.
2. Wide Receiver, D.J. Chark
Chark is another receiver that could potentially give the Cardinals all kind of problems at the end of December. He is currently second on the team in receiving yards and tied for first in receiving touchdowns with three.
Just like Dupre, his best game of the season came against Southern Mississippi in the middle of October.
With that being said, his speed will be a problem for Louisville if they aren't disciplined with their tackling because LSU tends to give him the football in a variety of ways.
They mostly feed him through the air, but they will also let him run the football as well. He had 3 carries for 52 yards against a solid Florida Gators defense only a few weeks ago.
He could be a match-up nightmare for a defense that has gotten worse over the course of 2016.
1. Running Back, Leonard Fournette
When healthy, Fournette is probably the best running back in all of college football. His size, speed, and toughness has been a problem for every school except for Alabama and Louisville isn't even near that level defensively.
The good news for the Cards is that he is currently dealing with an ankle injury that forced him to miss their last game against Texas A&M. His injury status is definitely the main thing to watch going into the Citrus Bowl at the end of December.
If he does play, which he probably will, then it's imperative that Louisville stacks the box and forces Etling to beat them through the air. However, I am not sure even stacking the box will be enough for the Cards to shut him down.
He rushed for 138 yards against Wisconsin, 147 yards against Mississippi State, 101 yards against Auburn, and 284 yards against Ole Miss.
Louisville comes into this bowl game as a team who excels against the run, but unfortunately Fournette is a different monster all together.
This article originally appeared on