Louisville Football vs. Duke: Q&A with Ball Durham (Blue Devils' blog)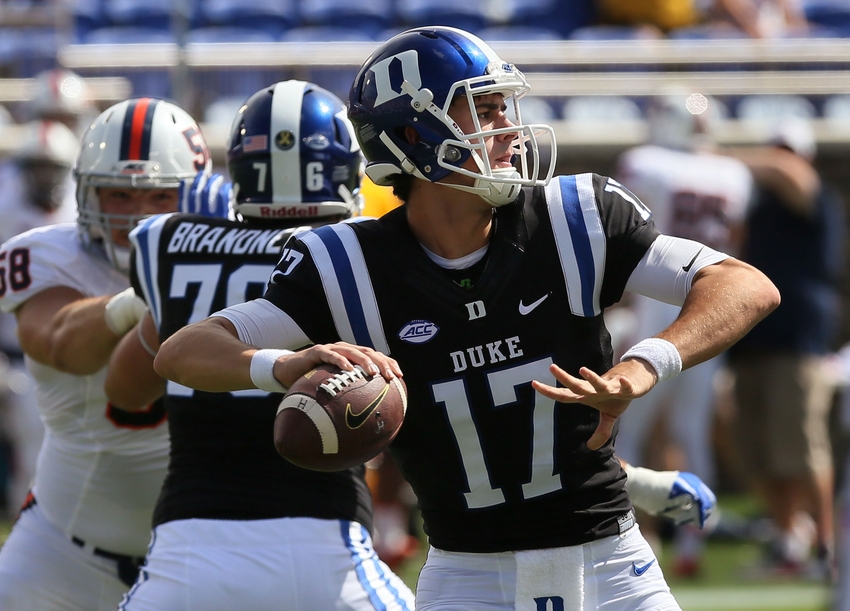 We had the opportunity to collaborate with the Site-Expert from Ball Durham about the upcoming Louisville football game against Duke.
It feels like Louisville football hasn't played a game since April. Okay, that may be a bit too overdramatic, but I think everyone is ready for some football. This Friday night the Louisville Cardinals will finally be back in action against the Duke Blue Devils.
SEE ALSO: Five National Awards Lamar Jackson could win this season
While this isn't as exciting as a basketball game between the two schools, it still is very important that Louisville comes out strong. They are currently the highest rated, one-loss football team in the entire nation. They have received a ton of respect around the country and are still holding onto their dreams of making the College Football Playoff this season.
Duke shouldn't give the Louisville football team too much trouble in the game on Friday night. They haven't been very consistent this year and they are definitely not Clemson, therefore the Cards should win big.
Get the FanSided App
We had the opportunity to have a conversation with Chris Brown, who is the Site-Expert over at Ball Durham (Fansided's Duke blog) and he answered a few questions about the Duke football team and the upcoming game.
First, however, here is a little bit of info about Chris:
Chris graduated from Duke in 2013 and enjoys writing about Blue Devil Athletics for Ball Durham. He is currently in grad school and researching things in computer science.
With that being said, let's look at what we asked Chris and his opinions about the game on Friday.
What is one match-up that both Louisville and Duke fans should be looking forward to on Friday night?
"With Louisville you always have to watch out for Heisman candidate QB Lamar Jackson, so fans will be tuning in to see is how the Duke defense will try to stop him. Jackson is one of the top offensive threats in college football as a runner and passer, with the Cardinals producing the most offensive yards in the NCAA.

It will be a collective effort for the Blue Devil defense, but the key match-up will be Jackson against Duke's young linebackers Ben Humphreys and Joe Giles-Harris."
I agree with Chris on this point. Duke's defense is going to have a very hard time slowing down Lamar Jackson and the rest of Louisville's offense. I would even say that Duke's offense will struggle to move the ball all evening.
SEE ALSO: Is this the week that Eli Rogers returns for Pittsburgh?
The combination of those two factors will prove costly for the Blue Devils on Friday night.
What is Duke Football's biggest strength of the 2016 season?
"One of the main problems for Duke Football is that they have been frustratingly inconsistent throughout the season. The offense, defense, and special teams have all struggled at times so far this year due to major injuries and new starters.

The biggest strength would have to be the defense. Even though they have had difficulty stopping the big plays from offenses, which will be crucial against the Cardinals, they have also made big plays currently leading the ACC in sacks and ranked 2nd in the conference in fumbles recovered and total turnovers, and are third in sacks."
It does sound like Duke can give the Cardinals trouble if they can force turnovers. I don't foresee Louisville having a "Clemson-hangover" and coming out slow against Duke. However, things can get out of hand quick when a team starts turning over the football.
Louisville's turnovers ultimately sank them against Clemson, they should have that cleaned up for a lesser opponent coming into Papa Johns.
What expectations do the Duke faithful have heading into Friday night against Louisville?
"The expectations will be varied for the Blue Devils after upsetting Notre Dame as three-touchdown underdogs but losing to Wake Forest and Virginia. Duke fans will be looking to see improved decision-making from redshirt freshman quarterback Daniel Jones and hope the defense can continue their success from the Army game against an extremely talented Louisville offense, otherwise this one will be over early."
I think this one is going to be over early regardless. Duke's loss to Virginia should be extremely concerning for anyone hoping for a Blue Devil victory. The Cardinals are on a different level than most ACC teams and this will be the toughest defense that Duke freshman quarterback Daniel Jones has ever faced in his young NCAA career.
Cardinals win big. Let's say, 56-7.
This article originally appeared on