Louisville Football: Review Of The Cards In The NFL On Sunday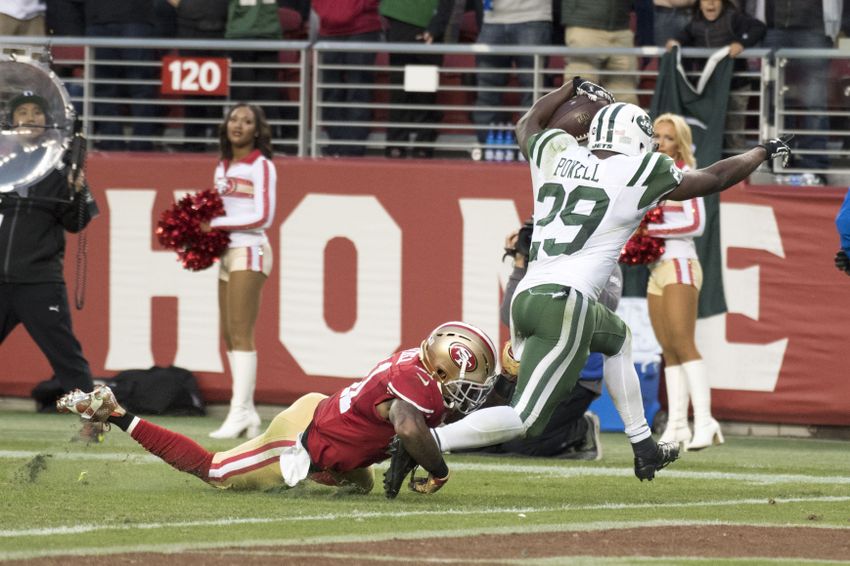 We take a look at each game that was significant for former Louisville football players in the National Football League on Sunday.
What a weekend of games from former Louisville football players. These December games mean everything to these players and it definitely showed. Seeing Lamar Jackson win the Heisman Trophy and watching these former Cards play on Sunday made for a great weekend.
Let's take a look at how these former Louisville football fared in the NFL on Sunday:
We are going to start with the guy that had the best game of the weekend. Bilal Powell came into the game against the 49ers when starting running back Matt Forte went down with a knee injury. Not only did he take advantage of his opportunities, but he had the game-winning touchdown in overtime.
Powell rushed for 145 yards and two touchdowns, while also catching five passes for 34 yards. He was the main reason why the Jets were able to dig out of a 14-0 hole.
I have been talking about this ever since the season started. Bilal Powell is the Jets' best-option at running back this season. He is younger and more elusive than Matt Forte, not to mention Powell has a better yards per carry average this year.
Hopefully with the Jets sitting at 4-9, the former Cardinal will be the lead back going forward.
This was a very disappointing weekend for the New Orleans Saints and Sheldon Rankins. This close loss to the Buccaneers puts them at 5-8 on the season and well out of the 2016 playoff hunt.
Rankins has been on fire since he has returned from his broken leg, but he was almost non-existent against Tampa Bay. He only recorded one tackle in the loss.
I honestly expected Rankins to have a bigger impact against the Bucs. He has faced Jameis Winston before, but it was clear that Winston's elusiveness in the backfield was a major problem for the Saints' defense.
With that being said, Rankins is only a rookie and he will learn.
The Chicago Bears came out and played one of their best games of the entire 2016 season. However, that wasn't enough to knock off the first place Detroit Lions on Sunday. The Lions have been playing great football and it just wasn't meant to be.
With that being said, Josh Bellamy had another solid day for Chicago. He ended the day with three receptions for 45 yards. He is quickly becoming one of the Bears' quarterback Matt Barkley's favorite targets in the passing game.
This is great news for Bellamy because the Bears have many questions going forward. There are only a handful of players on their roster that are worth keeping, therefore Bellamy having a strong second half of the season may just land him a roster spot next season.
I thought that the Browns may have been able to pull this game out with Robert Griffin III returning from injury. However, they were dominated from the start and look well on their way to finishing the season 0-16.
The good news is that Gary Barnidge led the Browns in receiving yards on Sunday. The bad news is that he only has 3 receptions for 27 yards.
There just aren't many good things that someone could say about the Cleveland Browns right now. They are terrible at pretty much every position on the field and haven't come close to winning a game in weeks.
Let's hope that Barnidge finds a new home in the NFL before too long.
The Dolphins were able to overcome an injury to starting quarterback Ryan Tannehill to get a huge victory over the Arizona Cardinals. Miami has a great opportunity to make the playoffs this season, but that all rests on the shoulders of back-up quarterback Matt Moore going into the last three weeks.
DeVante Parker didn't have his best game of the season, but i'm sure he will be happy with the fact his other teammates had great games. Parker only had 2 catches for 14 yards, but in his defense, most of the football game was played in a torrential downpour.
It'll be interesting to see what the Dolphins do going forward. They play the Jets, Bills, and Patriots over the last three weeks.
If they can just take care of business, we will be watching DeVante Parker in the NFL Playoffs.
William Gay and Eli Rogers won the game over Preston Brown on Sunday in a snow-fest. The Steelers had a great game by winning on the road against a very good defense. It now seems that Pittsburgh's season is still alive, while this loss will shut down the Bills' hopes for the playoffs.
It's actually kind of funny because Rogers and Gay didn't have great games like Brown did on Sunday.
Preston Brown led both teams in tackles with 11, but it was ultimately not enough to help his team to victory.
Well, it was that and Steelers' running back Le'Veon Bell ran for 236 yards and 2 touchdowns. You're not going to win many games if you give up that many yards on the ground.
This article originally appeared on