Louisville Football: Q&A with "Rubbing the Rock" (FanSided's Clemson Blog)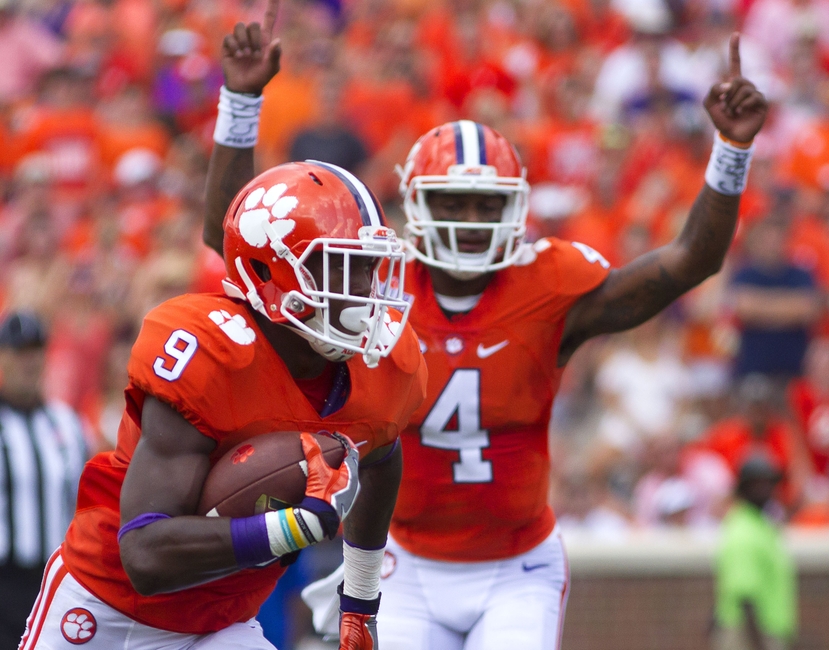 No In-Editor Preview for 120 Sports Videos
Video Details
ID: 203631214
Source: 120 Sports
We had the opportunity to connect with "Rubbing the Rock" and ask them five questions about the upcoming game between Louisville football and Clemson.
Gameday is getting closer and closer and Louisville football has put themselves in a position to take sole position of the ACC with a win in Clemson on Saturday. It might be their toughest task of the 2016 season, but it is definitely a game that they will be prepared to win.
For some programs, this is a once-in-a-lifetime game, but for Louisville, I believe this is the start of a regular pattern of events.
Clemson and Louisville have been playing close game for a few years now and Louisville is looking to finally take the next step this season. If they can do that, it will be largely due to star sophomore quarterback Lamar Jackson.
Get the FanSided App
Jackson has caught the college football world by fire, as he leads the entire nation in total points scored by one player. He has dominated every opponent so far and is the clear leader in the Heisman Trophy race. The bad news for Louisville is that Clemson has their own Heisman contender in quarterback Deshaun Watson.
Watson hasn't gotten off to the start that Jackson has, but he is capable of putting together a great performance on Saturday. He isn't going to be intimidated by the stage, as he led the Tigers to an ACC Championship and the National Championship game last season. Watson has the experience and skill to lead the Tigers to victory.
We had the great privilege of connecting with Andrew Boardwine, the Site-Expert of "Rubbing the Rock", which is FanSided's very successful Clemson blog. He was nice enough to take time out of his schedule and answer a few questions we had for him about this Saturday's primetime game.
Clemson and Louisville have played two close games the last two seasons. What do you think will be the difference in this season's game?
"Louisville has physically matched up with Clemson both years the two teams have played and I don't think that will be any different this time around. The Cardinals possess a lot of NFL-caliber guys on both sides of the football and that is cause for concern if you're a Clemson football fan.

At the end of the day, I think the difference in this season's game will be Louisville's run game vs. Clemson's defense. If the Cardinals are able to get big yards on the ground, then the Tigers will not be able to get off the field and get the ball to Deshaun Watson.
I agree with Andrew here. The goal for both defenses should obviously be to keep the other quarterback off of the football field. These two quarterbacks will both want the football in this monumental game and it might come down to whoever has the football last.
If Lamar Jackson and Brandon Radcliff could get going against the Clemson defense, then that could very well equal a victory for the Cardinals.
What under-the-radar player should Louisville fans be worried about heading into the game on Saturday?
"Offensively, I would watch out for Artavis Scott. Mike Williams and Ray-Ray McCloud have been given the majority of the touches in the receiving game and it almost seems Clemson has gone away from Scott this season.

I think that you will see a healthy dosage of him and definitely expect him to run a couple of jet sweeps in an effort to open up the running game for Clemson. He is very athletic and has led Clemson in receiving the past two seasons, so I expect a big game from him.

Defensively, keep your eye on big Dexter Lawrence. Lawrence is a true-freshman who has been dominating opposing offensive lines all season long at the defensive tackle position.

I expect Lawrence to be key in trying to stop the run game up the middle and very well may be a guy that has a huge impact on Saturday."
There has been a lot of Heisman discussion surrounding Lamar Jackson so far, but Deshaun Watson is still the best QB in the country. How do you think the two QB's compare heading into week four?
"In my opinion, there's no question who the better quarterback has been thus far.
It's Lamar Jackson.

Hopefully, Deshaun Watson will come into a zone as he did last year, but Jackson has been the best player in the country to this point. He is a freak of nature and can beat you with his arm or with his legs.

I've been amazed with what he has done and the improvements he has made from last season to this season. If Jackson could come up with a win in Death Valley this Saturday, he would almost cement his name as the Heisman front-runner."
It's amazing how much better Jackson has become in just one season under head coach Bobby Petrino. The read-option had come a long, long way and his decision making with the football has been much better.
However, Watson vs. Jackson is going to be the best quarterback match-up of the 2016 season. Neither guy is going to give one inch, therefore this should be a back-and-forth game throughout the evening.
Other than Lamar Jackson, who is the one player that worries Clemson fans the most from the Cardinals?
"To me, the one player that should worry Clemson football fans more than anyone is Brandon Radcliff. He is averaging over nine yards per carry and, in my opinion, is quietly on pace to become a first-team All-ACC guy.

No one, at least around these parts, are talking about Radcliff, but that read-option game with Lamar Jackson is scary. He is explosive and physical. Clemson usually bodes well against powerful run games, but this is unlike anything else Clemson has seen in quite some time."
Andrew is right on track here. Brandon Radcliff doesn't get near the amount of attention that he deserves. He is easily Louisville's best running back and more than likely one of the best overall backs in the entire ACC.
Radcliff and Jackson have the read-option down to a science and that tearing apart opposing defenses. I expect that Clemson has been studying all week, but all that goes out the window whenever Louisville hits the field on Saturday.
Who wins on Saturday?
"Honestly, I think this is going to be a great game. Louisville has been the best team in the country to this point in the season.

I also believe Clemson has been intentionally holding back the past few weeks, so I expect the Tigers to come out swinging on Saturday.

This will be a back-and-forth kind of matchup where the team with the ball last may very well win the game.

I'm going to say that Death Valley makes the difference and Clemson is able to come up with a three-point victory, but I also wouldn't be surprised one bit if Louisville just kept rolling as they have through other opponents.

The Cardinals won't score 60 Saturday night, but neither will Clemson. I think this is shaping up to be a classic that very well may decide the National Championship for the 2016 season."
This article originally appeared on