Louisville football: Previewing Syracuse QB Eric Dungey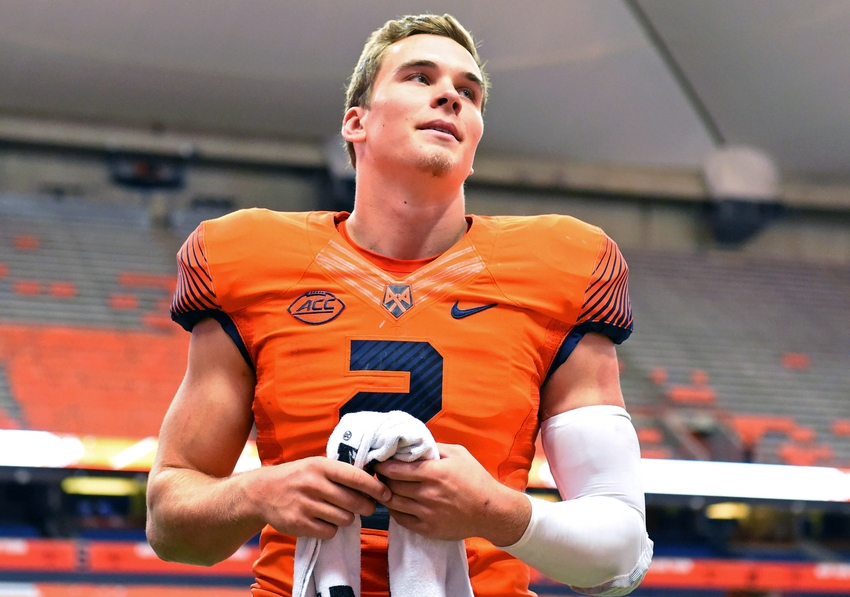 Syracuse quarterback Eric Dungey is set to take on the Louisville football team this Friday night at 8:00pm on ESPN2.
Louisville football has their first test of the 2016 season this Friday against quarterback Eric Dungey and the Syracuse Orange. It will be the Cardinal's first ACC game of the season, therefore it is crucial that they walk out of the Carrier Dome victorious. In order to do that, the Louisville defense must shut down Sophomore quarterback Eric Dungey.
At 6-foot-3 and 207 pounds, Dungey is sure to be the quarterback for the next three seasons under newly hired head coach Dino Babers. He came out of the gate strong last week in their first game of the year against Colgate. According to ESPN, Dungey was able to complete an incredible 34-40 passes while throwing for 355 yards and two touchdowns.
Louisville versus Syracuse will feature two, second year quarterbacks in Dungey and Lamar Jackson. While Dungey is the star quarterback at Syracuse, Jackson will surely be the star of this game on Friday.
Here is what Syracuse's official athletic website noted from Dungey's freshman season with the Orange:
"One of 15 true freshmen to play for the Orange … Played in eight games, starting seven … Missed four games due to injury, including the last three games of the year … 2015 College Football News and CampusInsiders.com Honorable Mention Freshman All-American … Was 105-for-176 passing and set the team record for most passing yards by a true freshman with 1,298 … Tossed 11 touchdown passes and recorded five two-touchdown pass games"
Keep in mind that when Syracuse traveled to play the Cardinals last season at Papa Johns Cardinal Stadium, Dungey and the offense was under a completely different offensive system. Babers implemented a fast-pace, no huddle approach to the Syracuse's offense. It worked like a charm against Colgate, but it probably won't work as well against the stout Cardinals defense.
Last season, Louisville played extremely well versus Syracuse, beating the Orange 41-17. Eric Dungey struggled throughout the game, but finished at the leading rusher for Syracuse with 45 rushing yards. While he can beat you with his feet, Louisville needs to be more prepared for his ability to beat them in the passing game.
In their game against Colgate, the Orange ran a bunch of short passing plays that kept the tempo high and the chains moving. Once Colgate's defense started to play up on the line of scrimmage, the Orange were able to throw the ball deep downfield. Colgate simply didn't have the personnel to compete all game with Syracuse's talent at receiver.
The Cardinals are so big and talented on the defensive line that it shouldn't be a problem disrupting the line of scrimmage all night. Pressure up the middle will completely ruin any type of tempo that Syracuse is wanting to create. While a no huddle offense can be great, it can also be a recipe for disaster when Louisville is on the field twice as long as the Orange on Friday night.
Louisville shouldn't have a problem shutting down Eric Dungey in this game. He is a talented quarterback who has a bright future for the Orange. However, this early season match-up will be too much for this Syracuse team to handle.
This article originally appeared on