Louisville Football: Preston Brown becoming one of the NFL's best in Buffalo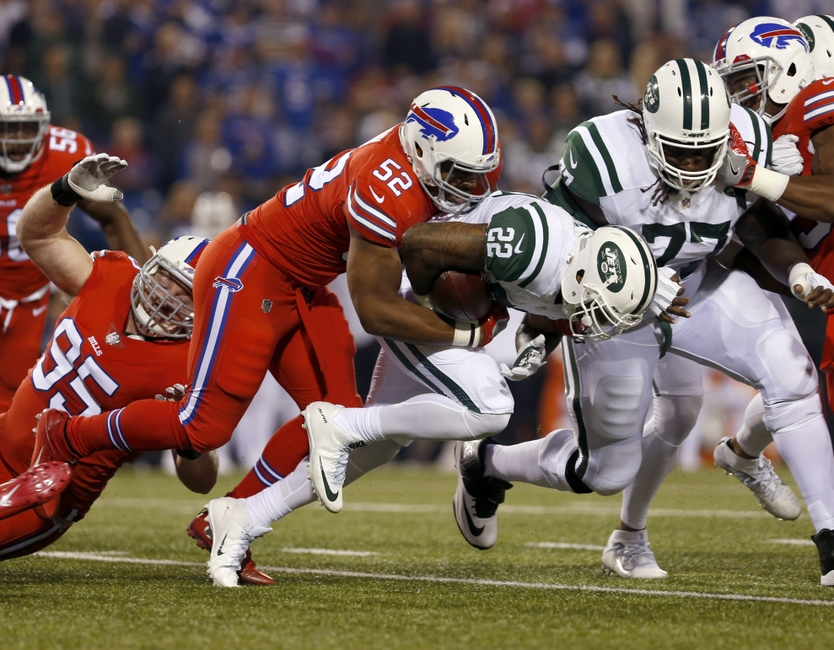 Former Louisville football player Preston Brown shined once again for the Buffalo Bills in their 37-31 lost to the New York Jets Thursday night.
Louisville football has been pumping some big-time talent into the NFL over the past five years or so. Normally the talk surrounds current Minnesota Vikings quarterback Teddy Bridgewater, but this year the attention should be focused on Buffalo Bills' linebacker Preston Brown. In his third year in the NFL, Brown is maturing into one of the game's best defenders.
He is a physical presence inside, standing at 6-foot-1 and 251 pounds. He covers the field from sideline to sideline, which is imperative in a tough AFC East division. Brown is going to be one of the NFL's best linebackers in no time.
Brown is clearly the leader of a tough Buffalo defense this season. Chris Brown from the Bills' official website had this quote about from in his article from a few days ago:
"The team's mike linebacker took charge of the defense in the opener and performed admirably not only as a linebacker, but as the quarterback of the defense.

That according to head coach Rex Ryan, who was very pleased with Brown's calls and his play.

"He did fantastic," said Ryan. "He runs the whole show so he is literally the captain of the ship back there and he has taken to that role and you combine that with a guy who has a lot of physical talent that's the guy we want running that defense."
Even though Buffalo was not able to come away with a victory Thursday evening, it was definitely not because of Preston Brown. According to ESPN, Brown led both teams with 16 total tackles and one forced fumble on the evening.
Look for Brown to continue blowing up plays in the backfield and shutting down offenses throughout the rest of this season. Buffalo needs some major fixes in their defensive secondary, but having Brown in the middle will pay huge dividends for Buffalo as the season goes on.
This article originally appeared on