Louisville Football: NFL Sunday was a huge day for former Cardinals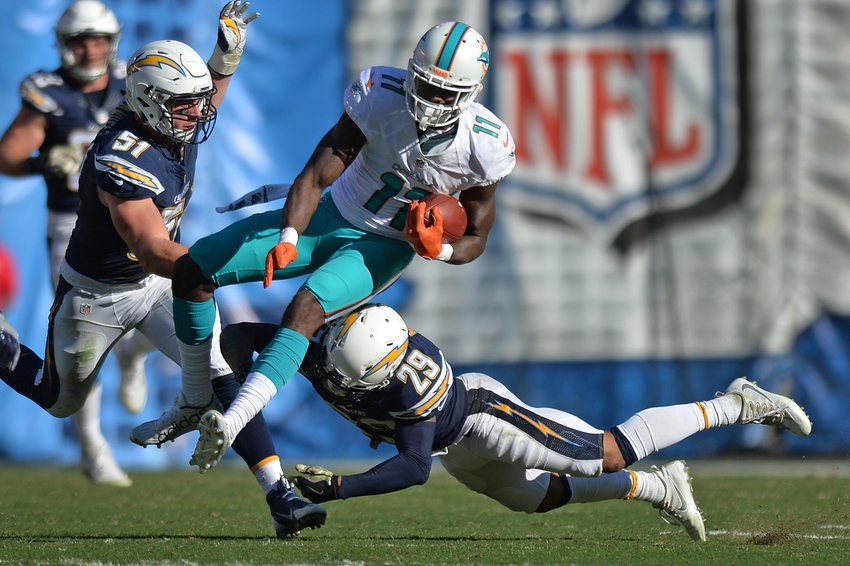 We take a look at the former Louisville football players that had great games in the NFL on Sunday and how their teams performed.
We talk about it every week, but it always hold true. There is nothing better than celebrating a win by the Louisville football team than watching another full day of former Cards killing it in the National Football League. This Sunday may have been the best all-around weekend for all of them.
SEE ALSO: Predicting the Week 12 College Football Playoff Rankings
Actually it was a great weekend for every former Louisville Cardinal other than Gary Barnidge. However, the Browns did not play on Sunday, they lost 28-7 to the Baltimore Ravens last Thursday night on NFL Network.
Barnidge only had one catch for eight yards on Thursday. Needless to say, it wasn't his best performance of the season.
However, thank goodness that didn't set the tone for the rest of the pack this weekend.
Bilal Powell, Eli Rogers, Sheldon Rankins, and DeVante Parker had great games on Sunday, but only Parker was able to help his team to victory. Injuries have plagued most of those guys so far in 2016, but it looks like they are healthy and ready to produce.
Take a look at how each guy played on Sunday in the following slides.
9

6
This may have been one of the more ugly games of the 2016 season, but that doesn't mean that it wasn't exciting for anyone watching their former Cardinals. Bilal Powell, surprisingly, was the Jets' second leading receiver in their 9-6 loss to the Rams on Sunday.
Powell had one receiving touchdown, well sort of. Jets' quarterback Bryce Petty threw the football to his receiver at the five yard line and he pitched Powell the ball, who ran it in for a touchdown. It was one of the more bizarre plays that you will ever see. I recommend that you go find it on NFL.com.
Powell finished the game against the Rams with 4 carries for 37 yards and 7 receptions for 52 yards. He continues to have a great yards per carry average, while playing being veteran running back Matt Forte.

25

23
This was an absolute heartbreaker for the New Orleans Saints and rookie Sheldon Rankins. Drew Brees threw the game-tying touchdown pass with a little over a minute left in the game, but the extra point was blocked and returned for 2 points. Denver would hold onto that lead for the next minute and come out with the victory.
Even though it was a tough day for the Saints, it was a day for Rankins to celebrate as he recorded his first NFL sack on Sunday.
He has made an immediate impact on the Saints' defensive line, which should help their case of trying to become a respectable defense for the rest of 2016.
Rankins finished the game against the Broncos with 2 tackles, 1 sack, and 1 tackle for loss.

31

24
The Miami Dolphins are on absolute fire after their win over the Chargers gave them their fourth win in a row. They started the season 1-4, but have to be feeling amazing sitting at 5-4 on the season.
DeVante Parker finally got back to his old self on Sunday afternoon by going to 103 receiving yards on 5 catches. He led the Dolphins in receiving yards today and it was his first 100 yard game since week 2 against the New England Patriots.
Hopefully this means that Parker is finally healthy enough to be a major factor the Dolphins going down the stretch of the season. They have a very winnable schedule the rest of the way, therefore look for a healthy DeVante Parker to take over the AFC East.

35

30
This was an amazing game if you had the glorious opportunity of watching it live on television Sunday afternoon. The game went back and forth all night, but it was the Dallas Cowboys who were able to get their eighth win of the 2016 season.
Eli Rogers had another solid game this weekend, as he caught his second touchdown of his NFL career. This was definitely a sufficient performance after going for 103 yards on 6 catches against the Baltimore Ravens last Sunday.
Just like DeVante Parker, it looks like Rogers is finally recovered from injury and ready to help Pittsburgh get their season back on track.
The Steelers' next two games are on the road against Cleveland and Indianapolis, therefore expect more good things to come from Eli Rogers.
This article originally appeared on