Louisville Football: How the Cards can get their 6th straight win over UK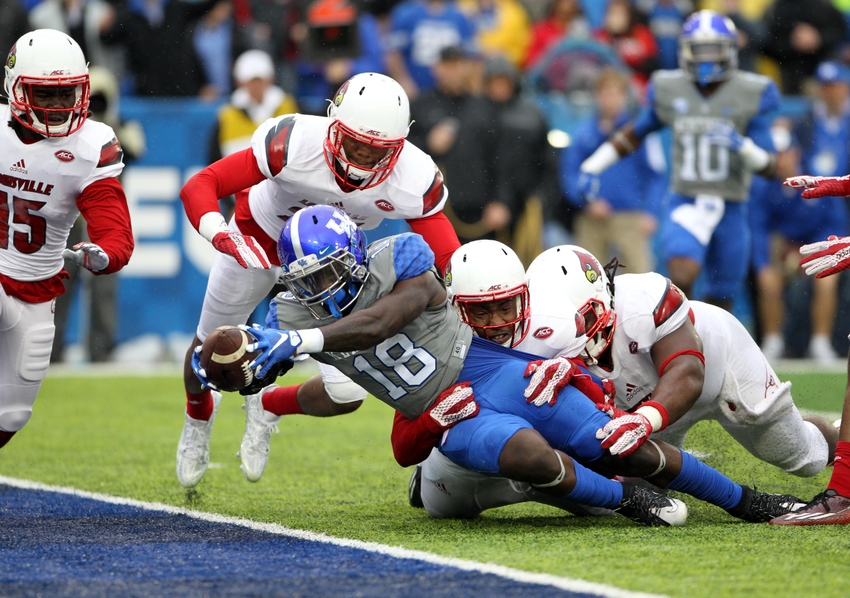 We take a look at how the Louisville Football team can get their sixth straight win over the Kentucky Wildcats on Saturday afternoon.
Lamar Jackson and the Louisville football team will be looking to take down the Kentucky Wildcats this weekend to get their tenth win of the 2016 season. The Cardinals have been able to beat the Cats the last two seasons, despite being down 13-0 in 2014 and 21-0 in 2015.
If they want to get their sixth straight over UK, Louisville must learn to hold onto the football.
While every knowledgeable football fan know that Kentucky doesn't have the level of a football team that Louisville does, the Wildcats have been able to hang with the Cards because of bad turnovers.
Louisville is literally the worst team in America in fumbling the football. It has been an issue over the last month that has crippled the Cardinals' chances of going to the College Football Playoff and gotten worse each week.
Every game we hope that it will get better, only to see that the Cards have figured out more ways to fumble and turn the football over at inopportune times.
With that being said, Kentucky is also one of the worst teams in the Southeastern Conference at turning the ball over. Therefore, yet again, the only way that Kentucky can beat Louisville on Saturday, is if they win the turnover battle.
Secondly, Louisville must be disciplined and have a sound tackling performance against Kentucky's two 1,000 yard rushers. Benny Snell and Boom Williams have been the two players that have carried UK's offense all season long. They consistently stick to the run and pretty much live or die by it.
The good news is that Louisville's defense is sixth in the country as stopping the run. If the Cardinals could keep Florida State's Dalvin Cook in check, then they can hold Snell and Williams to under 100 yards combined this weekend. That goal shouldn't be outside of the question for this Louisville defense.
Want your voice heard? Join the Big Red Louie team!
Again, what should worry Louisville fans the most is the Cards' ability to turnover the football. When you watch the two highlights in this article, you'll see that Kentucky fed off of Louisville's mistakes and turned them into touchdowns.
Louisville must get up early, protect the football, and force Kentucky to throw in order to get back into the game.
This article originally appeared on