Louisville Football: Harry Douglas Stirs Up Trouble In Tennessee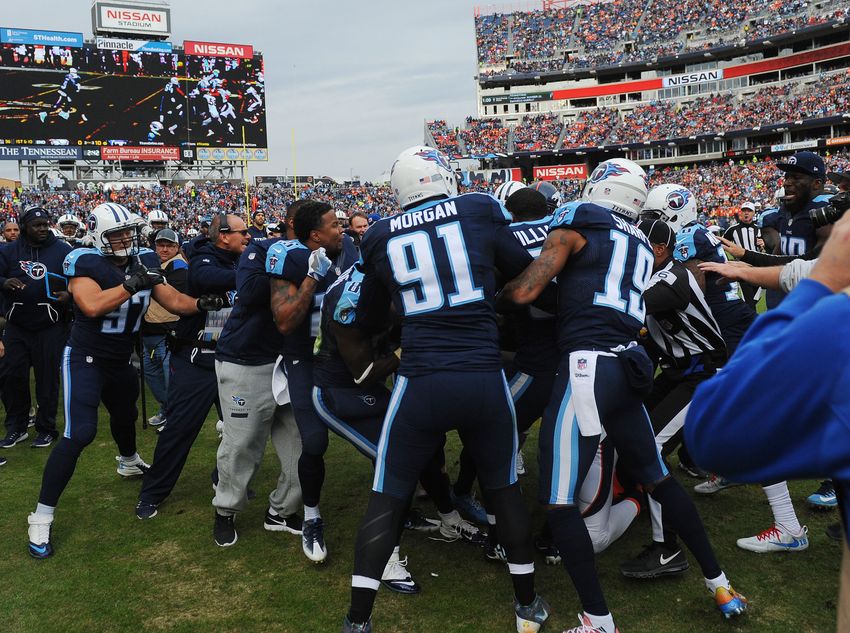 Former Louisville football player Harry Douglas ended up in the news for the wrong reasons on Sunday because of a low hit.
Former Louisville football player Harry Douglas hasn't been a huge contributor for the Tennessee Titans over the past few seasons, but that didn't stop him from making headlines on Sunday afternoon. However, it just may have been for the wrong reasons.
On a rushing play by the Titans, Harry Douglas took a low dive at the knee of Broncos' cornerback Chris Harris Jr. The low-hit started a huge shoving match as both teams were trying to protect their teammates.
You can take a look at the hit by Harry Douglas here.
This is what Chris Harris had to say in Jeff Legwold's article from ESPN:
"I never had a player try to end my career before," Harris said. "That's not football, he tried to end my career with a hit like that … [the officials] didn't call it, but hopefully the league can take a look at that."

Minutes later, as he walked to the team bus, Harris added, "Whatever the biggest fine is, that's what he should get."
It was very clear that every Denver Broncos football player thought that the hit was illegal. However, Douglas is sticking to his story that the hit was actually legal and that he wasn't trying to hurt anyone.
"First of all, that's a clean play," Douglas said. "It was a run play with me and him looking at each other and I cut-blocked him," Douglas said. "Like I told them, if they watch film, which they're supposed to do in the NFL, you would know I can cut-block in the run game and that's a legal play. I guess he didn't watch film because if they watched me last week or any other game he would say that's what I do in the run game."

-Also taken from Jeff Legwold's article from ESPN
In Douglas' defense, it was a cut-block that happens all the time in the National Football League.
At the same time, I do understand that Harris would be upset over that hit because he has dealt with major knee injuries over his NFL career. This is a way of life for these guys, it's how they provide for their families. However, football is football and sometimes things just happen.
This article originally appeared on