Louisville Football: Five bold predictions for the Florida State game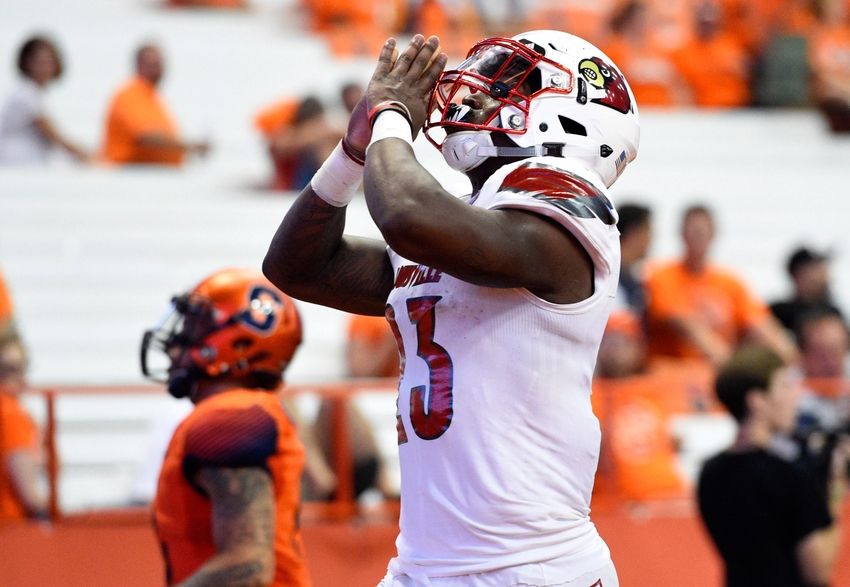 Louisville football will be squaring off against the Florida State Seminoles this Saturday afternoon and the winner could be playing in the College Football Playoff in January.
The hype and anticipation for this weekend's game has been building all week long. The Louisville football program is looking to finally knock off the Florida State Seminoles for the first time since joining the ACC a few years ago. FSU has been able to handle the Cardinals the last two years, but this season may be very, very different.
Sophomore quarterback Lamar Jackson has the nation's spotlight on him this week as he faces the second best team in the entire country. He has had an amazing two weeks and is climbing the ladder towards being at the top of the Heisman race. This match-up against Florida State will show a lot of people whether or not he is ready to become one of the nation's elite players.
There has been some discussion about this particular game being Louisville's biggest game in program history. While that is very exciting to talk about, the Cardinals have been in this situation before and it was actually under current Head Coach Bobby Petrino's first stint with the Cardinals. 
Louisville football: 247 Sports makes preseason bowl predicitions
The year was 2006 and the third team in the country faced the fifth ranked team in the country in a West Virginia versus Louisville match-up. This November game was going to give the Cardinals a huge advantage towards getting to the National Championship. Louisville won the game, but lost to number 14 Rutgers only one week later.
The point is that the Louisville football program has been here before. The next biggest game in the program's history will be whenever they make the ACC Championship, therefore giving them the absolute chance of making the College Football Playoff.
With that being said, this is still a huge game for the Louisville Cardinals. They need to show they aren't the third best team in the ACC any longer and that they are to be taken very seriously. It's going to be one heck of a game.
Here are our five bold predictions for the game on Saturday.
5. Demarcus Walker will lead both teams in sacks
This guy is an absolute beast for Florida State's defense. Last season as a Junior, Walker had 56 tackles, 14 tackles for loss, and nine sacks. Oh yeah, he also had three forced fumbles and one interception. Can you say first round draft pick?
Walker is a problem for every single team that the Seminole's have faced over the past couple of seasons. The scary thing is that he has gotten better every year at Florida State. According to Sports-Reference, Walker already had 4.5 sacks this season through two weeks. It looks as though he is well on his way to blowing away his career sack total.
Louisville's offensive line will have trouble dealing will Walker throughout the afternoon. Lamar Jackson will need to protect the football, as I imagine Jimbo Fisher will find a way to keep Jackson in the pocket during passing downs. It's okay for Jackson to take a sack or two, but he cannot afford to lose the football.
Walker needs to play a huge game for the Seminoles, since Derwin James is out for an injury. If the Cardinals can find a way to keep him quiet, then they will have a phenomenal chance to win.
4: Lamar Jackson will have 500 yards of total offense
Jackson has had a great start to the 2016 season. He destroyed Charlotte and annihilated Syracuse on the road. However, this test against Florida State could prove to be his toughest test of the season.
Last year, the Seminoles held Jackson to 32 yards on 19 carries down in Florida. At the same time, he was able to throw for 307 yards and two touchdowns in Louisville's 41-21 loss. It shouldn't be any surprise that the Seminoles could hold Jackson to one of his lowest rushing totals of the season.
However, Jackson will still have 500 yards of total offense before this game is over. Jimbo Fisher will force Jackson to stay in the pocket and it will prove to be advantage Louisville. Lamar Jackson has not be given enough credit for his improvement as a passer yet this season. He could easily put up over 400 yards passing, especially with the absence of FSU's Derwin James.
All eyes will be on Jackson this Saturday and he will continue to live up to the hype.
3. Dalvin Cook will lead both teams in rushing, while Florida State still loses
The battle for the Heisman part one will feature Cook vs. Jackson. Cook has been phenomenal over the past three seasons and Jackson is still looking to secure himself among the nation's best. This should be a great match-up.
There are some guys who just have the other team's number and Cook just might be the guy who owns the Louisville football team. The Cardinals struggled tackling last weekend on the road and they cannot afford to be lacking those key fundamentals this week against Florida State and Dalvin Cook.
Cook ran for 163 yards and two touchdowns last season versus virtually the exact same Louisville Cardinal defense. That doesn't bold well for Louisville fans, but it will turn out not to be a big deal when this one is all said and done.
This will be Deondre Francois' first true road test and therefore, the Seminoles should lean on Cook heavily in this one.
2. Reggie Bonnafon will lead both teams in receiving touchdowns
One of the biggest storylines for the Louisville football team this season has been the former starting quarterback moving to the slot receiver position full-time. At 6-foot-3, Bonnafon has a great opportunity every single play to have a size advantage over normally smaller college cornerbacks.
Bonnafon had a very disappointing game last Friday night against Syracuse. He dropped way too many passes that were thrown his way and clearly looked disappointed with himself throughout the evening. However, he will make up for that this weekend against the Seminoles.
He is going to be one of the game's most surprising players. You should expect to see Louisville's offense in the red zone throughout the day and you should also expect Bonnafon to be making some big-time catches in the end zone.
Big time players come up huge in big time games. Bonnafon has always done everything that coaching staff has asked of him. Fans should expect nothing less from him on Saturday.
1: Louisville will beat Florida State 38-35
This is going to be a game that Louisville football fans are going to remember for a long, long time. It seems as though all of the stars are aligning for the Cardinals to upset the Seminoles and move further up into the College Football Playoff discussion.
Lamar Jackson has huge expectations on his shoulders this weekend, but he will have one of the more memorable games of his career anyways. Like we said earlier, he will go for 500 total yards in this game while being forced to stay inside the pocket.
This will definitely be a back-and-forth game that will come down to the very end with the Cardinal's making a defensive stop. Most games come down to which team has the ball last. Well, the Seminoles will have the ball last, but Louisville will find a way to shut them down before they find the crucial field goal.
Louisville will move into the top six after this weekend and will be well on their way to giving Clemson all they can handle in two weeks.
This article originally appeared on