Louisville Football: Comparing Deshaun Watson and Lamar Jackson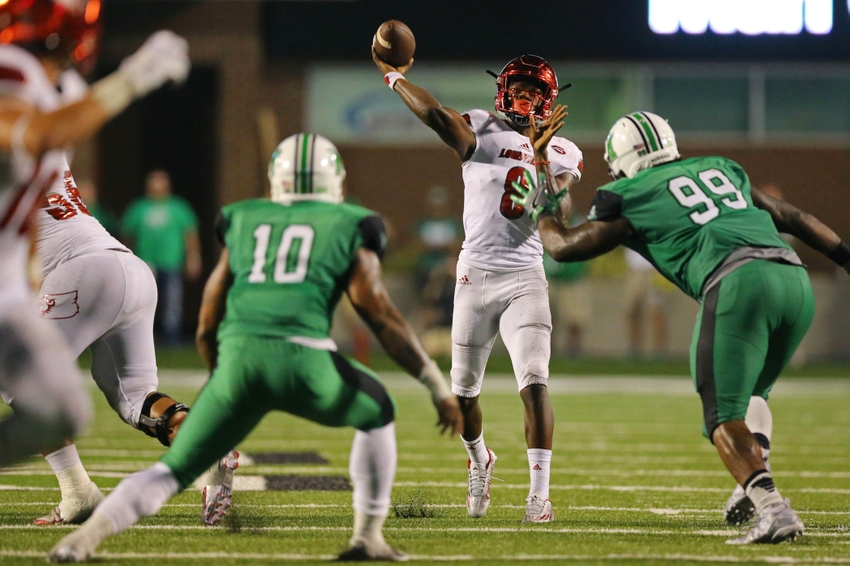 Louisville football will be heading down to Clemson to face the Tigers next Saturday. Below, we take a look at comparing the two star quarterbacks.
Next Saturday is going to be one of the best, if not the best, college football games of the entire college football season. The 3rd ranked Louisville football team will be heading down to South Carolina to play the 5th ranked Clemson Tigers. This game will surely decide who will be playing in the ACC title game with the chance of going to the College Football Playoff.
Not only does this game feature two great teams, but it also features two great quarterback in Deshaun Watson and Lamar Jackson.
Watson led his Tigers to the National Championship last season, whereas Jackson is trying to get his team there, while also winning the Heisman Trophy. If you were starting a program, you couldn't go wrong with either one of these guys. However, for the purposes of this article, we compare the two below with stats from the NCAA's official website:
Lamar Jackson, 2016 Passing and Rushing Stats:
74 completions/126 attempts
13 passing touchdowns (tied for 5th in nation)
1,330 passing yards (9th in nation)
12 rushing touchdowns (1st in nation)
526 rushing yards (6th in nation)
150 total points responsible for (1st in nation)
Lamar Jackson has put up some incredible numbers so far in this young 2016 college football season. He has come a long way since the last time Louisville football squared up against Clemson. Actually, he didn't even start that game. It was current Louisville back-up quarterback, Kyle Bolin.
After struggling a but against the Thundering Herd, Jackson found his rhythm on the way to putting up seven touchdowns. He gave himself an 'F' grade for the game, but if that is his grading system then we may be in for a treat against the Tigers on Saturday night.
Get the Saturday Blitz App
Deshaun Watson, 2016 Passing and Rushing Stats:
90 completions/150 attempts
9 passing touchdowns (tied for 22nd in nation)
996 passing yards (30th in nation)
Zero rushing touchdowns
120 rushing yards
54 points responsible for (tied for 36th in nation)
Watson has not gotten off to the kind of start that Jackson has so far this season. However, regardless of the teams they have played or how they have played, both quarterbacks come into this game at 4-0.
The edge has to go to Watson in terms of experience. This is going to be the biggest game that Lamar Jackson has ever played in. No disrespect to Florida State, but this game will determine the Cardinals' chances of making it to the College Football Playoff.
The good news is that Jackson is ready for the moment. The bad news is that Watson is ready for it too. Saturday's game will go down in history as one to remember for a long, long time.
This article originally appeared on