Louisville Football: 5 takeaways from the Syracuse game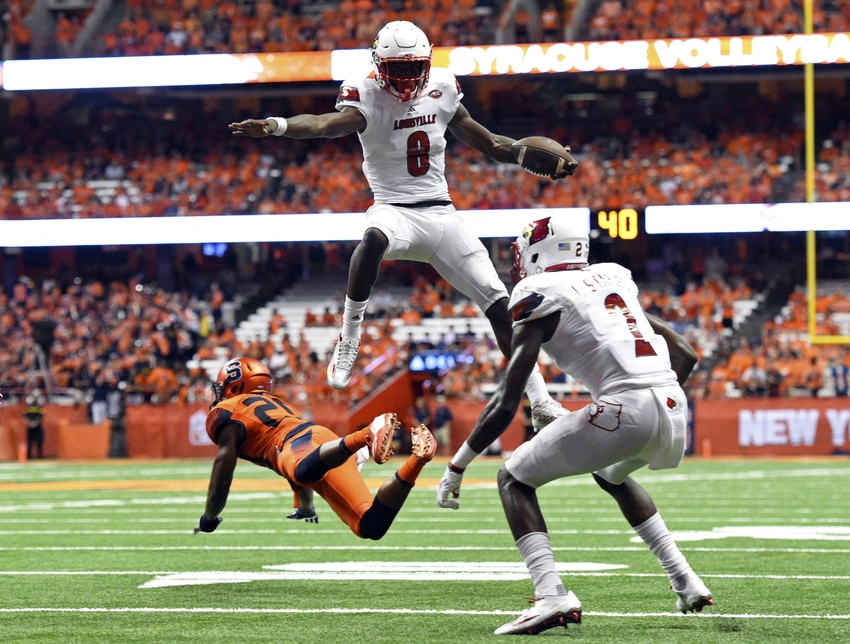 Louisville football was able to knock off the Syracuse Orange Friday evening after a great start from the Cardinal's sophomore quarterback Lamar Jackson.
What a crazy evening of football for Louisville football fans. While sophomore quarterback Lamar Jackson played very, very well, the rest of the team struggled a little bit in Syracuse all evening long. Dropped passes, penalties, and turnovers plagued the Cardinals' football team.
The good news is that Louisville was able to walk out of New York victorious. It wasn't the prettiest of wins, but all that matters is that the Cardinals were able to get the win. That is more than a few top ten schools could say about their performances last weekend.
Lamar Jackson is still showing why there is so much buzz surrounding his name. He threw a bomb to James Quick to start the game for a 72 yard touchdown and never looked back. While he is still making some mistakes, most of his bad decisions aren't "game-killers" for the Cardinals. Jackson is still showing that he is improving as a passer.
With Florida State on the schedule to come play the Cardinals next weekend, head coach Bobby Petrino and his staff have their work cut out for them this week. It's going to be important for Louisville football to get this win over the Seminoles, as they are looking to make it to their first ACC Championship since joining the conference a few years ago.
The Cardinals did exactly what they needed to do against Syracuse in order to be ready for the Seminoles. They got a lot of bad things out of their system in order to learn and grow from this experience. Well, at least that's what everyone around Louisville football is hoping for.
Here are the five takeaways from the game against Syracuse:
5. Louisville's receivers need to clean up their game
After James Quick's 72 yard touchdown catch on the first play of the game, Louisville's receivers quickly began to see their play decline. Syracuse was a great test to see how well this team could respond to adversity on the road in ACC play. There were good moments and there were some very bad moments.
Unfortunately for Louisville's receivers, they were in the bad category.
Reggie Bonnafon didn't have a very good game either. Jackson looked his way a few other times and he still wasn't able to pull down the crucial catches in this one. He looked great against Charlotte, but that doesn't matter if he cannot pick his game up. He has a great size advantage over most nickel corners he will face this year, hopefully with more experience he can figure it out.
Quick and Staples were the bright spots for Louisville in this game against Syracuse. They both had well over 100 yards receiving and are showing they can be the most reliable targets for Lamar Jackson.
It's going to be important for Louisville's receivers to pick up their game before they meet up with the Florida State Seminoles next Saturday. If Louisville wants to pull off the upset, the Cardinal's receivers need to play a flawless game.
4: Special Teams might actually be a question mark
Louisville knew, coming into the season, that they were going to have to replace a very good kicker in John Wallace. While Wallace didn't have a great season for the Cardinals last year, experience is still huge for a kicker. With Louisville having so many tough games on their schedule, it's going to be important for the Cardinals to have a kicker they can trust going forward.
It definitely didn't help that Evan O'Hara missed his first field goal attempt of the evening in a 42-28 ballgame. It obviously didn't please head coach Bobby Petrino, he may be on a long road back to earning the coach's trust.
Another point of concern is Louisville's kick returner Seth Dawkins. He has not shown much of anything so far in this young 2016 season for the Cardinals. He runs very tentatively and almost as if he is just waiting to get hit.
Special teams are going to be very important for Louisville this season to get an edge on conference rivals Florida State and Clemson. Hopefully Dawkins can pick his game up or Petrino might be looking at giving his returning job to someone else.
3: Louisville's defensive backs need to tackle better
This is an area that the Cardinals have to be better at. They could not wrap up anyone throughout the evening, which is very concerning when Florida State's Dalvin Cook is coming to town next weekend. If you forgot, Cook has been one of the biggest reasons that Louisville hasn't been able to knock off the Seminoles the past two seasons.
Amba Etta-Tawo destroyed the Louisville defense for over 100 receiving yards and two touchdowns Friday night's game. It's not like he has breakaway speed, Louisville just couldn't tackle him.
The Cardinals were too focused on hitting him, than wrapping up and bringing him down. He gained most of his yards from after the catch. The Cardinals cannot live with that going forward. Florida State and Clemson will move the ball down the field all day long, unless Louisville can figure out how they can improve their tackling.
It's not all bad news for the secondary. Josh Harvey-Clemons did look pretty good in the Syracuse game. Louisville will need him and Chucky Williams to force turnovers throughout the rest of the year for the Cardinals to have a shot at winning an ACC Championship.
2. Louisville has a habit of beating themselves
Other than watching Lamar Jackson, this may be the best news that Cardinals fans will hear all night long. Louisville has struggled with penalties and turning over the football so far this season, however both of those things are very fixable. I mean, they were still able to put up 60 points in this game. How many teams can say that?!?
At the same time, Louisville gave away too many points in the game versus Syracuse. Those are points that they cannot afford to give away in games against Florida State, Clemson, and Houston. Fumbles and penalties will kill any type of momentum that you are wanting to building during the game. They must improve.
On the other hand, if Louisville didn't drop passes, fumble the ball, and commit too many penalties, they would have played that much better. The Cardinals have a very talented football team with senior leadership that showed up big time against Syracuse. This team has a very high ceiling and it's going to all come together here soon.
There were teams on the first weekend of football that lost because they played a game like Louisville. Fortunately for the Cardinals, they were able to weather the storm and come out with the win. However for Louisville, they did it while putting up 60 points!
Syracuse made some nice plays on the ball, but it was mostly Louisville shooting themselves in the foot in this one. I expect head coach Bobby Petrino to help them clean things up for the next game.
1. Lamar Jackson is still a rising superstar
Any writer in America could spend all day and night writing about how great of a player Lamar Jackson is. After only one quarter of play, Jackson already had almost 200 yards passing, 100 yards rushing, and four total touchdowns. That is ridiculous for a guy coming off an eight touchdowns half against the Charlotte 49ers.
He made some great throws in this game to James Quick and Jamari Staples. The connection between those three guys are going to be very important throughout the rest of the 2016 season. The 72 yard bomb to start the game was one of the most exciting plays you will see all season for Louisville.
Well, I guess that is if you fell asleep during Lamar Jackson's touchdown run where he hurdled the defender. Syracuse quarterback Eric Dungey tried to do the same thing, but it was a very different outcome.
An area where Lamar Jackson needs to improve is his accuracy. Yes, I know that he has come a long way since last season, but he still has room for improvement. When there is tight coverage in crucial games, he is going to need to show he can fit the ball into some tight spaces.
This article originally appeared on