Louisville Football: 5 reasons to be mad after the Cards' loss to Kentucky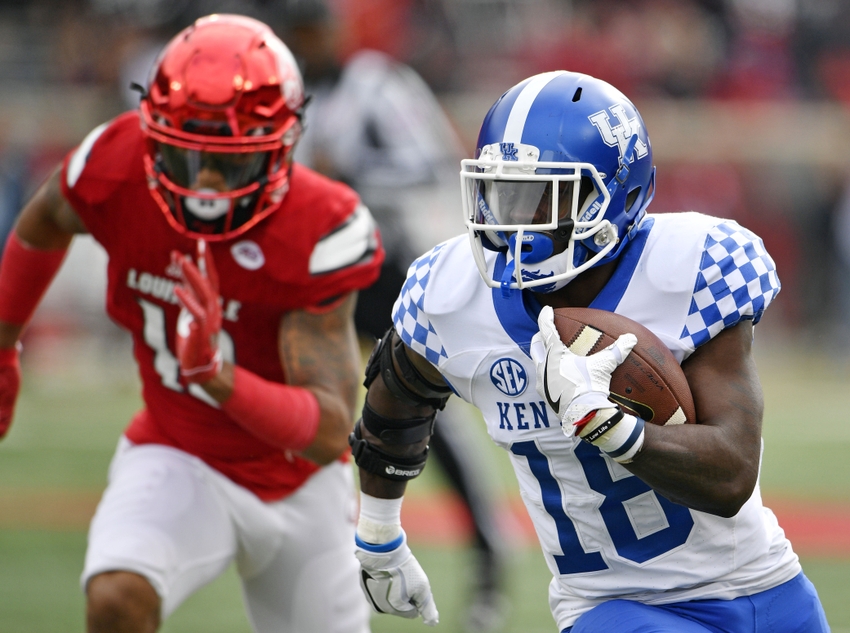 We take a look at five legitimate reasons why you should be mad about the Louisville football team's loss to Kentucky.
The Louisville football team was upset by the Kentucky Wildcats for the first time in six years on Saturday. It was a game that the Wildcats dominated and the Cardinals couldn't finish off at the end. It was a thriller, but unfortunately it didn't go in the Cards' favor this time around.
Want your voice heard? Join the Big Red Louie team!
Fans should be very disappointed in this loss. This was a game that Louisville didn't have any business losing and they were sure to underwhelm again.
Is it really that hard to ask for just another win over the Kentucky football team? It's not like the basketball team will be pulling a stunner at the end of December.
With that being said, here are five reasons you should be made about this loss:
5. Stephen Johnson looked like the Heisman Trophy candidate
Okay, we all know that's a bit of an overreaction, but the Cardinals' defense played absolutely terrible. As if getting killed by Houston wasn't enough, they let Stephen Johnson throw for 338 passing yards and three touchdowns.
Not to mention, he rushed for 83 yards as well.
Johnson was super efficient on pretty much every pass he threw. Whether it was burning the Cards deep or hitting the consistent flat route; Johnson was on fire.
Louisville's defense should just be ashamed and there is no getting around it. How do you go from playing Deshaun Watson in October to getting dominated by Kentucky in November?
Oh yeah, to make everything worse, Louisville gave up 581 yards of total offense on Saturday.
Almost 600 total yards to the Kentucky Wildcats. Wow.
4. Coaching/Effort/Game-planning
There was a serious case of Louisville coming out not ready to play on defense. If this was the first time we were talking about it, then it would be one thing, but it seems as though they could have cared less about beating Kentucky on Saturday.
I don't understand how Todd Grantham cannot have his guys on defense ready to play every week. Especially against an in-state school like Kentucky. It was brutal to watch and they will reap the effects of it.
It didn't even feel like Louisville knew what was coming on defense. The flat route was open all day and the Cards couldn't cover it.
Not to mention, Kentucky played the better football game for four quarters than Louisville did.
3. Turnovers
You would think that the Cardinals would learn from their mistakes over the course of the season, but they just keep getting worse. Not to mention, they keep happening in important situations every week.
Lamar Jackson threw three interceptions and fumbled the ball away in the closing minutes, which gave Kentucky the ball on the drive that won the game. I don't care if Jackson is Peyton Manning, there is no excuse for him to be turning over the football.
We talked all week about how the offense has to protect the football, however that was apparently the furthest thing from their minds against Kentucky.
Whoever they face in their bowl game might as well go ahead and just wait for Louisville to hand them the ball.
2. James Quick's dropped touchdown pass before halftime
Leave it to James Quick to leave one more memorable drop on the field in his last game at Papa Johns Cardinal Stadium. Lamar Jackson's pass hit him right in the chest and left six points, maybe even seven on the board.
In a game where the Cards lost by three, one has to wonder how the game would have ended if the Cards could have been going into the half up by ten.
It's unbelievable how the same things keep happening every week. Luckily we only have to watch James Quick drop passes in one more game.
Maybe it's the Orange Bowl or maybe it's another bowl, but he disappointed on a day where he should have shined against a poor Kentucky secondary.
1. Everything Louisville worked for in 2016 may have come to an end
Surely, this was supposed to be the season that Louisville football was going to take the next step and become an elite football team. I guess we couldn't have been more wrong.
Whether it was the easy schedule or Lamar Jackson's amazing play, the Cards couldn't be stopped in the first half of the season.
With that being said, the season took a turn for the worse after the Cardinals lost to Houston and Kentucky in under two weeks. Just like that, the College Football Playoff is out of the window and the Orange Bowl could be as well, depending on how Florida State plays against Florida.
Who knows how this loss will affect Lamar Jackson's Heisman hopes. There may be some voters who will go for someone in the playoff, now that Louisville has three losses. However, at the end of the day, I think he still may be safe.
We now turn our broken hearts towards bowl season and who knows where that's going to lead or if Louisville will even be interested in playing.
This article originally appeared on