Louisville Football: 5 Reactions To Lamar Jackson Winning The Heisman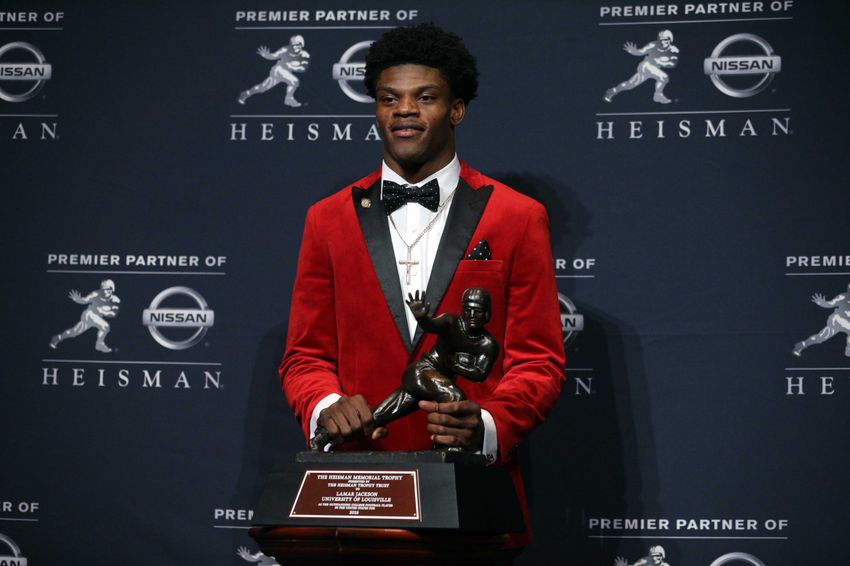 We take a look at five reactions most Louisville football fans had from Lamar Jackson winning the 2016 Heisman Trophy.
It sure was a stressful night, but the Louisville football program finally had a player win the Heisman Trophy. Lamar Jackson became the first Cardinal to ever win the award, while maintaining his humbleness and respect for his mother during the entire evening.
It was a moment that we will remember for the rest of our lives. It's a night we will tell our young children and even their future children about. It's a time in Louisville history that will never, ever be forgotten.
With that being said, let's take a look at five reactions from Jackson winning the Heisman Trophy:
5. Amazement
Has is finally hit you that Lamar Jackson just won the Heisman Trophy? This program has come from giving tickets away for free to seeing a Cardinal quarterback winning the most-famous award in front of the entire nation. Does it get any better than this?
We thought that Jackson's hurdles or touchdowns would be the best thing we've seen all season, however I couldn't have been more wrong.
The exposure that this award will give the Louisville football program is second to none. There are players at home right now who are wanting to become Cardinals because of Lamar Jackson.
Let's hope that Jackson won't be the only Cards football player to win the Heisman before too long.
4. Happiness For Lamar Jackson And His Family
I never though that a Heisman Trophy speech would have me feeling all kinds of emotions, but I was wrong again. Hearing what Jackson had to go through as a kid just tore me all up inside. However, to take a look at his character, just take look at how far this guy has come and yet he still gives credit to his mother.
I cannot even imagine the types of things Jackson has overcome in his young life. I think we all can relate to going through adversity everyday, but Lamar Jackson just found out how it feels to overcome it all.
All Louisville fans should be pumped for the Jackson family and what this trophy is going to do for their future.
It also may be a sure thing that Jackson will be highly drafted sometime over the next two seasons. Talk about a life-changing award.
3. Sweet Relief
The moments leading up to the Heisman presentation were just terrible. The anticipation on everyone's hearts and minds was insane as we were getting ready to learn if Lamar Jackson would win the Heisman or not.
I blame ESPN to be honest. I'm partly kidding, but being serious at the same time.
We all knew that Jackson was the clear front-runner, but that didn't stop people on the major networks from discussing Deshaun Watson's chances of pulling out the upset.
Louisville has been tortured in football by Clemson for what has seemed like an eternity. Not to mention, Jackson not winning the Heisman would have been the cherry on top of losing to Houston and Kentucky.
With that being said, it sure did feel good to know that the player who deserved the award, actually won for once.
2. Confirmation
Every single Louisville football fan can go back into work or school on Monday knowing that they were right about Jackson the entire time. Losses against Houston and Kentucky definitely had people talking, but all of the Heisman voters knew who the best player in America was this season.
It also feels good to know that this kid has been playing lights out all of 2016 for our favorite college football team.
All season long we have been talking about how great Lamar Jackson has become, but as usual, Louisville football wasn't taken seriously.
With that being said, can you hear us now sports world? This football program is here and here it will stay.
1. Hope For The Future
My goodness, I cannot even fathom what this is going to mean for the Louisville football program's future. Lamar Jackson just won the most popular award in all of college sports.
No more hearing about how bad of a conference their in. No more hearing about how strength of schedule hurts the Cards' chances.
Lamar Jackson just achieved something that we never imagined for one individual from the University of Louisville.
This may be the pinnacle of most of our Louisville sports lives, but I still believe the best is yet to come for this program and athletic department. By the way, thank you very much Tom Jurich.
With Bobby Petrino and Lamar Jackson, who knows how much more they can accomplish in 2017 together.
This article originally appeared on