Louisville Football: 5 pivotal problems the Cards have to fix this season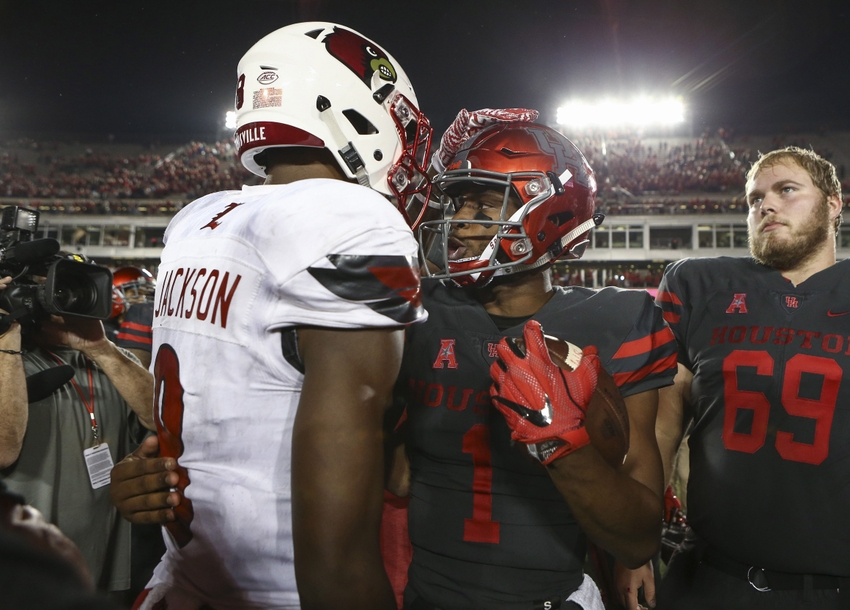 We take a look at five pivotal problems that Louisville football has to fix before the end of this season or they will continue their decline.
Thursday night might have been one of the most disappointing football games that we have ever witnessed. Everyone believed that this team was different, which was why every Louisville football fan was arguing for their place in the 2016 College Football Playoff.
To everyone's surprise, the Louisville Cardinals football team never showed up on a night where their fans and the playoff committee needed them to perform at their best. Just plain disappointing.
The good news is that Lamar Jackson didn't lose the Heisman Trophy because of the loss. If there is anything that we can take as a positive, then that's it.
Other than that, there wasn't anything else that the Cards showed on Thursday night that would give us any reason for optimism. However, that doesn't mean that they cannot turn things around before the end of this season becomes a complete disaster.
This is a very talented football team that has survived a bunch of problems this season. There is no getting around that fact now that they are out of the playoff hunt.
With that being said, here are the five things that the Louisville football team has to improve on going forward.
5. Kick Return Team
Louisville has one of the worst kick return units in the entire country, which is incredibly disappointing. Just think, if the Cards could get a couple of long returns, their offense would have even more opportunities to put points on the board. Not to mention, it would help a lot when the offense is having trouble moving the football.
Did you realize that Louisville has only 2 returns of 30 yards, zero of 40, zero of 50, zero of 60, zero of 70, zero of 80, and zero of 90. Not only have they been amazingly unproductive, but they are now coughing up the football.
The Cards need to take a long hard look at who should be returning kicks for these next two games because it would open up a completely different side of the team that would help the Cardinals be more successful.
4. Their Focus
This was one of the most disappointing things of the entire game against Houston. The Cards spent all week tweeting and expressing their disapproval in the College Football Playoff committee's rankings. At the end of the day, it turns of they were wrong and the committee was 100 percent correct.
You cannot be so focused on the playoffs that you don't take care of your own business. This is still a "younger" team, but they showed, more than ever, why they shouldn't have been in the big dance this season.
They will face a Kentucky team that will be bowl-eligible for the first time in forever and will also be looking to shut down Lamar Jackson. If the Cards cannot fix their focus on the task at hand next weekend, they will be sitting at 9-3 to conclude a disappointing end to the 2016 regular season.
3. Penalties
This has been one of the most undisciplined Louisville football teams that I can even remember. The way these guys give up yards every game just blows my mind and I don't have any reason to believe that they are improving in this area.
This isn't a reaction and this isn't me just being overdramatic. Take a look at these numbers of where Louisville ranks in Penalties this season:
121st in Penalty Yards per game
127th in Total Penalty Yards
128th in Total Penalties
To give you a bit more perspective, there are only 128 teams that are considered in these statistics. There is no excuse for the reason this team is so undisciplined. This is 100 percent on the coaching staff and they have to figure this out fast or they won't be celebrating a bowl victory this season.
2. Turnovers
The Cardinals have lost more fumbles that anyone in the entire country. They have lost the football on the ground 20 times this season and the closest team behind them is Virginia Tech with 14. That means Louisville has lost SIX more fumbles than any other football team in America. That is just downright embarrassing.
Whether it's Brandon Radcliff, Lamar Jackson, or the receivers, Louisville just cannot figure out how to hold onto the football. It doesn't matter how they play, if they keep fumbling at this rate, they won't beat either of the two teams remaining on their schedule and we don't even know who their bowl opponent is yet.
The even scarier thing is that the Cards have fumbled 28 total times. That means they have fumbled, at least, 2.5 times per game.
Thank goodness they recovered eight of those fumbles because this fumbling issue could have been an even bigger issue in 2016.
1. Offensive Line
Louisville's offensive line just gave the worst performance I have ever seen. They gave up 11 sacks to a football team who got beat by SMU and Navy this season. We knew that this line was suspect, but I am not sure that anyone one of us knew that they could be that bad. Houston did whatever they wanted to do and the O-line didn't have an answer.
As if not blocking wasn't enough, they let the crowd noise in Houston (yes, Houston) cause numerous false starts that killed any kind of field position Louisville had. Again, it was the worst performance I have ever seen from an offensive line.
The Cardinals have to get this figured out or they won't be able to do anything on offense in these last two games. Controlling the line of scrimmage is everything for this offense. Their long passing plays are mostly based off of play-action passes, which cannot happen unless Jackson has enough time to throw.
Not to mention, play-action isn't a possibility unless the run game can get going outside of Lamar Jackson.
The scary thing, is that this line has gotten worse as the season has gone along and they haven't given us any reason for optimism.
This article originally appeared on