Louisville Football: 5 NFL teams that could draft Lamar Jackson when he declares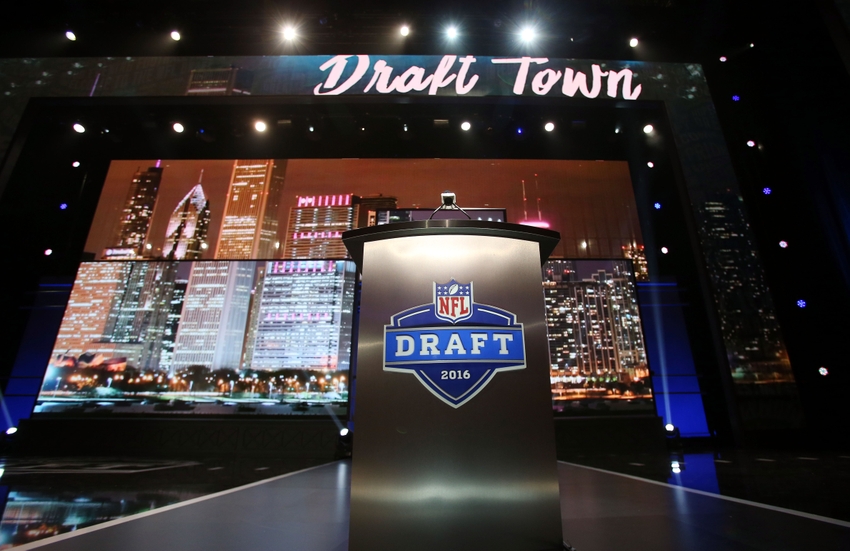 We take a look into the future to see which NFL teams could draft Louisville football's Lamar Jackson whenever he decides to enter the NFL Draft.
Louisville football quarterback Lamar Jackson is having one of the best overall season's of a college football player of all-time. Cardinals fans are hoping that he can win the Heisman this season and it looks as though that is a major possibility.
SEE ALSO: 5 reasons Louisville underachieved against Duke
Whether Louisville wins the National Championship in the next two years, Jackson should still be the best player coming out in whatever draft class he enters. It won't be at the end of this season since he is only a sophomore, but it could be after his junior season at the University of Louisville.
When he does declare, he very well could be the number one draft choice. There are many teams who are constantly going through quarterbacks like they are cereal. That bad news is that great quarterbacks cannot be bought from a local grocery store. Some only come once in a lifetime and some only come at a very hefty price.
Lamar Jackson is a quarterback that could come at a very hefty price for a few teams we selected in this article. A few of the teams will be looking to move up to the first pick and that will cost them a fortune, but that fortune would be completely worth their time and effort. They would be getting a face of the franchise.
5. Cleveland Browns
Let's hope that this doesn't come to fruition because Cleveland is where quarterbacks go to see their career's die. The Robert Griffin III experiment did not last very long for the Browns, as they have already gone through four different quarterbacks this season.
Cleveland is always hanging around the top five of the NFL draft and should be there again next season.  The interesting focus point will be who they decide to take in this upcoming draft. For instance, if Deshaun Watson leaves Clemson at the end of the year and declares, will the Browns take him number one overall?
They very well could and then it would be a matter of if they decide to draft another quarterback after struggling for another season.
Deshaun Watson or not, the Browns should still be one of the NFL's worst teams when Lamar Jackson finally declares for the draft.
4. San Fransisco 49ers
The 49ers are another team that has been very inconsistent ever since making the Super Bowl in 2012. They have changed coaches, quarterbacks, and coordinators, but they still haven't found the right mix of guys in San Fransisco. Maybe they should ask the San Fransisco Giants how they built champions.
I don't believe Colin Kaepernick is the answer at quarterback anymore for the 49ers. They just benched Blaine Gabbert and Kaepernick will be returning to the starting lineup this Sunday. I would be very surprised if he was still the starter at the end of next season.
Normally teams who have bad quarterbacks end up drafting very high in the draft. With that being said, it's always hard to predict how bad or how good a team will be in two seasons, but I have a feeling the 49ers will still be looking for a quarterback when Lamar Jackson leaves for the NFL Draft.
3. San Diego Chargers
What are the Chargers going to do when long-time QB Philip Rivers finally decides to retire? I can tell you that his replacement isn't on their current roster and he probably won't be on it the next season. Therefore, will the Chargers make a move for Lamar Jackson in a few years?
It's always hard to day, especially when they are so many quarterbacks who get drafted in the later rounds who become successful, but it definitely a possibility. I don't think they will quite be bad enough to get the first overall pick, but they could make a blockbuster trade to bring Jackson out to San Diego.
By the time Lamar Jackson enters in the NFL, the Chargers could actually be out in Los Angeles. There has been a lot of rumors that head in that direction, don't think that the Chargers' ownership wouldn't make a move to bring another high-profile football player out to LA.
2. Miami Dolphins
This whole Ryan Tannehill thing isn't going so well for the Miami Dolphins. Mainly because their offensive line is terrible, but also because he hasn't been consistency good the entire time he has spent in Miami.
Former Louisville football player DeVante Parker is already in Miami. Could the Dolphins be looking to pair up the two formers Louisville Cardinals in a few years? They very well could and, as bad as they are, could be in a great position to draft him without giving up too much in a trade.
Jackson would be playing close to home and would be loved by every Dolphin fan alive. His electric play would make things very interesting in a division where Tom Brady and the New England Patriots have dominated for well over a decade.
Miami would be an interesting landing spot for Jackson.
1. New Orleans Saints
There will be a day when Saints' quarterback Drew Brees decides to call it a career and New Orleans might be looking to find his replacement well before he's ready to go. The Saints have been playing bad football over the past 3-4 seasons and something is going to break soon. Either they need to win or their management will start to shake things up.
In a division where Jameis Winston and Cam Newton already shine, could their be a third Heisman Trophy winner coming to the NFC South?
It would be an amazing draft choice for New Orleans as their entire region would surround Jackson with support. The fans in New Orleans love their football and Lamar Jackson could take them back to the promised land. Well, at least make it back to the playoffs where the Saints haven't been in many years.
I think New Orleans could make a huge trade to go and get Lamar Jackson when he decides to leave Louisville.
This article originally appeared on