Louisville Football: 5 crucial questions for the Cards vs. Houston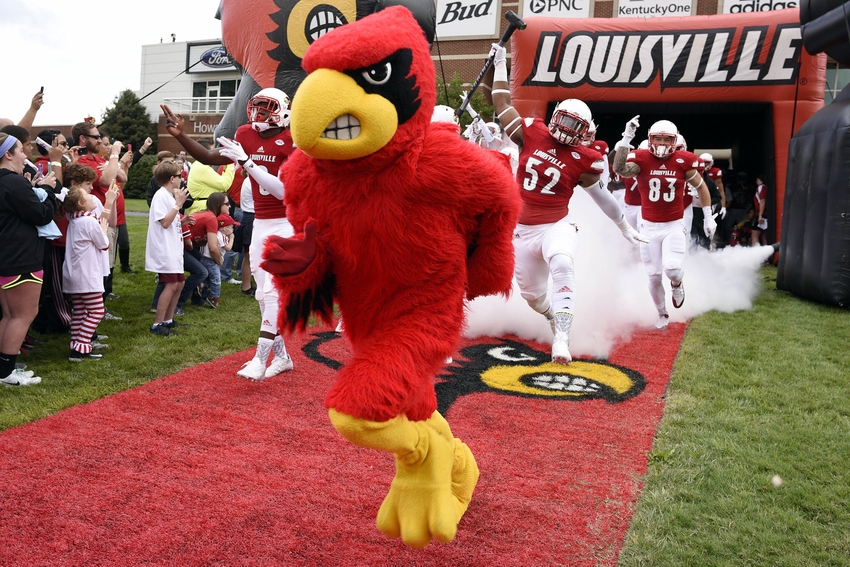 We take a look at five different, very important questions surrounding the Louisville football team going into their game against Houston.
Can you believe that the Louisville football team only has two regular season games left this season? The 2016 football season has flown by and the Cardinals are in position to, hopefully, make the College Football Playoff in a few weeks. There are still a few things that need to fall into place, but it's still very likely to happen.
One of Louisville's big non-conference games this season was supposed to be Houston. All was great and well until the Cougars lost two games in the middle of the season, which shot them out of the top 25 completely. As Houston's season went down the drain, so did Louisville's strength of schedule.
Yes, we can all say it out loud: "Thanks a lot Houston".
What the National media doesn't want to recognize is that the Cougars are still 8-2 and play very well at home. Regardless of if this Houston team is rated or not, this will be a game where Louisville needs to come in focused or they will be sorry.
Get the Saturday Blitz App
Is Houston better than Louisville? Definitely not. However, The Cards have to quit playing with fire by turning over the football. That kind of play will eventually catch up to them like it did in Clemson.
At the same time, if the only team that could beat Louisville when they turn the ball over at least three times is Clemson, then the Cards are in great shape.
Here are five important questions for the Cardinals, going into the game against Houston:
5. Can Louisville shake off the distractions from the espionage allegations?
Whether it's true or not, Wake Forest head coach Dave Clawson has successfully put the Louisville football program in the spotlight. He, without directly stating it, accused the Cardinals of stealing his game plan for the game last Saturday.
Of course the National media has jumped all over this issue and is making it seem like the Cards are 100 percent guilty without Wake Forest having any proof. Bobby Petrino had to comment on the accusations on Wednesday afternoon and declined that his program would do such a thing.
Regardless of what did or did not happen, it will be interesting to see how they handle the negative attention.
Not to mention, it seems the like commentators get worse every week, so prepare yourselves for that as well.
4. Will the Cards take their fumbling woes down to Houston?
It became pretty clear in the Wake Forest game just how much of an issue this has become for Louisville. Not only are they one of the worst teams in the conference in turnover differential, they let Wake Forest hang around for 3 quarters because of their fumbling issues.
Case in point, if Louisville goes down to Houston and turns the football over two to three times, they are going to get beat.
Yes, the Cards' defense played great, which held Wake Forest to 12 points on four field goals, but Louisville will lose if they do that against a team with a more established offense.
The scary things is that it's almost become an epidemic at this point. Let's hope they don't take that part of there game down to Houston on Thursday night.
3. Are the Cardinals going to make a statement in front of a National audience?
I can tell you right now, if the Cardinals go into Houston and blow the doors off, it's going to get the College Football Playoff committee's attention. No, it's not as big of a game as it what earlier in the year, but this is Louisville's last chance to express their dominance in front of a National audience.
Sitting at number five, the Cards have a great shot at getting into the final four after the conference championships. They only need Michigan/Ohio State/Washington to lose one more time for them to be highly favored to get in.
Again, there is going to be a ton of motivation for Louisville come in and destroy Houston. We all saw how the players took to Social Media to display their frustration with being ranked fifth.
However, will that be raw Tuesday night emotion? Or will they turn that into focused determination against the Cougars on Thursday night?
2. Can Louisville get the ground game going outside of Lamar Jackson?
It had been almost a month since the last time Brandon Radcliff had an impact game for the Louisville football team. The importance of getting Radcliff or Jeremy Smith rolling is very important, especially when teams start zeroing in on Lamar Jackson like Wake Forest did.
Radcliff did not play very well against Houston last season, but will need to have a solid game this time around to help the Cards get a victory. His explosiveness was off-the-charts last weekend and helped Louisville go on a 44 points run that kept Louisville's playoff hopes alive.
If Louisville can establish a ground game outside of Lamar Jackson, then they will beat Houston big on Thursday. It's so hard for teams to defend against both players on the read-option and could very well send the Cougars home packing early.
This just opens up so many different options in the playbook if Louisville can run the ball effectively with their running backs. If Smith or Radcliff could get going, then Jackson is going to have a huge day through the air.
1. Which Louisville football team are we going to see play Houston?
Every point in this article has been leading up this, what Louisville team are we going to see on the field on Thursday night? Will it be the fumbling and underperforming Cardinal team? Or will it be the team that comes in and takes charge?
While the committee says margin of victory doesn't matter, clearly the strength of victory does. They want to see that Louisville is clearly the superior team going down to play the 8-2 Houston Cougars.
In football, every game is different, every team is different, and every one-on-one matchup changes every week. Therefore, it's hard to expect one team to dominate all four quarters, of every game, all year long, but that's apparently what they have to see from the Cards.
With that being said, knowing the expectations from the committee. Which Louisville football team are we going to see take the field?
This article originally appeared on