Louisville Football: 3 Cardinals up and 3 Cardinals down after the Virginia game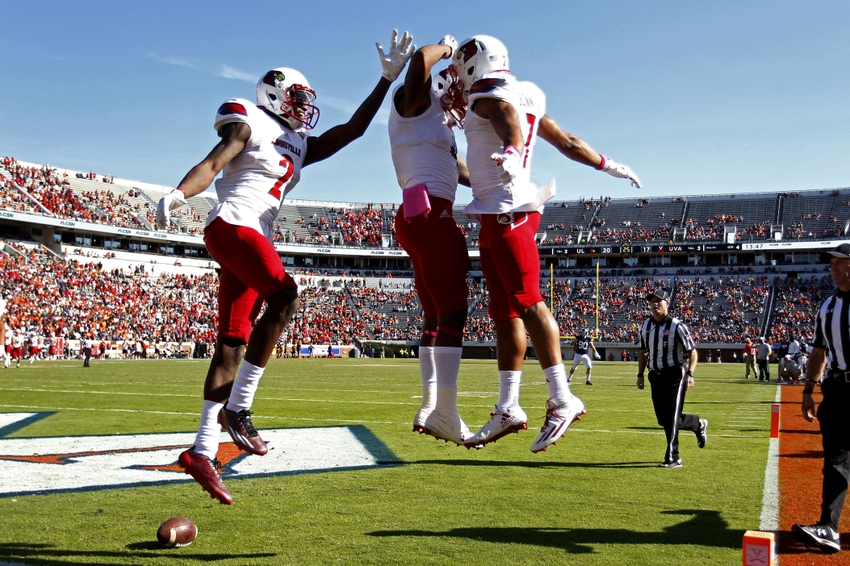 We take a look at three Louisville Football players that had great performances against Virginia and three players that did not.
It was a crazy weekend of college football that saw three teams in the top ten go down. Fortunately for Cardinals' fans, one of those teams was not Louisville Football. However, it's not like they walked away from the game without a fight.
Virginia was only a two-win football team going into the match-up with the fifth-ranked Cardinals. The Cavaliers tested Louisville like only a few teams have this season. Actually, they were only the second team to be beating the Cards at halftime. The only other team was Clemson and Louisville ended up losing that game on the road.
Luckily for Louisville, they were able to grind it out and find a way to win.
However, it wasn't like they were the only team that was tested over the weekend. Michigan had a close game with Michigan State, Ohio State barely beat Northwestern, and Washington barely knocked off Utah. The underdogs definitely came to play on Saturday.
When the dust settled, the top six teams stayed in the same order.
With that being said, there were three Cardinals that played great and three Cardinals that didn't against Virginia. Here are those players:
DOWN: James Quick
I honestly didn't think that things could get even worse for James Quick, but apparently I was wrong. Quick managed to drop two, if not officially three passes in the first half for Louisville. Lamar Jackson and Quick just couldn't get on the same page in Virginia and it has become a little bit concerning.
Against a team who is terrible against the pass, the senior wide receiver didn't register one reception against the Cavaliers. This was supposed to be a bounce-back game for Quick, but it was the furthest thing from that.
There are so many talented receivers on this roster and Quick is fading fast. He was on pace to have one of the best seasons of a Louisville Cardinal receiver in a long time. However, that may be a far memory by now.
Let's see how Quick performs against Boston College before we go into full panic mode. However, with that being said, we aren't too far from that situation.
UP: Jaylen Smith
Jaylen Smith has been huge for the Louisville Football team over the past couple of weeks. The sophomore receiver is giving us a ton of confidence in his ability to step right in next season and dominate. Not to mention, he made the biggest play of the day, if not the season, for the Cards on Saturday.
He only had two catches for 45 yards in the win over Virginia. However, it was his 29 yard touchdown catch, with under 30 seconds to go, that sealed the deal for the Cardinals and saved their season.
Bobby Petrino had Smith in the game where everything was on the line and he was able to come through. Don't be surprised to see Smith on the field more in these type of situations throughout the rest of the season.
His catch over the Cavalier defender will be one that we remember for a long, long time.
DOWN: Louisville's Offensive Line
I will preface this post with saying that, at the end of the day, Louisville was able to finish the game with 361 passing yards and 147 rushing yards. However, the Cards were going against one of the worst defensive-fronts in the entire conference. I would argue that the offensive line looked mediocre at best.
It was extremely frustrating to watch the O-Line get dominated by the blitz-packages and flat-our bull rushes by Virginia. It's not like Louisville was going up against Florida State or Clemson, it was two-win Virginia.
The Cards' offensive line handled the call very well in their win over NC State last weekend, but fell way short this past Saturday. If it was not for a couple of breaks, Louisville would have gotten beat and the Offensive line would have been prime subject number one to blame.
To be honest, that performance still doesn't inspire much confidence in their ability to handle a physical front for the rest of the season. Let's hope that is just an overreaction and not a building trend.
UP: Jaire Alexander
As if Cardinal Nation's love for Jaire Alexander couldn't get any bigger, he had another incredible performance on Saturday. His two interceptions kept Louisville in the game and gave them a chance to re-take the lead.
If it was not for him, we may be talking about a 6-2 Louisville Cardinals football team right now.
Alexander has showed up in a huge way every time that the Cards have needed a big play this season. I cannot think of one other player on the defense who has consistently been this clutch for Cardinals this season.
As only a sophomore, he has a ton of room to grow and get better. He is a play-maker that is rare to find and a joy to watch.
I know he has more heroics in store for Louisville fans for the rest of 2016.
DOWN: Jeremy Smith
Let me be the first to say, where the heck was Jeremy Smith on Saturday when Louisville needed to establish a run game? It probably wasn't even his fault that he wasn't on the field, but one would think that you would go with the bigger and more physical back in a close game.
Smith gives the Cardinals so many different options of how they can feature him in the offense. They can hand him the football and watch him run over or by defenders. Also, they can use him as a pass blocker and or dump the football off to him in the flat.
Virginia is one of the worst defenses in the ACC and the coaching staff decided to go with Radcliff over Smith. Radcliff managed to gain 54 yards in the Cards' win, but he wasn't effective. He wasn't the Brandon Radcliff that we saw over the first six games of the season.
As much as Smith has excelled over the past few weeks, I am very surprised that we didn't see more of him against Virginia.
UP: Reggie Bonnafon
We are all going to be celebrating the catch by Jaylen Smith for a long, long time, especially if the one-loss Cardinals end up making the College Football Playoff this season. However, let's not forget about the player who had two touchdowns catches that helped Louisville stay in the game against Virginia.
Bonnafon pulled in his third and fourth touchdown receptions of the season against the Cavaliers on Saturday. To make it even better, those were his only two catches of the entire game. Talk about being effective.
He hasn't been the high-yardage receiver that we hoped he would become this year, but we will take a couple touchdowns here and there.
You can always tell who the real players are when the game and season is on the line. When the Cards needed someone to step up and make a play, Bonnafon made two huge touchdown catches to keep Louisville's post-season hopes alive.
This article originally appeared on