Louisville Football: 25 programs that have never beat the Cardinals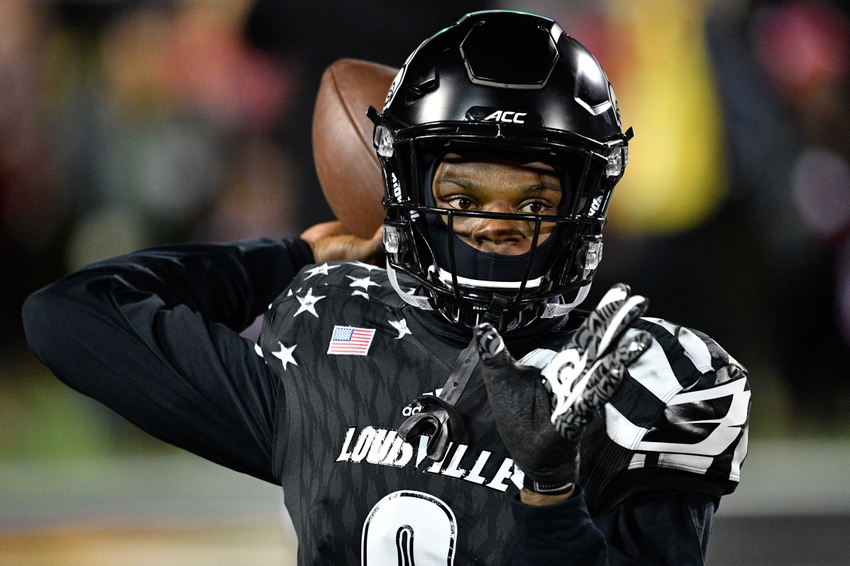 We take a look at 25 different programs that have never beaten the Louisville Football team over the course of history.
The Louisville program has been on the rise for a long time now. While they probably won't be heading to the College Football Playoff this season, Lamar Jackson winning the Heisman Trophy would still be a major accomplishment.
For many years, the Cardinals have been imposing their will on a ton of other college football team. However, have you ever taken the time to see which ones the Cards have never lost to?
Well, we took the time to figure it out and we start with Wake Forest below:
25. Wake Forest Demon Deacons
The Cardinals and Demon Deacons have played in each other in 2016, 2015, 2014, and in the Orange Bowl in 2007. Each game has been pretty close, other than the game the Cardinals just played against Wake Forest this season.
However, the Demon Deacons still played a great game, but were clearly worn out by the second half. According to Sports Reference, Louisville's 44 points were the most points that they have eve scored against Wake Forest in school history.
These two programs will be playing against one another for many years to come and Louisville might just lead the series against them for the rest of time.
24. Alabama Birmingham Blazers
These two schools have played only three times and that was back in Louisville's Conference USA days. The Cards were able to beat the Blazers three times in the years 2002, 2000, and 1999. Can you believe it has been 14 years since the last time that Louisville has played UAB?
One of Louisville's biggest wins over UAB was in 2002, when they beat the Blazers 41-21 at home. Cardinals' quarterback Dave Ragone threw for 207 yards and 2 touchdowns, while TJ Patterson ran for 135 yards and one touchdown.
I have a hard time imagining these two schools playing against each other in the future, therefore Louisville might lead this series forever.
Even if they do play, I don't expect UAB putting a program back together that would challenge what the Cards are building.
23. Kansas Jayhawks
Louisville and Kansas have not squared off against each other in football since 1990; that is a long time ago. Okay, it wasn't that long ago, but Lamar Jackson and Teddy Bridgewater weren't eben born yet. Let that sink in for a minute.
Here is a few statistics from the three games between the Cards and Jayhawks, according to Sports Reference:
Longest winning streak by Louisville: 3 games
Most points scored by Louisville: 33 (Sep 9, 1989)
Most points scored by Kansas: 28 (Sep 9, 1989)
Largest margin of victory by Louisville: +12 (Sep 15, 1990)
Unlike in basketball, Kansas is not a force to be reckoned with in football. If these two teams played this season, Louisville might put up the most points scored in school history.
I would be surprised if these two schools played again down the road.
22. Middle Tennessee State
Louisville obviously leads this series, but the Cards haven't scored less than 42 points in the three games they have played. These two schools have played some extremely entertaining games against one another back in the mid-2000's.
Here are some of the series stats, according to Sports Reference:
Longest winning streak by Louisville: 3 games
Most points scored by Louisville: 58 (Sep 6, 2007)
Most points scored by Middle Tennessee State: 42 (Sep 6, 2007)
Largest margin of victory by Louisville: +27 (Oct 6, 2006)
It's pretty crazy to think that Louisville is putting up C-USA type of offensive numbers this year in the ACC. Little did we know in 2007 that Brian Brohm's offense wouldn't be the best Louisville offense of all-time.
21. Northern Illinois Huskies
Louisville has only faces the Northern Illinois Huskies a total of three times, not to mention, they haven't even played in 20 years. In all three games, the Cardinals dominated the Huskies, where NIU's closest loss to Louisville was a 34-21 game in 1995.
Here are some of the series stats, according to Sports Reference:
Longest winning streak by Louisville: 3 games
Most points scored by Louisville: 38 (Sep 10, 1977)
Most points scored by Northern Illinois: 21 (Sep 9, 1995)
Largest margin of victory by Louisville: +38 (Sep 10, 1977)
Again, it's been a while and I don't see why these two teams would meet up in the forseeable future either.
20. Arkansas State Red Wolves
As if you were going to be surprised that Louisville has never lost to Arkansas State. The Cardinals have only played the Red Wolves twice, but the games were closer than you might think. Louisville only won by ten in 2010 and eight in 2009.
Even though the Red Wolves aren's super relevant, they have given the Cardinals a few close games over the years.
Arkansas Stats vs. Louisville series stats, according to Sports Reference:
Longest winning streak by Louisville: 2 games
Most points scored by Louisville: 34 (Oct 2, 2010)
Most points scored by Arkansas State: 24 (Oct 2, 2010)
Largest margin of victory by Louisville: +10 (Oct 2, 2010)
Just like may of the other schools on this list, I don't see Arkansas State ever beating Louisville in football in a long, long time.
19. Duke Blue Devils
Yes, Louisville fans, you now have more ammunition whenever you start arguing with a Blue Devils' fan about who has the better Athletic Department. The Cardinals have never lost to the Blue Devils in the two times they have played eachother. This year's game was a little closer than anyone would have expected, but the Cards still got the win.
The only other time that they played was in 2002, where Louisville smashed them 40-3 on the road. These two teams will surely face eachother going forward, but that won't be until it's time the Blue Devils have made their rotation back around to Louisville's schedule.
Remember, Duke is in the Coastal division of the ACC, therefore they don't play eachother each year like they do in basketball.
I actually wish the sports could be reversed where Louisville could play them every season in football. However, I think we are seeing how important strength of schedule is and Duke doesn't quite give off the high-quality opponent the Cards are looking for.
18. Kansas State Wildcats
The only two times that these schools have played one another in football was back in 2008 and 2006. As usual, they played one game in Louisville and one game in Kansas, however the Cardinals were able to come out with victories over the Wildcats in both match-ups.
Victor Anderson had a huge day in the last time these two met in 2008, where he ran for 176 yards and three touchdowns in Louisville's 38-29 win at Papa Johns Cardinal Stadium.
Kansas State vs. Louisville stats, according to Sports Reference:
Longest winning streak by Louisville: 2 games
Most points scored by Louisville: 38 (Sep 17, 2008)
Most points scored by Kansas State: 29 (Sep 17, 2008)
Largest margin of victory by Louisville: +18 (Sep 23, 2006)
Kansas State has always been one of those programs that can take down a big team at any given time. It would be interesting to see what they could do about Louisville in the future. However, I don't think it's likely they would be able to knock off the Cards.
17. Navy Midshipmen
Navy is one of those teams that I would love to see Louisville play every now and then. They generally put together a solid and well coached football team every season. It would be pretty cool to do a home and away series with the Midshipmen in the near future.
The Cardinals have beaten Navy twice, but that was over 20 years ago in 1993 and 1994. Not only did Louisville win, they actually beat them pretty bad.
Louisville won the game in 1993, 28-0 at home and won the game in 1994, 35-14 on the road.
Navy is on a big-time roll this season in particular where they are currently 7-2. Not to mention, they have wins over Houston, Notre Dame, an Memphis. That's not too bad for the boys in Navy blue.
16. Akron Zips
If Louisville takes a lesson from the past and present, they should come to the conclusion that they don't need to waste their time every playing Akron again. They are currently 5-6 and bring absolutely nothing to the table as far as strength of schedule is concerned. Again, let's hope Akron never makes it on the schedule.
The Cardinals have only played once and that was in 1987. Louisville was able to get the win 31-10 and that was the last time they ever heard from the Zips.
It's not a surprise that Akron had never beaten a Louisville football team and it's not because they have only played once.
They could have played each other for the past 25 years and I know Louisville would still be undefeated against that program.
15. Brigham Young Cougars
Just like Navy, this is one team that I would love to get back on Louisville's schedule in the future. The Cougars always put out a solid team that competes and are already 6-4 this season. Actually, if they could have pulled off a few close wins, they could be sitting very pretty right now.
They lost by one to Utah, 3 to UCLA, and 3 to West Virginia. They may have lost three close games, but this team is still border-line legit. BYU is absolutely a team that should be on Louisville's schedule.
The two schools have only played once all-time and that was in the 2001 Liberty Bowl. Louisville was able to get the win 21-10 to finish off a solid bowl season.
14. Charlotte 49ers
Charlotte played Louisville for the first time ever at the beginning of this season and got absolutely hammered. There have been a few times that I have seen a team look like they are playing a high-school opponent and that game was one of them.
The hype was on Lamar Jackson all offseason long and he came in and torched the 49ers. He had Louisville up 56-0 by halftime, while also scoring eight touchdowns in one half. Thank you Charlotte for being stop number one on the Lamar Jackson Heisman campaign.
It was one of the most entertaining games I have ever watched because of how easy it was for Louisville's offense to score. It was almost like playing your little brother in video games or putting the skill level on rookie.
Either way, Charlotte had no match for the Cards back in September.
13. Chattanooga
Surprise, Louisville has never lost to Chattanooga, nor will they ever lost to them. These two programs met all the way back in 1975, where they played the most boring football game of all-time. Thank God that game is over and done with.
The Cardinals were able to pull out the victory by three points, not to mention, three points were the only points that Chattanooga scored that day.
Yes, Louisville only won 6-3. What a game right?
Chattanooga is actually pretty darn good this season. They are 8-2 and second in their conference behind The Citadel.
However, the bad news is that they still have to play Alabama before the season is all said and done. Good Luck Chattanooga.
12. Eastern Michigan Eagles
All the way back in 1999, the Eastern Michigan Eagles and the Louisville Cardinals met in a match-up that we will probably never see again. The Cards were able to come out with the easy win, as they beat the Eagles 45-10.
The Eagles are currently 6-5 right now, which obviously makes them bowl-eligible. Being in the Mid-American conference, they don't have much of a tough schedule this season.
The toughest team that they have played in 2016 has been Missouri, who they actually lost to by 40 points.
I don't think you have to be a huge college football fan to know how bad Missouri has been in the SEC this season.
11. Florida Atlantic Owls
Like most of the other teams that have never beaten Louisville, FAU has only had the opportunity to play the Cards once. That game was played in 2005 and the Owls took a huge loss to Louisville by the score of 61-10. That is a Lamar Jackson-like win for the Cardinals' football team.
Former Louisville football player Michael Bush ran all over the Owls in Louisville's win. He rushed for 204 yards and three touchdowns, while wide receiver Mario Urrutia had 138 receiving yards and one touchdown.
Needless to say, it was an offensive clinic that Louisville put on the field that day.
To makes things worse, 11 years later, the Owls are still just as bad. They are currently 3-7, but hey, they are on a two game winning streak. Look out College Football Playoffs, here comes FAU.
10. Furman Paladins
Okay, so Furman should never be allowed to play Louisville in football ever again. There is absolutely zero reason for why Louisville would add them to their future schedule, which is probably why they haven't played the Paladins since 1973. Nope, that's not a typo, 1973.
Your soaring Cardinals beat the Furman football team by a score of 35-14 in their only match-up against one another. Luckily for Louisville fans, they probably will never have to see their Cards play Furman ever again.
The Paladins are currently 3-7 this season, with wins over ETSU, VMI, and Western Carolina. Talk about having some key wins.
All kidding aside, Louisville will always have an undefeated record against these guys. That is unless Peyton Manning's grandson plays QB there or something in the future.
9. New Mexico State Aggies
Louisville played New Mexico State back in 2001 and came out the win 45-24 win over the Aggies. Dave Ragone had a great game, but it was Michael Brown and Justin Thomas who both had an 80-yard fumble recovery for a touchdown that blew the game wide open.
The Aggies are currently 2-7 this year, with wins over New Mexico and Louisiana-Lafayette. Not to mention, Kentucky beat them back in September 62-42.
Seriously, how do you give up 62 points to Kentucky?
I don't think that Louisville will be playing these guys anytime soon either. Even if they do, it won't be a win for the Aggies on the road or at home.
8. Northwestern State Demons
Did you even know that Louisville has played the Demons of Northwestern State? If you, did then either for are a Cardinal trivia champion or were alive in 1978 when these two schools faced off. Also, if you got to listen to or watch this game, I could probably promise you that you witnessed history because there is now way they play again.
The 1978 Cards demolished the Demons by the score of 51-7 and it doesn't look like Northwestern State has gotten any better in football since then.
They are currently 1-9 this season, with one more game to play against Stephen F. Austin. Not to mention, the only team that they beat this season was Kentucky Wesleyan.
Leave it to a team from Kentucky to be even worse than the Demons.
7. Notre Dame Fighting Irish
That's right, Louisville is undefeated against Notre Dame. Even though they have only played once, the Cards went into South Bend and came out with the victory. Among all of the rich tradition that that have in Notre Dame, the Cardinal football team still owns them. Well, at least for right now.
The Louisville football team improved to 8-3 on the season whenever they beat the Fighting Irish in 2014. We all thought that Reggie Bonnafon was the next great Louisville quarterback after he had three total touchdowns against Notre Dame.
I look forward to seeing these two schools meet up again in the future. Maybe they will even be nice enough to come play the Cards in Papa Johns Cardinal Stadium.
If not, I also look forward to seeing Louisville beat them in Notre Dame again.
6. Ohio Bobcats
Maybe it's just me, but i definitely felt like Louisville has played these guys a lot more than once, but that's not true. According to Sports Reference, these two schools met up in the season-opener in 2013. That's right, it was when our beloved Teddy Bridgewater was the quarterback for the Cards.
As expected, Louisville killed the Bobcats on their way to a 49-7 victory in Papa Johns Cardinal Stadium. 
Teddy Bridgewater had a phenomenal day passing the football, as he threw for 355 yards and five touchdowns. If you remember, there weren't many times that the coaching staff would let Bridgewater throw that much. Usually when they got up big, they just resorted to running the football and stepping off the gas.
However, Bridgewater had the Cards up 42-0 before Will Gardner was brought in to finish the game.
5. Richmond Spiders
Oh yes, the Spiders have never beaten the Louisville football team. They played once and that was all the way back in 1982. Again, if you remember this game, then I give you major props. It was a 35-0 blowout by the Cardinals in the middle of October. 
However, did you also know that Richmond actually has a legit football team this season. Not only are they 8-2, but they beat Virginia 37-20 in the first game of the season. Yes, the same Cavaliers team that the Cards had to beat with a last minute touchdown pass.
However, just like the Cardinals, Richmond will not win their conference because their is just one team that had a better season. It looks as though James Madison will finish the season becoming the CAA Conference Champions.
4. Southern Illinois Salukis
Southern Illinois needs to take a number because they are one of many low-level football programs that will never beat Louisville. I don't care if the Cardinals have Will Gardner or Kyle Bolin under center, there is no way that these guys could ever win in Papa Johns Cardinals Stadium. Not to mention, there is no chance that Louisville goes to their place either.
Louisville beat the Salukis back in November of 1972 by the score of 20-16. Thank goodness I wasn't here to see that game and I am sure you are too.
To make matters worse for Southern Illinois, they are terrible in 2015 as well. They are sitting at an ugly 3-7, with just one game left to play.
Needless to say, that will be their last game of 2016.
3. Texas El-Paso Miners
At least the Cardinals will always be undefeated against one team from Texas right? Louisville played the Miners back in 2003 and won 42-12. Can you name Louisville's starting quarterback off the top of your head right now? Give yourself a minute before looking at the next line.
Okay, Stefan Lefors was the guys under center for the Cards when they beat UTEP back in 2003. Not to mention, Michael Bush, yes that Michael Bush, had two completions for 31 yards.
UTEP, like many of the other teams on this list, is not having a great season in 2016. They are currently 3-7 and second to last in the Conference USA.
To put that into perspective, they are just as bad as Marshall.
2. Toledo Rockets
The Rockets and the Louisville football team played back in 1981. There is probably a good chance that you veteran Louisville fans remember when these two played.
The Cards won by the score of 31-6 and they haven't played again since.
Toledo is actually pretty darn good in 2016. They are 9-2 and have a huge game coming up against #21 Western Michigan. I'm sure all of their fans are ready for the biggest game of their season.
It would be interesting to see if these two ever played again. It's important for the Cardinals to find solid teams to add to their non-conference schedule, but I don't think the Rockets are a team that could help the strength of schedule as much as they need.
1. Purdue Boilermakers
Well here's the thing about the one game between Louisville and Purdue: Neither team actually won, they tied 22-22. So technically, the Boilermakers have never beaten the Cardinals, but Louisville hasn't been Purdue either.
They will get to settle this battle on the field the first game of the 2017 season. Purdue and Louisville will meet at Lucas Oil Stadium on Saturday, September 2nd. 
I find it hard to imagine that the Boilermakers will put together a team that would beat Louisville by the first game of 2017, but I guess you never really know.
This article originally appeared on