Louisville Basketball: Predicting The Week 9 Associated Press Poll
Derek Snyder/FanSided via Big Red Louie

Fansided
We take a look at where the Louisville basketball team to end up in the new week 9 poll by the Associated Press later this week.
It was a pretty solid week for the Louisville basketball program as they got beat by Virginia, but were able to pick up a road win over Indiana. Don't let anyone tell you that the win over IU was a neutral-site court because that crowd was clearly pro-IU.
With that being said, will the Cards' loss to Virginia hurt them in the rankings this week?
Let's take a look at our projected poll, starting out with the defending National Champions:
1. Villanova Wildcats: 14-0
I think it's a pretty safe to bet to say that the defending National Champions will stay as the number one team in the country after surviving a scare against Depaul and beating #10 Creighton.
However, the testing for the Wildcats won't be over soon, as they have to go on the road to play #13 Butler later this week.
With that being said, Villanova is still one of the best teams in the entire country and they will probably stay at number one for most of the season.
I'm not sure that there is anyone on their schedule that would be favored in taking them down.
Until an upset happens, just assume that Villanova is number one every week.
2. Baylor Bears: 13-0
The Baylor Bears are on absolute fire right now, which is why I believe they will make a big jump in the rankings this week. After UCLA lost to Oregon, Baylor is the only big-time basketball program that is currently undefeated behind Villanova and no, I am not including Gonzaga in that discussion.
As conference play begins to heat up for the Bears, the testing will continue to increase every week.
On January 10th, the Bears will have one of their hardest games of the entire season, as they have to travel to West Virginia to play the #11 Mountaineers. That could be the game that finally give Baylor their first loss of the 2016-2017 season.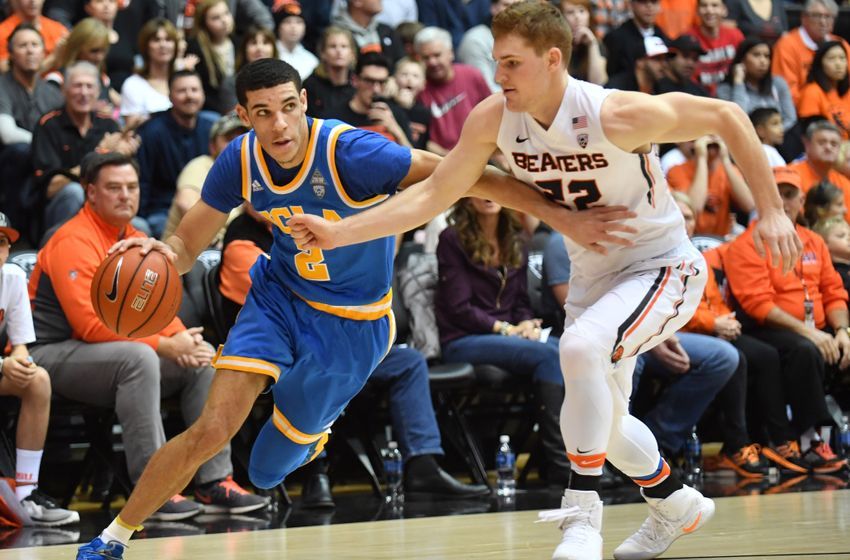 3. UCLA Bruins: 14-1 (Lost to Oregon)
The Bruins finally took their first loss of the season to #21 Oregon, on the road, earlier in the week. While I do think it will drop the Bruins a bit, they will only drop one spot below where they were heading into the weekend.
It took a last-second three pointer to actually beat UCLA and as we have learned in the past, that doesn't always mean that the better team won. However, we do have to give credit to an Oregon team that did something Kentucky couldn't even do.
I expect UCLA to climb back up into the number two spot very soon because they don't even play another ranked opponent for six games.
Even then, they will get to play #18 Arizona at home.
4. Kansas Jayhawks: 12-1
Frankly, I haven't been that impressed with Kansas this season, which is why I think that a loss by UCLA will actually push the Jayhawks down a spot in this week's poll. To be honest, they haven't had a quality win outside of Duke, but that was way back in November.
Not only have they had a cupcake schedule so far, but they have an extremely easy schedule going forward.
Kansas doesn't play another ranked opponent for seven more games. That's about another month without a quality opponent.
Not everyone get's to play an easy schedule in non-conference play and in conference play. However, that's the kind of thing that doesn't help Kansas once the NCAA Tournament arrives.
5. Gonzaga Bulldogs: 14-0
I think that the Gonzaga Bulldogs are going to jump over Duke and Louisville this week because of the Cards' and Blue Devils' losses. They are currently 14-0 and have taken care of the easy slate of opponent in 2016.
They do have two wins over ranked opponents so far in 2016 (Iowa State and Arizona), which makes their NCAA tournament resume look even stronger.
As we speak right now, the Bulldogs only have two ranked games left of their schedule. To be more specific, they play #19 Saint Mary's twice.
Look for Gonzaga to stay inside the top ten for the rest of 2016-2017.
6. Louisville Cardinals: 12-2 (Lost to Virginia)
Louisville did themselves a favor by beating Indiana in a pretty tough environment on Saturday. It was supposed to be a neutral-site game, but it was clear that most of the crowd was Hoosiers fans. Regardless, the Cards shook off a loss to Virginia and beat Indiana on the road.
I don't think that Louisville will move at all in this week's rankings because of the losses by Duke and UCLA. Those two losses, combined with Louisville's win over Indiana should keep them in this six spot.
With that being said, there isn't one week for the rest of the season where Louisville can go one cruise control. They have to go on the road twice this next week to play Notre Dame and Georgia Tech.
Not to mention, they play Duke in 13 days from now.
7. Kentucky Wildcats: 11-2
Thanks to a win over Ole Miss, Kentucky will move up one spot in the rankings this week. However, I don't think that they should be ranked over Louisville because of the head-to-head and the fact that they both have the same record.
With that being said, I don't think Kentucky will lose another game this season.
Their next tough game isn't until the end of January where they get to play #3 Kansas at home. Outside of the Jayhawks and Gators, there isn't one more team that could give the Wildcats much a game the rest of the regular season.
8. West Virginia Mountaineers: 12-1
West Virginia is just rolling through their slate of opponents right now. Not to mention, they did something that Louisville can never seem to do. The Mountaineers actually were able to beat the Virginia Cavaliers a few weeks ago. That's pretty darn impressive.
I expect West Virginia to get through Texas Tech and TCU this week, but their next matchup with #4 Baylor will be one of their toughest games of the season.
With that being said, they do get to play the Bears in West Virginia and in college basketball, that can make all of the difference in the world.
9. Duke Blue Devils: 12-2 (Lost to Virginia Tech)
Duke finally suspended Grayson Allen for tripping other players and it cost the Blue Devils a loss to Virginia Tech. However, the Blue Devils recruit too well to let one player dictate whether they win or lose to the Hokies. Not to mention, V-Tech beat Duke by 14 points.
That's definitely an ugly loss for Coach K and the Blue Devils.
Who knows how long Duke will sit Allen, but you have to figure that a loss will start to speed up the process. Especially when they have to play Georgia Tech, Florida State, and Louisville over their next four games in the ACC.
Duke better respond quickly or they will drop out of the ACC race extremely fast.
10. Creighton Bluejays: 13-1
I think the Bluejays deserve a ton of credit for what they have done this season. While they did just lose a close game to #1 Villanova this weekend, they have beat some pretty good basketball programs over the course of this season.
Take a look at some of their impressive wins:
#9 Wisconsin by 12
NC State by 18
Ole Miss by 9
While NC State and Ole Miss aren't super great programs, we do have to realize it's Creighton we're talking about here. The Blue Jays are playing great basketball this season and will be a team to watch come tournament time.
This article originally appeared on