Louisville Basketball: 3 things you should know about the win vs. Bellarmine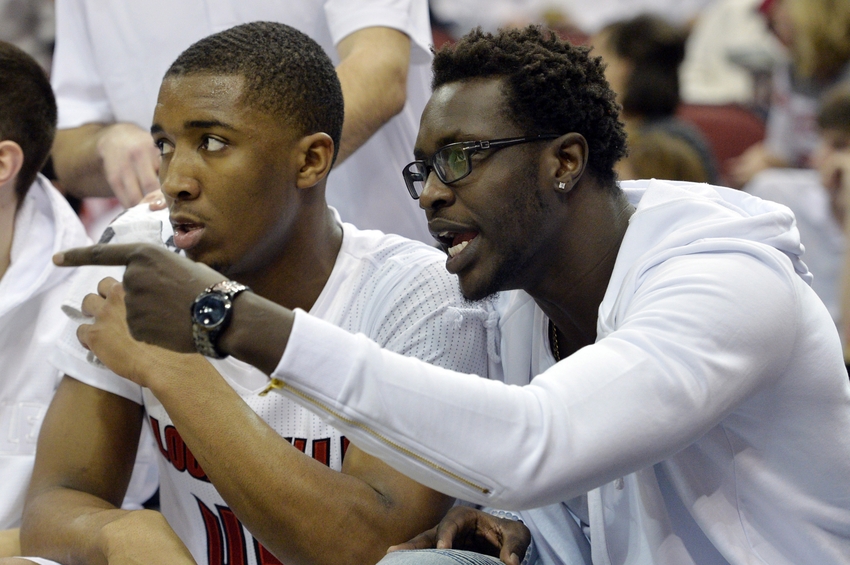 We take a look at three things that we learned in the Louisville basketball team's exhibition win over the Bellarmine Knights on Monday.
The Louisville basketball team came out and played very well in their win over the Bellarmine Knights on Monday night. It's always important to keep improving through your exhibition schedule and it seems as though the Cards have done just that.
If there is one thing that we know for sure, it's that Donovan Mitchell and Deng Adel are going to be the scoring leaders for this Louisville basketball team. They both tied for the team lead in points for this game with 13 and both shot at least 55 percent from the field.
These two guys are going to be huge for the Cardinals, as they played a brutal 2016-2017 schedule.
Jaylen Johnson is also a guy who is playing well for Louisville basketball so far this year, as he has 11 rebounds against the Knights. Not to mention, he was the only player on both teams to have over 10 total rebounds in the game.
Johnson needs to keep defending the rim, as Rick Pitino will count on him to be Louisville's greatest rebounder this season. Let's hope that the loss of Chinanu Onuaku doesn't hurt the Cards as much as people might want to think.
With that being said, here are three things that you should know about the Cards' win over Bellarmine:
3. Louisville's pressure-defense was very, very good
Everything obviously needs to be kept in perspective when the Cardinals are playing exhibition games, however Louisville still made Bellarmine look terrible on Monday night. The pressure they brought into the game gave the Knights huge problems, as they turned the ball over 23 times in their 81-60 loss.
Rick Pitino has mentioned how hard and fast this team plays defensively and it defintley showed on Monday night.
The Cardinals will need to play at a high-level on defense this season if they want to win the ACC Championship for the first time. Duke, North Carolina, and Virginia will test Louisville's ability to defend, but that doesn't mean the Cards won't get the job done.
If the guards can force turnovers like Peyton Siva and Russ Smith, we could be looking at a team that could go far in the 2017 NCAA Tournament.
2. Tony Hicks played much better than he did against Kentucky Wesleyan
The fifth-year trasfer from Pennsylvania played much better against Bellarmine than he did last Thursday night. It's going to be important for Hicks to come in and play very well for Rick Pitino, as every Louisville fan has high expectations for their senior-tranfers.
It's almost as if Tony Hicks knew we would be grading his performance against the Knights because he had his best game in a Louisville Cardinals' uniform. Don't be surprised if this is just the beginning of many great games to come from Mr. Hicks this year.
Here was his stat-line from the evening:
Tony Hicks: 12 minutes, 2 rebounds, 2 assists, and 12 points
Fans should be very pleased with how Hicks performed against Bellarmine on Monday night. He may not be as talented as the other guards, but his experience will be important for the Cards this season.
1. Donovan Mitchell is showing significant improvement from three
It seems as though this season is going to go as well as Donovan Mitchell and Deng Adel perform. While that may be a little concerning, there is no reason to believe that the two sophomores aren't ready to take on that challenge.
We all know how athletic Mitchell is, but we need to see more consistent shooting from him before he can become one of the best basketball players in the conference. The good news is that he knows that, Rick Pitino knows that, and he is definitely getting better.
Mitchell finished the game against Bellarmine going 3-4 from three and tied Deng Adel for the team-high with 13 points.
If Donovan Mitchell can have games where he is shooting above 60 percent from three, then the country needs to watch out because the Cards would instantly become one of the best teams in the entire nation.
This article originally appeared on