CFB AM: Les Miles, Nick Saban share touching moment before Alabama-LSU game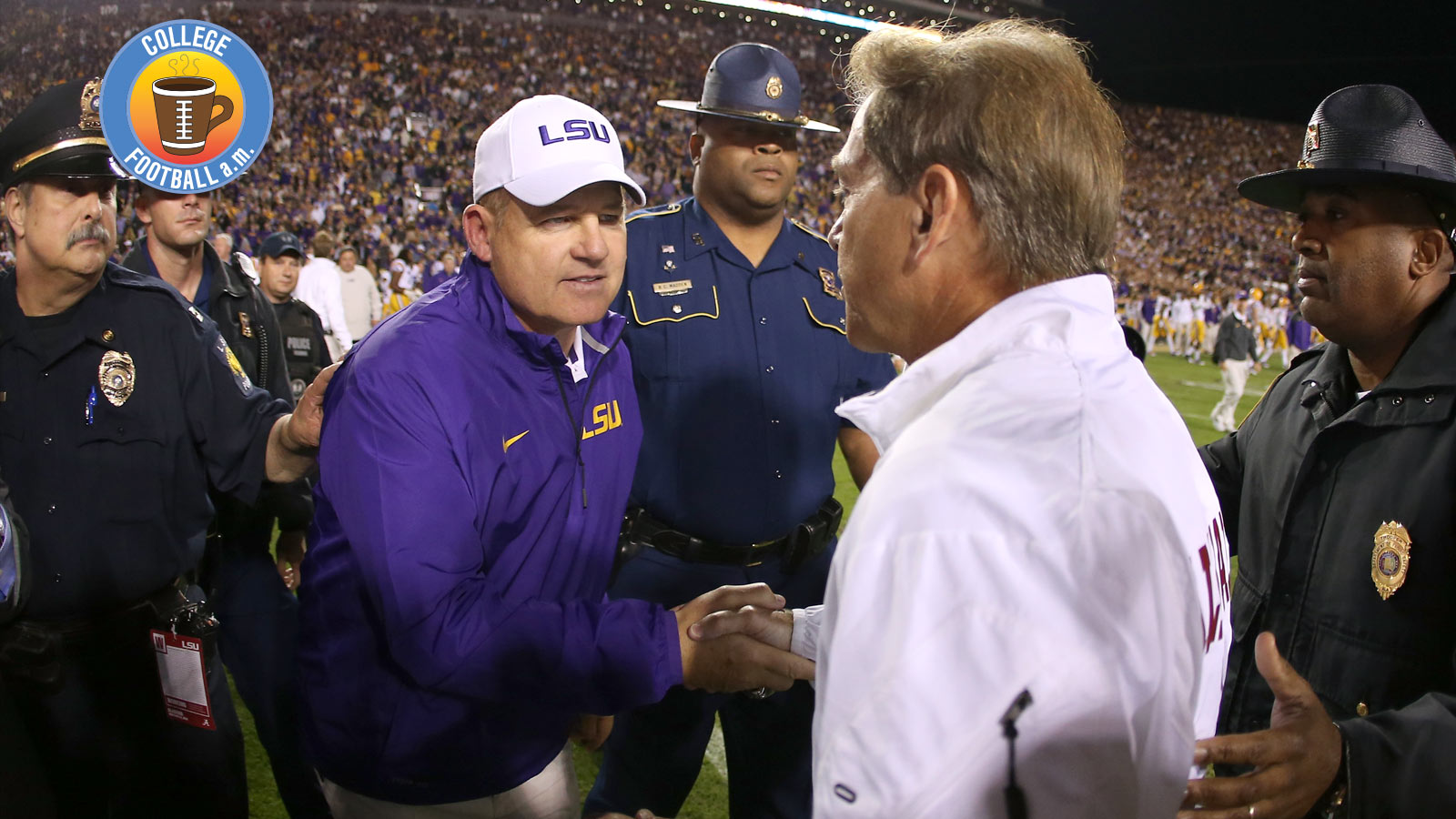 Before last Saturday night's Alabama-LSU game, which carried crucial playoff implications and is always one of the most hyped games of the year, Les Miles and Nick Saban reminded us that even in a competitive moment there are things bigger than football.
The night before LSU played Ole Miss in late October, Miles' 91-year-old mother passed away. Through some channel, the Alabama coach sent Miles his condolences.
So when Miles saw Saban on the field before the Bama-LSU game, he made a point to seek him out and say thank you for the heartfelt condolences.
"You know, it hit me because I was with my mother in Tennessee when [he heard]," Saban told Miles. "So, God bless you."
"She's sitting up there watching," Miles responded. "We got another rooter upstairs, I just want you to know."
Here's video of their exchange on the field. It's a genuine moment between two great competitors.
(h/t Saturday Down South)
THREE THINGS YOU NEED TO KNOW
1. The new FOX Four is out and TCU moves into the No. 4 spot as Auburn falls out of the playoff field after losing to Texas A&M in Week 11. It's essentially a pick 'em for the No. 1 spot, as Mississippi State holds a 0.1-point lead over Florida State. That will get settled this week. Either MSU beats No. 5 Alabama and that lead over FSU grows (the Noles are playing Miami), or the Bulldogs lose and FSU becomes the new No. 1 team.
2. The new AP Top 25 poll dropped Auburn from No. 3 to No. 9, while Oregon moved from fifth to ninth and TCU took the Ducks' previous spot behind No. 4 Alabama. The coaches poll has Alabama ahead of Oregon, Ohio State at No. 7 (four spots higher than last week) and ASU No. 8 after the Sun Devils waxed Notre Dame.
3. Some unfortunate news for Oregon tight end Pharoah Brown: He will miss the rest of the season with what appears to be some kind of knee/leg injury. Oregon is known for saying almost nothing – or nothing at all – about injuries, but it sounds like even coach Mark Helfrich isn't entirely sure of Brown's prognosis yet. He remains hospitalized in Salt Lake City, where he suffered the injury against Utah on Saturday, as doctors further examine his leg. Best of luck, Pharoah, and get well.
THREE THINGS YOU SHOULD KNOW
1. Bruce Feldman's Week 11 Big Picture leads off with J.T. Barrett and Ohio State, a team that at least looks as dangerous as anyone in the country right now. It's incredible how different Barrett looks as a QB in only two months. We have plenty of time to debate the question of who will start in 2015 for the Buckeyes if Braxton Miller comes back to school. For now, let's enjoy the rest of this season and see where the Buckeyes fall in line in the playoff race.
2. Myles Jack the running back made another appearance for UCLA this weekend in a 44-30 win at Washington, rushing for 38 yards and a TD on four carries. That TD? Yeah, it was pretty sick.
One other thing while we're here: Are we sure Huskies QB Cyler Miles has picked himself up off the turf yet? We're positive he's still not lying out there in the cold?
3. After missing four weeks as punishment for accepting money for autographs, Georgia running back Todd Gurley returns this week against Auburn. Freshman Nick Chubb, who rushed for 671 yards in the four games Gurley was out, will still play a huge role in the offense but it'll be fun to have Gurley back. He's one of the sport's best players and will be off to the NFL after this season. So enjoy his last few games as a Bulldog.
THREE THINGS YOU MAY WANT TO KNOW
1. SB Nation's Rodger Sherman does the Lord's work here in breaking down Alabama's fat guy play that helped them beat LSU in overtime.
Two high-quality Vine holdovers from that game:
Leonard Fournette, meet Reuben Foster.
And as the saying goes, if you can't beat 'em, snap their jock straps when they least expect it.
2. ICYMI: Utah's Kaelin Clay had an embarrassing moment Saturday night against Oregon when he mindlessly dropped the ball before crossing the goal line for a TD, which the Ducks then picked up and ran 100 yards back the other way for a score. Now this YouTube video shows Clay celebrating while the ball is live and on the ground. So awkward.
3. The state governors of Alabama and Louisiana made a friendly wager on the game last weekend. Time to send the shrimp and pralines, Bobby Jindal.
LASTLY
* Bill Plaschke catches up with Ed Orgeron, who has done some soul-searching and admits he's ready to come back to USC as an assistant coach if Steve Sarkisian will have him.
* A Maryland cheerleader wore a GoPro camera to show you what it looks like to be tossed up in the air. If you get nauseous easily, this is probably not for you. It's like the Blair Witch Project but in a dryer.
* Why hasn't Mike the Tiger attended a game all season?
* It's always fun to watch coaches dance after victories, so here's Minnesota's Jerry Kill celebrating his team's 51-14 win over Iowa.
Have a great Monday, all.
Teddy Mitrosilis is an editor and writer for FOXSports.com. Follow him on Twitter @TMitrosilis and email him at tmitrosilis@gmail.com.