Lane Kiffin Leaves When Nick Saban Says He Can Leave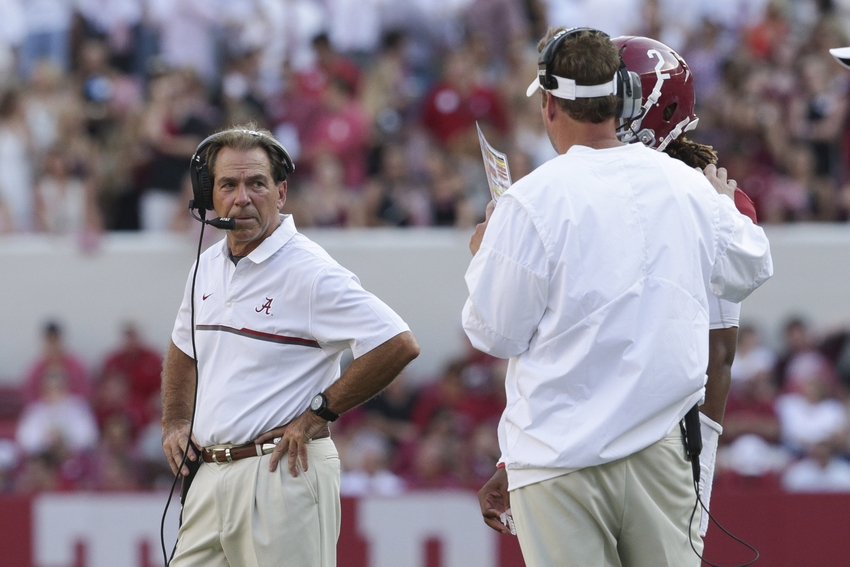 I don't think Lane Kiffin is going anywhere. He is loyal to Nick Saban, because Nick Saban gave him a shot when nobody else would.
Every college football program from time to time needs a reality check, even No. 1 Alabama. And I have a news flash for the college football world – Lane Kiffin isn't the end all/be all when it comes to offensive coordinators.
I'm not taking anything away from Lane Kiffin. He is a brilliant offensive mind, but without Nick Saban micro-managing him he's pedestrian at best.
Case in point: the first half of the Auburn game was a clown show marred with ineffective play-calling and five fumbles. Luckily for Alabama, all those fumbles bounced back to Alabama players and not Auburn players – because that is how you beat yourself.
ICYMI: Who's No. 1 in Alabama football history? You can vote!
Offensive production would have been non-existent if it wasn't for the play of Jalen Hurts and ArDarius Stewart. If it wasn't for the five-star premier athletes Nick Saban recruits to Alabama to play for Kiffin's offense over the last two years, Alabama wouldn't look half as good.
Its not Lane Kiffin that has Alabama in contention for its second straight national title, it's Nick Saban. Where was Kiffin in 2009, 2011,and 2013? After a 4-12 record in Oakland, legendary Raiders owner Al Davis went on a 49-minute press conference rant firing him. Then he landed in hillbilly-land Tennessee, where he packed together an unimpressive 7-6 record. It didn't take Kiffin long to smarten up and realize Alabama owned the SEC, and when Cali came a calling it took Kiffin about 2.5 seconds to ditch the backwoods hillbillies for the west coast beaches and L.A. lifestyle.
Kiffin did pretty good at USC at first, going 10-2 his first season. Then in 2012 he went 7-6 and he didn't even make into October 2013 before the USC brass finally ended his silliness. Once the team arrived back in L.A. after taking a 62-41 beating at Arizona, the brass at USC pulled him off the bus at 3 a.m. like a bad child on a school field trip and fired right there on the airport tarmac. By the end of 2013, Kiffin was sitting on his couch eating bagels with cream cheese watching his hot wife spending all his cash.
Live Feed

college football
There is only one offensive genius in college football, and that is Nick Saban. Pro and college football roots run deep, and Monte Kiffin's boy needed a job right when Nick Saban needed an offensive coordinator because Jim McElwain "took another job". Saban decided to fly him out and check him out. And after a very gracious eight-day invite from the elite in college coaching, Saban decided to give it a shot and brought Kiffin on board.
Twenty four straight wins later, Nick Saban is in contention for another national championship with a Heisman Trophy-contending quarterback. I'm not saying that Kiffin's offense and his play-calling abilities are a total dumpster fire, but all I'm saying is he is no Nick Saban. Kiffin is good; he's not great. Nick Saban is great.
I must give Kiffin credit, he doesn't  fold like a coddled baby when Lord Saban demands better out of him. He responds in a positive way. In the sink-or-swim world of SEC football, Saban keeps Kiffin afloat. Saban displays the patience of a monk with this guy, and its been paying off and will continue to pay off.
Without the Nick Saban regulator on the Kiffin Express, Kiffin is doomed for failure. He hasn't spent enough time under the Saban learning tree yet. But you can't tell that to Ed Orgeron or the Oregon Ducks, because rumor is they both want him. Kiffin's pal Coach O has the least chance of landing his services in my opinion – even though they are pals, its still just an offensive coordinator job. Going from Alabama to LSU is a downgrade, not a upgrade or lateral move.
The best hope for Kiffin, if he's ready to give it another go away from Alabama, is the Oregon Ducks. They would love Kiffin in Eugene –  he would fit right in with all their swag-different uniforms that are hot garbage and history of garbage offense with dumpster-fire defenses.
The best part about Kiffin's chances at Oregon is that he would be far far away from Nick Saban's Alabama Crimson Tide – never having to play Alabama unless they meet in the playoffs.
But I don't think Kiffin is going anywhere. He is loyal to Nick Saban, because Nick Saban gave him a shot when nobody else would. Kiffin will leave when Nick Saban says he can leave.
This article originally appeared on