KU Football: Jayhawks Stun Texas in OT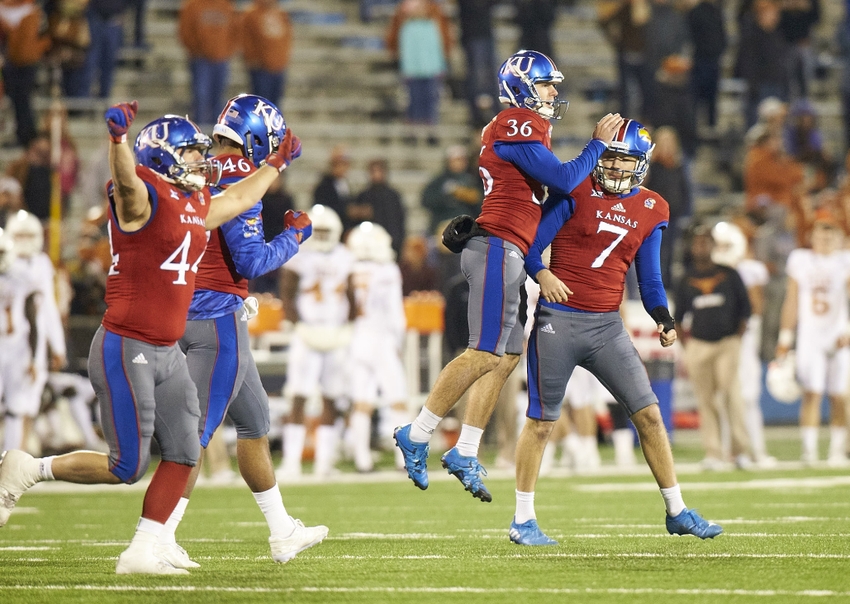 In a stunner, the KU football team knocked of 23-point favorite Texas, 24-21 in overtime. What does it mean for the program moving forward?
If there was any doubt, David Beaty is safe.
There had been some chatter among the fanbase that Beaty should be let go after this season if the KU football program went 1-11 and 0-9 in conference. The victory over Texas should (and for good reason) quiet that chatter. It was always going to take multiple years to get KU back to respectability. This was the win Beaty needed to show average fans, not just those who follow the program religiously, that the Jayhawks are improving, and at a fairly rapid rate.
After the game, Beaty raved about the team. "What resilient dudes these guys are," Beaty said. "They've continued to work through some really, really difficult situations, and I've said it before, I feel like we have the right kind of kids in our program. They've stuck it out." I couldn't agree more. After several near misses, including last week against Iowa State, this team could've folded against a more talented Texas team. Most thought they would after giving up a 75-yard touchdown pass on the first play from scrimmage in the game. Every time the Jayhawks were down, especially in the second half, they made just enough plays to win the game.
More from

Through the Phog
Beaty and defensive coordinator Clint Bowen can build the program on tough defense.
All year, the defense has kept KU more in the game than the offense deserved. Give them most of the credit for holding Texas to 21 points and 403 yards today. Beaty agreed, "I can't say enough about our defense, they put us in the position to win." Four defensive players stood about above the rest. First is senior linebacker Keith Loneker. In his final home game, Loneker recorded 16 tackles, including 11 solo. Next is senior safety Fish Smithson. Fish had 12 tackles (10 solo), and a big interception. Freshman safety Mike Lee played well today too. He demonstrated exceptional tackling ability, as well as the interception in overtime that gave KU the opportunity to win the game. The final defensive standout was sophomore defensive end Dorrance Armstrong. The elite pass rusher lived up to the billing, recording three tackles for loss and two sacks, as well as a forced fumble.
Even though the Jayhawks allowed over 400 yards, they played great on defense. They were more opportunistic than anything. They forced six, yes six, turnovers, resulting in ten Jayhawk points. Brandon Stewart's pick six in the second quarter was an especially big play in the game, tying it at seven. The turnovers never let the Longhorns get a big lead, and allowed the offense to (admittedly struggling) score 17 points. Bowen's scrappy unit did a decent job on D'Onta Foreman (51 carries for 250 yards), and forced two fumbles. KU's biggest defensive success was on third down. They held the Longhorns to 3-17 on third down, an amazing accomplishment. On third and short (0-4 yards to go), the Jayhawks held Texas to 3-10.
The offense is really young, and will continue to get better.
Carter Stanley is now 1-1 as a starter, which is stunning considering the depths of futility the program has been in. He's also playing well. Today, he was 21-42 for 220 yards and an interception. Stanley's play is much more than his stats. Beaty has raved about his leadership, and it showed today. On several occasions, the broadcast reported Stanley was firing up the offense on the sidelines after drives stalled out. Stanley has a ton of moxie. It showed on a few plays where all the receivers were covered downfield, and Stanley scrambled for big yardage. On KU's only offensive touchdown drive, the freshman quarterback ran for a huge 21-yard scramble to give the Jayhawks a key first down inside Texas territory. Stanley doesn't have a big arm, but is accurate, has a quick release, and doesn't turn it over. That should be plenty for KU fans.
Senior running back Ke'aun Kinner had a very good game as well. He was KU's workhorse, carrying 20 times for 69 yards. He was more dangerous as a receiver, catching seven passes for 68 yards. Behind a young, but developing offensive line, Kinner and the other Jayhawk running backs gained tough yards between the tackles, including every yard on the game-winning drive in overtime. Sophomore receiver Steven Sims appears to be a main target for KU quarterbacks for years to come. An explosive threat, Sims caught seven passes for 79 yards. He also ran in the key two point conversion that put KU within three points in the fourth quarter.
Bottom line
There's a lot to be optimistic about in Lawrence. This is a young, hungry team with a coaching staff that is bound and determined to take KU where we all want it to be. The 25 seniors helped lay a foundation that the next classes have to build on. I have a feeling today's victory over the Longhorns is just the first of many Big 12 wins for Beaty's Jayhawks. KU concludes its season next Saturday against the in-state rival Kansas State Wildcats
More from Through the Phog
This article originally appeared on