KU Football Continues Turnover Woes, Falls to OSU 44-20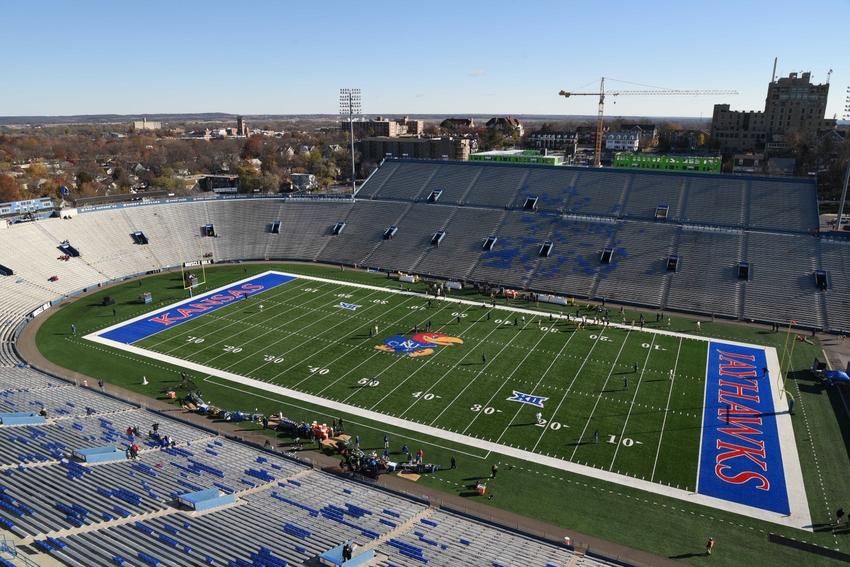 After a promising start, KU football reverted to its old ways, committing turnover after turnover en route to a 44-20 loss to Oklahoma State. What can we learn?
Can Clint Bowen's defense continue to overachieve?
Yes, they did. Oklahoma State rolled up 482 total yards, but on 73 plays. 6.6 yards per play is pretty good defense on the Cowboys, who live by explosive plays. The Jayhawks were decent in preventing the Cowboys from sustaining drives. The Cowboys had four drives of 70 yards or more, certainly not great, but enough to keep KU football in the game.
Bowen's defense proved especially adept at defending the Cowboys' best offensive player, wide receiver James Washington. Washington finished the day with only one catch for nine yards. Over the course of the game, Bowen successfully gave Washington many different coverage looks, including a bracket with Brandon Stewart and Mike Lee. The issue with keying on one receiver is that others can hurt you. Jalen McCluskey proved that rule. He caught six passes 129 yards. Along with Washington, the defense did a good job in keeping Mason Rudolph in check. He was far below his season average in yards, with only 220 on the day, as well as just a single touchdown. The pass rush was as good as we've seen all year from Kansas, as they sacked Rudolph five times, all from different players.
The Cowboy rushing attack was their main weapon on the day. Freshman Justice Hill carried 22 times for 162 yards and a touchdown. Chris Carson provided a dangerous change of pace, adding another eight carries for 59 yards and two touchdowns. OSU did most of this damage in the second half, when the KU defense was exhausted after three offensive turnovers.
What about the quarterback position?
Like we mentioned earlier in the week, Montell Cozart would not be a bad option at quarterback against the vaunted OSU pass rush. Shortly before the game, KU announced that Cozart would get the start. He did not disappoint. He played very well in the first half, going 13/19 for 148 yards and a touchdown, including a great 68-yard touchdown to LaQuvionte Gonzalez.
The second half was not as kind to Cozart. His final line was 24/40 for 250 yards, with one touchdown and two interceptions. One of those picks is squarely on Gonzalez. Cozart threw a beautiful pass to a wide-open Gonzalez, who dropped the pass, then was plucked out of the air by Jordan Sterns. Gonzalez should've scored on the play, which would've given him another 61-yard touchdown catch. It is safe to say Cozart was a reason KU was in the game, a nice change from previous games.
The offensive line played very well today. Cozart was not sacked, aided by his escapability. The running game also had its best game of the year. Ke'aun Kinner has his best game as a Jayhawk, rushing 14 times for 145 yards. However, Kinner did have a costly fumble in Kansas territory, leading to a Cowboy touchdown. If the line can continue its improvement, KU may have a chance to win another game in 2016.
Can Kansas compete in the turnover battle?
Once again, turnovers cost the Jayhawks dearly. In a clean first half, the Jayhawks played the Cowboys to a near draw, 14-13. The wheels came off in the third quarter. Two Cozart interceptions and a Kinner fumble resulted in 17 Oklahoma State points. Those points will officially go against the defense, but the Cowboys also had to go 26, one, and eight yards on its three third quarter scoring drives.
Defensively, the Jayhawks only forced one turnover, below where the need to be. Their one first half turnover caused was a sack and Mason Rudolph fumble. In the second half, when the offense desperately needed more possessions, the defense could not force a turnover to swing the game momentum back toward the Jayhawks. Defensive coordinator Clint Bowen should make this a point of emphasis this week.
Bottom Line
There were some positives this week. Cozart appears to be the quarterback moving forward after a solid game. The running game found some life as well, behind Kinner's 145 yards. The defense continues to play well, and demonstrated a very good pass rush.
On the other side of the ledger, the Jayhawks continue to turn the football over at an alarming rate, and their turnover margin dropped to -13 on the season. Special teams weren't very good either, as a couple key holding penalties prevented Kansas from having even passable field position. These things are correctable, and KU continues to show some progress. They travel to Norman next Saturday night to face the Sooners.
More from Through the Phog
This article originally appeared on