KU Football Comes Close, But Can't Beat ISU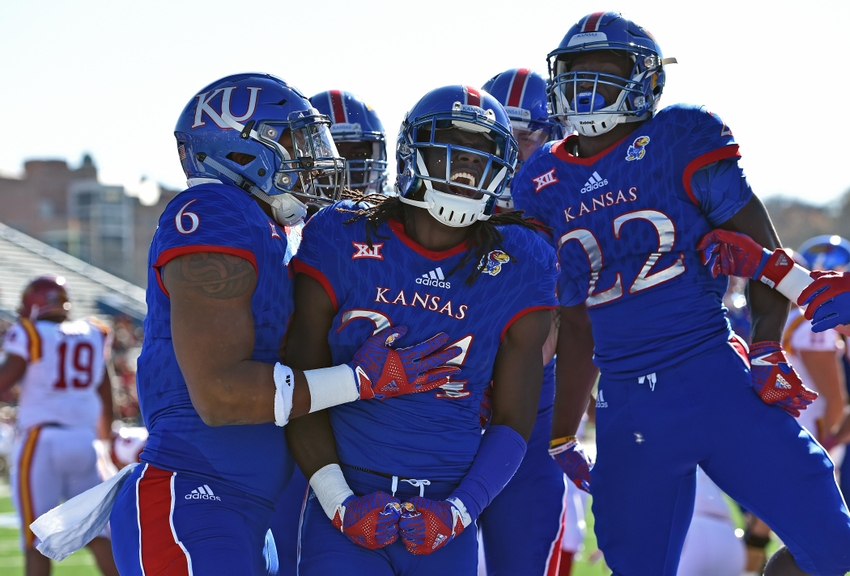 The Jayhawks played one of their best games of the season, but still fell to Iowa State, 31-24. What are the takeaways?
This is Carter Stanley's job.
Stanley played pretty well for his first career start, going 28-36 for 171 yards and a touchdown. His one interception came when Steven Sims, Jr. fell on the last offensive play of the game for KU. Stanley showed a couple things I really like seeing for David Beaty's Air Raid scheme. He showed good short to intermediate accuracy, a quick trigger, and like Beaty said earlier in the week, is a "gamer." He's adept at dodging pressure and making improvised plays, even if it gives the staff and KU football fans a collective coronary.
He has another chance to prove it next week against Texas, but it's his job to lose. That being said, Stanley wasn't perfect. He needs to work on his pocket awareness and internal clock. He has a good feel for pressure, but on occasion he loses pocket awareness and takes untimely sacks. To make the offense run even better, Stanley has to improve his deep accuracy. He missed several receivers deep, and kept the offense limited to working underneath the secondary.
What happened to the defense?
It looked as if they were overmatched and underprepared today, a bad combination. The Cyclones dominated the line of scrimmage on offense, rushing for 238 yards. Cyclone running backs were dominant behind a veteran offensive line, gaining 244 yards on seven per rush. The Jayhawks were consistently pushed around by the ISU offensive line, and were out of position on the back end. In the second half alone, the Cyclones rushed for 153 yards, which over their season game average of 134.
In the passing game, Allen Lazard was dominant. The junior receiver caught 10 passes for 120 yards and a touchdown. The 6'5" Lazard was especially good on third down, where ISU converted 7-14, and 5-7 in the second half. KU could not force enough pressure of get enough penetration to keep ISU behind the chains. The Cyclones averaged 6 yards to go on third down.
David Beaty's biggest success might be the offensive line.
By two measures, the line played extremely well today. They allowed only one sack on 38 passing attempts. In part, it's a byproduct of the playcalling, which featured short passes. They also gave Stanley plenty of time for intermediate and deep attempts. When we consider that most of the two-deep are redshirt sophomores and younger, the future looks bright.
The running game was excellent as well. Ke'aun Kinner set a career high with 152 rushing yards on just 18 attempts. Taylor Martin was also effective, especially in short yardage situations. He had 83 yards on 17 carries. All told, Kansas rushed for 244 yards on 6.1 yards per carry. Iowa State is the 108th ranked rush defense in the country, but KU looked very good up front.
Bottom line.
This is as good as KU has looked all season against a FBS opponent on offense, without a doubt. The defense still needs work, especially developing depth up front. Carter Stanley can really play as well. However, the Jayhawks have yet to put together a complete game, and won't win until they do.
More from Through the Phog
This article originally appeared on