Know Your Opponent: UCLA Football vs. Washington State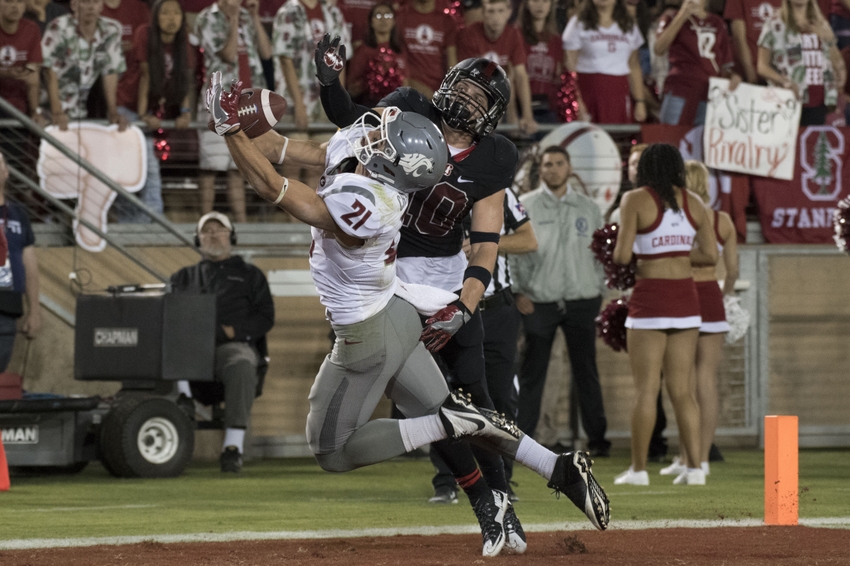 The UCLA Football team heads to the Palouse to take on a Washington State team that is in the hunt to win the Pac-12 North Division. Who knew?
What a wacky Pac-12 world we live in. The UCLA Football team is struggling at the bottom of their Division while Washington State is near the top of theirs. And no, I did not accidentally mix up the teams.
Does that confuse you? It should. Welcome to the Pac-12 Football!
This week we have a game that looked like a possible "W" for UCLA at the beginning of the season, but now looks like it will be a Cougar  mauling. I know, it is weird, but it will make sense in a few minutes.
Anyway, as we start the second half of the season, both UCLA and Washington State are on two different trajectories. UCLA started the season as a favorite to win the South Division and are currently fifth with a 3-3 record after close loses to Texas A&M, Stanford and Arizona State.
Washington State started with another early season loss to FCS program Eastern Washington and near win against Boise State. The eyebrow raising part of this story is their complete dominance over the  that last two Pac-12 Champions in consecutive weeks, beating Oregon 51-33 and the Stanford 42-16.
So that is where we are with both of these teams at point in the season, now let us check in on how both of them match up with each other in this most crucial of Pac-12 battles.
Washington State Offense
Washington State Head Coach Mike Leach has one plan, throw the damn ball. He will run it, but not much. The goal of the Washington State offense is to get the ball down field through the air in a variety of ways. Cougar QB Luke Falk is the next to lead the air attack and so far he is turning heads.
Falk is second in the Pac-12 in passing yards per game with 370.4. He knows his receivers and has great chemistry with them which allows the team to efficiently pick up big yards.
On top of that, he has some pretty athletic recovers to choose from. For example, River Cracraft made a spectacular grab in the 4th quarter against Stanford last week. With the Cardinal defenseman all over him, Cracraft never took his eyes off the ball and had the upper body strength to position himself to catch the ball while falling into the end zone, while pass interference was being committed. It is insane how good these receivers are.
Gabe Marks is another circus performer who has some of the best hands in the Pac-12. He is currently leading the Cougar receivers in yards per game, but not by much. There is a lot of sharing of the ball.
Follow me now… nine players average over 20 receiving yards per game. Five players have long catches of 40 yards or more. Three players average over 58 receiving yards per game. They are not only going to attack UCLA's secondary, they are going to swarm it.
And it gets even better…
In previous years, the Cougars have not had the greatest rushing game (mostly because of the focus on the passing game), but now that Washington State is in a position to dictate the pace of their offense, they are able to implement a solid run game.
This season, Wazzu has 13 rushing touchdowns to 16 passing touchdowns. Balance, anyone?
Just like the passing game, Washington State is spreading the love amongst a committee of running backs. The carries per game are evenly divided amongst Jamaal Morrow (8.6), Gerard Wicks (8.0) and James Williams (7.4). To add, all of them are averaging 4.9 yards per carry or more. PER CARRY!
Then there is the solid offensive line, the great open field blocking and the keep-you-on-your-toes play calling that will basically have the UCLA defense's hands full.
Washington State Defense
There has been a lot of attention to detail with the Washington State offense, and not so much with the defense, which held the Cougars back in Leach's first few season in the Palouse. Last season that changed as Alex Grinch took over as defensive coordinator.
Grinch has embedded a system that is more aggressive and works to his players strengths. Surprisingly, they have become one of the better rush defense teams in the Pac-12. Currently, they are 2nd in conference in rushing yards allowed per game with 116.8. That is going to be a big advantage for WSU against UCLA's run which can only muster 99.2 yards per game.
The Washington State defensive line, is legit. They get into the backfield, disrupt quarterbacks and are generally pains in the arses of offensive lines. Here is an example why… DE Hercules Mata'afa had 10 tackles the last two games. In his assault against Stanford, he had two sacks, one of which was a safety. AGAINST STANFORD! Mata'afa leads the team in sacks (3) and tackles for a loss (8.5).
But let us also talk about a few other key defenseman, like leading tackler LB Payton Pelluer who is active in the open field and is very reactive in helping his teammates. With the defensive line constanly moving, that gives Pelluer and his linebacking crew more time to make plays off the ball. Pelluer leads the team with 32 tackles.
One of his partners in crime, LB Isaac Dotson, has been active in coverage. Aside from having the third most tackles on the team (24), Dotson is second on the defense in interceptions with two on the year.
If UCLA is going to try to win this game, they are going to need to navigate through a swarming defense. It is a good thing they have already been challenged with that by the likes of Texas A&M and Arizona State. But there is also that little problem of who is going to play quarterback for UCLA.
Final Analysis
After what happened last season (and the last two games), UCLA should not underestimate the Cougars. They not only have a well controlled offense, but now their defense has caught up and it is wrecking havoc all over the Pac-12. And guess what? UCLA is next.
Wazzu is going to throw, throw and throw some more. But they will be going up against one of the best secondaries in the conference. Even though the Bruins will challenge the Cougars, they will only slow them down. Washington State have so many weapons and a variety of plays and routes that the Bruins will be tested the entire game.
As for the UCLA offense, well, their success depends on QB Josh Rosen benig able play… and how well he can play. The Cougars do not have a great pass defense but are chopping up lines with their run defense. Seeing as UCLA cannot run the ball, the Bruins are going to have to rely on the pass, but they also have to be aware of the pass rush.
Between both teams, it seems as if Wazzu has the upper hand and unfortunately, it will not end the way UCLA hopes.
Prediction
Washington State 35 – UCLA 31
This article originally appeared on