Evaluating NFL Draft decisions for Manziel, Mariota and more
There are a few things we can count on come the middle of January: New Year's resolutions fall by the wayside; NFL playoff games get absurd ratings; and we are flooded with announcements from college underclassmen declaring intentions in regards to their NFL future.
Immediately following these announcements, judgments reign down, flooding fans with analysis on whether these 20- to 22-year-old men made the "proper" decision. I am here to tell you it's impossible to predict how their careers will turn out, but we do have enough information to evaluate the thought processes that went into making these decisions in the current context of a player's development.
Every player has different reasons for turning pro or returning to school, which include but aren't limited to: finances, draft stock, degree status, outlook for next season in college, football development, college coaching status or relationship, position depth, college schematics, health, maturity, etc. For most players, it's not a no-brainer decision.
With that in mind, let's look at a group of notable players who are staying in college and a group who declared early for the NFL and evaluate their decisions. The main factors I considered were draft stock and football development.
Brett Hundley, QB, UCLA
Verdict: Good Call
Hundley had a marvelous year, but there is still so much for him to learn at the college level. He has a hard time recognizing coverages, which leads to sacks and the ball being held in the pocket for far too long. His athleticism is as good as any QB's in the country and that will remain next season.
He needs to take more snaps from under center, and I would love to see UCLA diversify its protection plan to take some hits off its star QB. Another year for Hundley is only going to help him climb draft boards and develop into the type of QB that NFL execs want.
Marcus Mariota, QB, Oregon
Verdict: Bad Call
This evaluation is based solely on draft stock. Mariota has the size, athleticism and arm strength to be the No. 1 overall pick right now. Any QB coming out of Oregon's offense will have a steep learning curve when it comes to an NFL system, so that shouldn't be a concern at this point.
Mariota struggled with some rare interceptions late in the season, and there are some things he needs to clean up, specifically when he gets traffic at his feet in a crowded pocket. However, that wasn't going to stop the Houston Texans from taking a very serious look at him with the first pick in April.
Oregon was trending in the wrong direction, and Mariota started dealing with some health issues towards the end of the season. There is a good chance that Mariota will not see the rarified air of the No. 1 pick in 2015.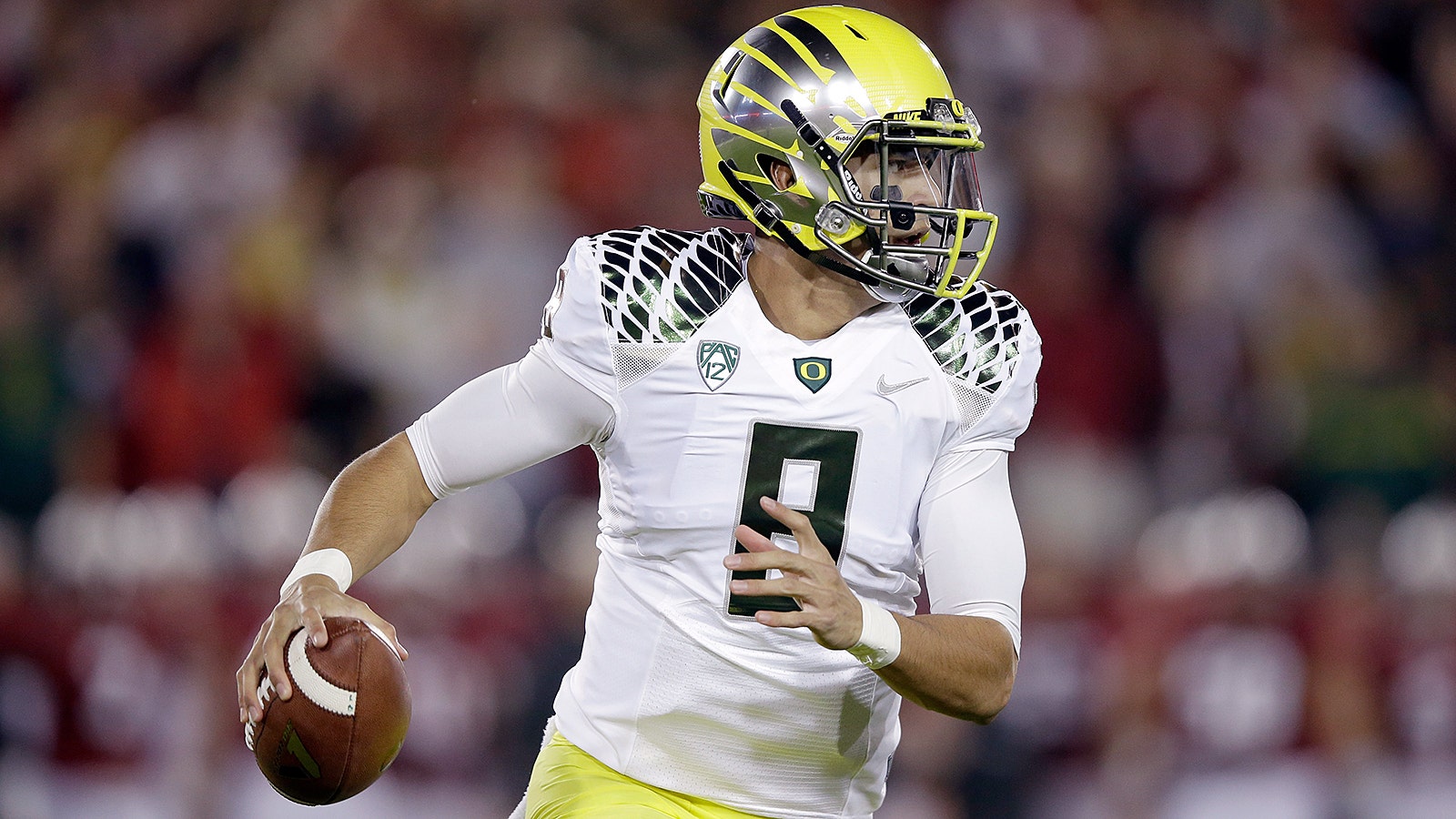 Braxton Miller, QB, Ohio State
Verdict: Good Call
The fact that Miller actually thought about declaring early was somewhat jarring to me. He's nowhere close to ready for making the jump to the NFL. He rarely gets to his third receiver in the progression, and accuracy is an issue. Let's face it: Miller was not even the best passer on his own team, as that title was held by senior backup Kenny Guiton.
Miller has to develop a deeper arsenal in terms of types of throws he can make — more specifically, using touch to beat the second level of the defense. Health has always been an issue, so he also needs to prove that he can remain healthy for an entire season. Utilizing his offensive system and not relying on sheer athletic ability to make plays will help prove his NFL readiness and reduce the risk of injury next season.
Cedric Ogbuehi, OT, Texas A&M
Verdict: Good Call
Rarely do we see an offensive tackle ready to step into the NFL and play well immediately, but Ogbuehi is that good. However, the risk of staying in school is minimal. OT is a position that takes years of reps to perfect, and his stock is likely to keep rising as he develops the pass protection technique that is lacking in all college offensive linemen.
Also, linemen aren't affected as much if their team does not perform at a high level, so Ogbuehi's draft status for 2015 won't be hurt when Texas A&M takes a step backward next fall with the departure of Johnny Manziel and Mike Evans. He has stated he wants to earn his degree, which Ogbuehi will do next year before being a top-tier OT and likely selected in the top 12 picks of the 2015 NFL Draft.
Ameer Abdullah, RB, Nebraska
Verdict: Good Call
When I watched Abdullah on tape, I just got the sense he was not ready for the NFL. He is a very good back and should have a wonderful season next year for Big Red, but he can, and should, improve in almost every area of his game. These areas include vision, patient feet, physicality, pass catching ability and pass protection.
Abdullah could have joined the flood of underclassmen going to the NFL this season, but I fear he would have been lost in the shuffle and could have slipped through the draft completely. There is a good chance with just marginal improvement in every area that he will be a middle- to higher-round selection next year, so this choice was easy, and he nailed it.
Johnny Manziel, QB, Texas A&M
Verdict: Good Call
Surviving one offseason as the starting QB in College Station was hard enough for Johnny Football! His stock is extremely high, franchises like the Oakland Raiders and Jacksonville Jaguars are in desperate need of his star power and being exposed to more hits in the SEC is completely unnecessary.
My only hang-up on Manziel is the same issue I have with every athletic/mobile QB making the jump to the next level, which is the fact they have never had to rely on their knowledge of the offensive system to get them out of trouble. At some point during every NFL game, the QB is required to make a play and control the opposing defense from the pocket. Quarterbacks who have relied too heavily on their feet to run out of trouble get stuck against sound athletic defenses in the NFL.
Manziel has gotten much better from the pocket this season, and this growth suggests he will be able to continue to develop in the right situation. The last time we saw this amount of fame enter the NFL Draft it came in the form of Tim Tebow, but I believe Manziel is a better QB and should have an easier time making the adjustment to the pro level.
Marquise Lee, WR, USC
Verdict: Good Call
There is nothing left for Lee to do in college, and his development is as far along as any WR in the draft, mainly because he is coming out of a pro-style offense. His learning curve will not be nearly as steep as other receivers making the jump to the NFL. Injuries started to become an issue, and Lee is not one to shy away from contact, so the quicker he can start earning paychecks the better.
Like most college WRs, he has some things to clean up technically in his route running and defensive recognition, but he is the most natural and instinctive receiver in the draft. Concentration can be an issue on simple catches, causing drops, but he has shown a tremendous work ethic and competitive streak since his high school days, which leads me to believe he will continue to work on his craft.
Lee's not quite the home run hitter that Clemson's Sammy Watkins is, but he is a pass catching machine and has worked all over the field including the slot, which has become an important spot for every offense in the league. I wouldn't be surprised to see a few 100-catch seasons in his NFL future.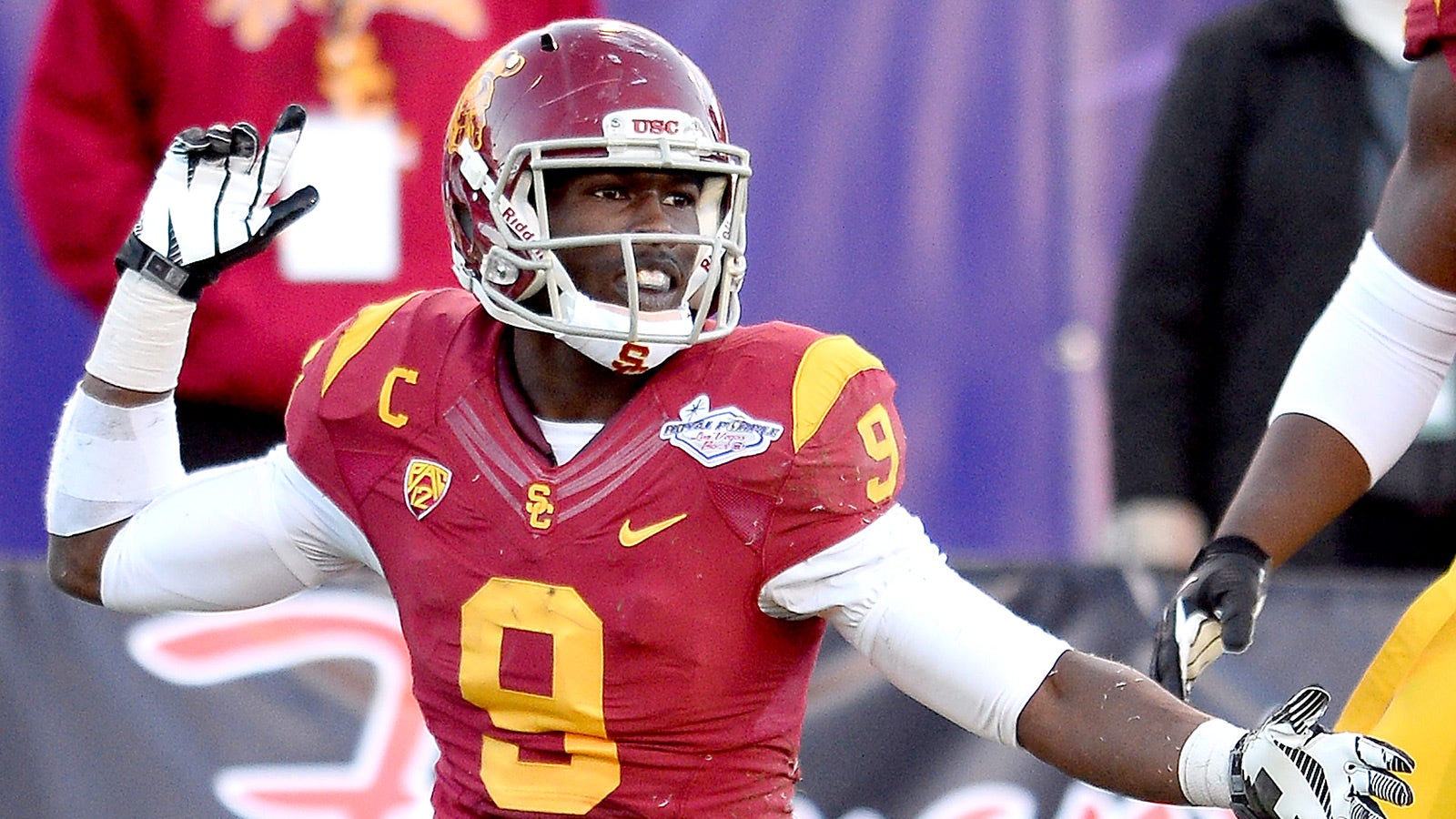 Jeremy Hill, RB, LSU
Verdict: Good Call
Hill is a freight train running the ball and finishes his runs behind his pads falling forward. There are some things he will have to clean up, but I think with the right coaching situation that can happen very quickly. First, his aggressiveness doesn't allow for the patience needed to be a quality zone-scheme runner. The biggest key is pressing the front side of the zone and allowing for a potential cut-back lane, but Hill routinely runs himself out of that possibility.
When the offensive line gives him an opening, he takes advantage as well as any back in the draft, and his downhill style allows him to run with authority once in the second level. His numbers reflect the aggressive nature with which he runs, averaging more than eight yards per carry in the first quarter. Hill showed a solid burst in open space and has the ability to hit home runs, which is rare for a back as physical as he is.
If he can develop a better sense and patience while maintaining his aggressiveness, he will have a lot of success. He has a tendency to lunge in pass protection, but most backs in college have that flaw and it should be a quick fix. Now, there are going to be questions in regards to his off-field issues from last year, but that would have been as true in 2015 as it is now.
James Wilder Jr., RB, Florida State
Verdict: Bad Call
Draft position for running backs in today's NFL doesn't seem to matter. Every year we see players taken late in the draft go on to make huge contributions to their teams. Save for a select group of NFL RBs, the feature back is a thing of the past, which leads to more reps for younger players; therefore more younger and late-round RBs have an opportunity to impact the game.
All of this would lead me to believe that the sooner a RB can get to the league the better. However, Wilder Jr. has some glaring weaknesses that have to be corrected before he can get a legitimate shot in the NFL.
Pass protection is an area he has to become much better in, and he doesn't create his own space when there is none created by the offensive line. This is called "getting skinny," and Wilder Jr. hasn't perfected it. Another year of development and growth would benefit him greatly in the eyes of NFL scouts.
Kelvin Benjamin, WR, Florida State
Verdict: Bad Call
Physically he is everything NFL teams want in a receiver — big and physical with the un-coachable ability to elevate and win the jump ball in traffic, just like he did to win the BCS National Championship Game against Auburn. However, he is extremely raw and lacks the discipline to run consistent routes.
Every QB is relying on his WRs to produce a picture in terms of spacing against zone defense and create separation (win) against man defense, but Benjamin doesn't do either consistently. Most shrewd NFL organizations will evaluate this position based on two criteria: can you get open and can you catch the ball.
As we saw in the BCS title game, Benjamin does not catch the ball consistently and can lose his way in space. If he would have returned to FSU and developed these weaknesses into strengths, he could have been a top 7-9 pick in the 2015 NFL Draft. As it stands now, a team will need to reach on Benjamin if he is selected before No. 28.
Greg Robinson, OT, Auburn
Verdict: Bad Call
Experience and repetitions are the name of the game at the offensive tackle position. We know Robinson is a quality run blocker and possesses high levels of strength and physicality at the point of attack, but there are huge questions regarding his ability to protect the passer at the next level.
It is very hard to evaluate Robinson from a pass blocking perspective, because Auburn rarely called a traditional drop-back pass this season. The Tigers were constantly in run-action pass, moving Nick Marshall out of the pocket, or play-action pass, allowing the offensive line to come off the ball and strike the defender before getting into a pass set. While normal protection schemes are used in the play-action game, the technique is far different from being on the edge trying to get a pass set against a quality pass rusher.
Robinson needed more time in college to work on the mental side of the game and get more reps in straight pass protection. This will be a common theme when scouts evaluate him in the coming months.
Joel Klatt is a college football and NFL analyst for FOX Sports 1, appearing regularly on various studio shows. He played quarterback at Colorado and can be found on Twitter at @JoelKlatt.