Kirby gets his first signature win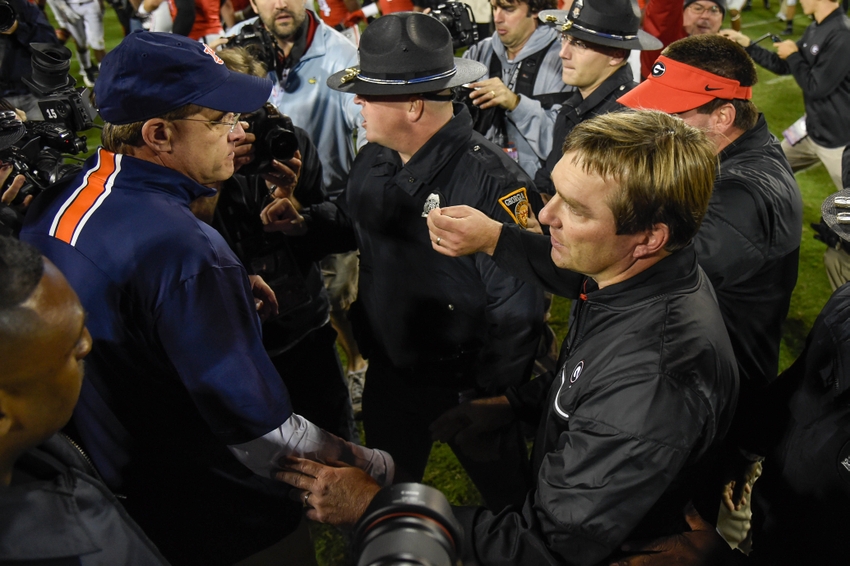 After a gut-wrenching 13-7 win in The Deep South's Oldest Rivalry, Kirby Smart finally gets the signature win he and the Georgia fan base have been looking for. 
Auburn came into the game with the SEC's top ranked offense, averaging 494.1 yards per game and the SEC's top ranked rushing attack, averaging 299.8 rushing yards per game.
That all ended when it ran into the brick wall that was the Georgia defense on Saturday afternoon.
After putting together a 15-play, 80-yard touchdown drive to take a 7-0 lead in the first quarter, the Tigers' offense was shut down the rest of the game, which might be an understatement.
On their final nine drives of the game, Auburn managed just three first downs. In the second half, the Tigers ran 22 plays for 32 yards and zero first downs. Zero.
The Dawgs held Auburn to seven points in the game, which is tied for the fewest since Gus Malzahn took over on the plains. The last time the Tigers were held to 7 points? That would be the last time they visited Athens in 2014 when Georgia delivered a 34-7 beat down.
Georgia now boasts the SEC's third ranked defense (11th in the nation), allowing 308.1 yards per game. And they also have the SEC's fourth ranked run defense at 119.1 yards per game, which ranks 21st in the nation.
The Dawgs have had a few exciting wins this season. Overcoming a second half deficit to North Carolina showed resilience, the last-minute road wins over Missouri and Kentucky showed heart, but this is the one the Bulldog Nation has been waiting for.
Kirby Smart was brought in to change the culture in Athens. He was brought in to turn Georgia into the defensive juggernaut that they once were. And while they may not be there yet, shutting down the conference's best offense in such dominating fashion shows that this team is starting to take on the personality of their first-year head coach.
More from Dawn of the Dawg
This article originally appeared on