Khalil Tate's stellar college debut did not surprise Zona Zealots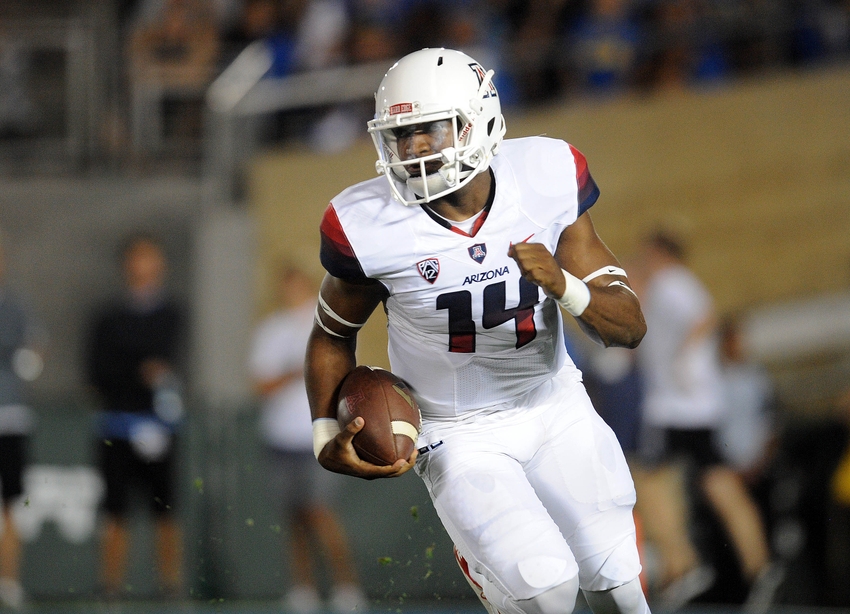 Zona Zealots predicted that when Khalil Tate would debut as an Arizona Football quarterback, his performance garner praise and create excitement.
Khalil Tate's redshirt is now burned, and there were a lot of mixed feelings about the decision to play Tate against UCLA. Coach Rod did not take this decision lightly, and not all fans agreed with him, but he wants to win each game and never gives up. Enter true freshman 17-year-old quarterback Khalil Tate who was ready to go the day he stepped foot on Arizona's campus.
All in all, it was a glorious way to start his college career, trending on Twitter and dropping the jaws of those who have never heard of him or knew or thought he was capable of achieving. That includes Rich Rod.
Fans and media alike were surprised at his composure and talent, but not Zona Zealots writers, we were not at all surprised, we predicted it.
Late last week we had just published a piece named "Arizona Football: The life of a true freshman ain't easy, especially for a Quarterback." The closing sentences in that  article explained our sentiment going into the UCLA game, "BearDown true Freshman, your time will come, and it will be glorious, patience is a virtue as they say. It will all be worth it!"
Well, Khalil Tate only had a day or two more to be patient, even though he didn't know it.
Tate's name was called in the second half of the UCLA game, despite many assuming it was Brandon Dawkins who had come back in to try to play again.
IMG's Brian Jeffries fell into the same boat and had announced Dawkins' return. Lamont and I had to correct him, with our eyes wide open. Everyone looked on with bated breath, except for Jeffries and the ESPN announcers who had to explain to fans what was going on.
UCLA Defensive Coordinator Tom Bradley was also surprised and impressed by Tate's ability:
I was beaming, couldn't wipe the smile off of my face. The same player I had followed for over a year and a half in high school and couldn't wait to watch play his next game was stepping onto the Rosebowl's football field, just 25 miles from where he grew up. It was like it was scripted.
Both broadcasters were impressed with Tate's poise, calmness, and overall skill.
Khalil Tate's Poise
Khalil Tate played quarterback for Serra HS in Gardena, California, making varsity in his sophomore year.
While in Southern California, Tate had played multiple sports growing up, all of which helped him become the quarterback he is today. He had played baseball and basketball but learned the most from his days on the hardwood.
Having played in the Southern Section of the CIF (California Interscholastic Federation), also called the PAC-5.
In the Southern Section are the two best leagues; Mission League (schools included are private schools such as Serra, Chaminade, Loyola, and Notre Dame) and the Trinity League (schools including St John Bosco, which is one of the top ten in the nation, etc.).
Here's a little flashback to Khalil running a long TD against Pac-5 powerhouse, Mater Dei HS. Not many players can make plays like this, let alone against Mater Dei:
For the CIF playoffs the last few years, the league's have crossed. That's how Serra and Corona Centennial (J.J. Taylor's alma mater) played one another.
Serra-Gardena HS Football's legacy includes some UCLA and USC current players including; Trojan Adoree Jackson and Bruin WR Brandon Burton who had an offer from Arizona.
However, Tate decided not to stay local. He was convinced by Coach Rod to come to Arizona to further his career as a quarterback. Rodriguez promised Tate he could play quarterback for the Wildcats, despite the numerous offers from other schools recruiting him as an athlete. Otherwise, Tate may have landed anywhere but Tucson.
Tate had quarterback offers from USC, Oregon State, Cal and more and athlete offers from Utah and UCLA.
During his sophomore season in high school, he spent most of his time playing 7-on-7 football:
What drives me as an athlete is my youth football experience (over 10,000 passing and 3,000 rushing yards as a QB) playing for the Inglewood Jr. All-American Football League. This football league has a big legacy, and the bar to succeed was set very high because of our famous alumni.

A lot of our alumni [from Serra HS] currently play professional football and basketball: Marcellus Wiley – Sports Nation, Curtis Conway – ESPN/PAC-12 Network, DeSean Jackson – Washington Redskins, Orlando Scandrick – Dallas Cowboys, Paul Pierce – Washington Wizards, Trevor Ariza – Houston Rockets, Marqise Lee – Jacksonville Jaguars, and Byron Scott – LA Lakers Head Coach and the list goes on. Khalil Tate's Skill
In his senior year, Tate accumulated a total of 4,166 yards, totaling 43 touchdowns, and that was against highly competitive teams in the Southern Section, which includes 598 schools. So out of almost 600 schools, Tate earned HS All-American honors three times while he played in the prestigious PAC-5.
Playing in So Cal's Pac-5, the level of competition is extremely important in preparing QBs to be able to play D1 college level football. UCLA's quarterback Josh Rosen, who has folks in the media raving, also played in the Southern Section out of St. John Bosco.
That's the difference.
Since he played basketball at the AAU level, he was a great point guard, so he utilizes his ability to see down the court while he's pushing the ball. That transferred well to him becoming a great QB. Regardless if he is in the pocket or scrambling to extend a play, he is always looking downfield!
All of his sports experiences throughout the years have certainly aided him in playing QB. It also doesn't hurt that Khalil is ambidextrous. His love for the sport clearly shows, and his competitive spirit makes him the great player that he is.
Take in these highlights from last season's game against fellow Wildcats teammate WR Devaughn Cooper. Tate scored six touchdowns and Cooper four.
Fun fact, Khalil attributes his passing skills to his grandmother, who taught him how to throw a football. You read that correctly. Next time you are in the stands with his Uma, you can thank her for those sweet bombs, especially like the ones you saw him toss into the arms of Wildcats wide receivers during the UCLA game.
Khalil was named Rivals No. 4 QB in the nation for 2015 and was also  named Eric Sondheimer's 2015 quarterback of the year.
Sondheimer is a 40-year Los Angeles Times sports reporter and during  the UCLA game kept himself busy by singing Tate's praises in Tweets:
Tate was also named First-team 2015 American Family Insurance, ALL-USA California Football Team.
His list and accolades go on.
Passing
Tate went five for nine for 72 yards and two TD's; a 31-yard TD to Shun Brown for Browns 2nd TD and a 13-yard TD to Jr. Cam Denson his first offensive TD.
Tate had folks concerned about his passing skills coming into college because of his reported High School play stats. Take it from us, the dropped passes were not always Khalil's fault.
Frequently, he placed the ball perfectly, and his receivers dropped the passes at least 50 percent of the time. Because of this, Tate was forced to run the ball sometimes, in order to win games.
In the Rosebowl this past weekend, Tate was living his dream! He visualized becoming a college quarterback and playing when he was 17. This is why he graduated high school a semester early, to get to Tucson and compete in Spring Practice. He wanted to be ready to go. Look at this beautiful pass to Shun Brown (his second of the season) against UCLA care of ESPN:

At Open Practice before the season, Tate threw the longest pass of all of the QB's who competed (Note: Anu was resting an injury and wasn't able to compete), his pass went 72 yards!
Here's what he looked like in a few key plays in college which closely resemble his high school style care of KVOA's Ari Alexander.
Rushing
Tate averaged 5.3 yards per carry, ending up accumulating the most rushing yards on the Wildcats, totaling 79 yards on 15 carries.
Let's just put this out there; Tate can run. Sometimes, since he prefers to run, he is cautioned by coaches to be patient.
We saw Khalil escape so many tackles in High School that it spun our heads around. Against UCLA, Khalil was able to elude defenders, slipping through the Bruins' defense with ease at times. He only played for less than one half and ended up at the top of the stack of running backs.
Khalil also showed off his power, and willingness for contact, bowling over defenders. Twitter reacted accordingly:
Second on the list was TJ or Tyrell Johnson who came in totaling 77 yards on 16 carries.
Note: 17 out of 24 points scored were made when Tate was playing
Future Arizona QB's, Class of 2017
Some fans are really looking forward to Braxton Burmeister to come to Tucson next season and rightly so, he is an exciting athlete. Burmeister may need some more time to start at quarterback than Tate if you take into consideration the difference in competition he plays against. Although his stats are impressive, he plays for La Jolla Country Day HS in the CIF San Diego Section which has 98 teams. The competition he plays against is not necessarily the same caliber as the Southern Section.
That said, Arizona will need to fill up the depth chart for the quarterback position, and Burmeister should fit right in. You can add to the list Rhett Rodriguez, Coach Rod's son.
Also excited to play for Arizona is Local Quarterback (mostly listed as an athlete on recruiting boards across the internet) Drew Dixon. Dixon is said to be practicing to play wide receiver at Arizona, but if Coach Rod ever found himself in a bind, Dixon could be a possible emergency QB.
Coach Rod is going to be asked a million questions this week about the two things he despises talking about, starting quarterbacks and injuries. Can you blame him? It's going to be both interesting and excruciating. Rodriguez started the week with humor, especially when it came to the special team's play, so that's positive.
Dawkins, Tate or Solomon are all worthy QB candidates when healthy and playing with no fear and not injured. Let the quarterback controversy continue!
This article originally appeared on