Key points from Kevin Wilson's media talk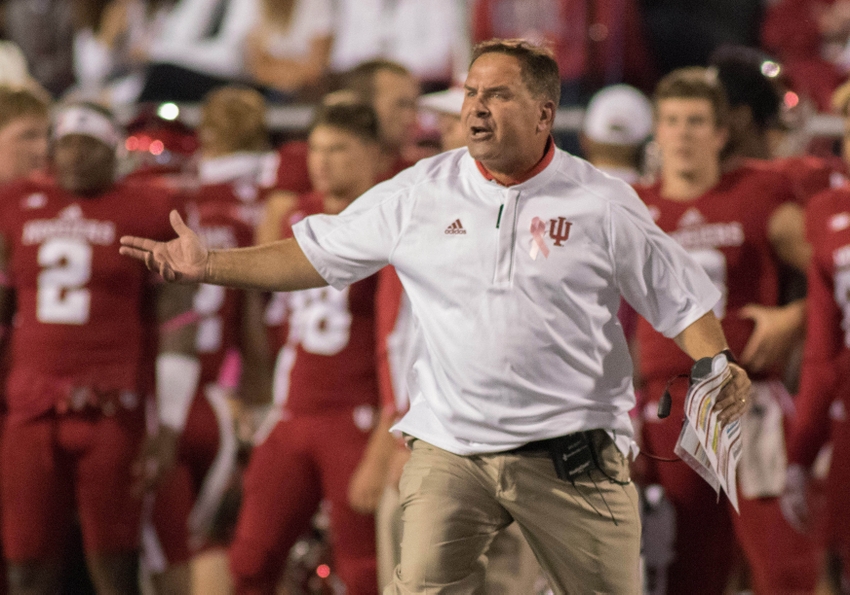 Kevin Wilson talked to the media Monday to go over some of his key points from the Ohio State loss this past weekend, as well as his thoughts for the upcoming contest versus Nebraska on Saturday.
You can watch the whole video here.
He started by mentioning his top players,
Defense: A'Shon Riggins
His 3 tackles, a pass breakup, and an interception on the first start of his career was enough to earn defensive player of the game recognition from his coach.
Offense: No one
May be a little harsh, but he has a point. No one on offense stepped up and made big plays, leaving the defense with way too much to do against one of the top offenses in the country. Like he said, they played hard, but need to do a better job.
Special Teams: Joseph Gedeon
It's not often that punters get mentioned in post-game talks, but Wilson wanted to give the kid credit for sticking OSU with their backs against the goal line. Since the start of the season, opponents have had to take 11 snaps from inside their one 5 yard line.
***
Wilson kept it real. After praising Ohio State for the football juggernauts that they are, he talked about when you play a program like them, your margins of error are much smaller. What he was referring to were the interception from inside their own ten, and the kickoff return that set up JT Barrett and Ohio State's offense for a quick score. Essentially gifting them 14 points is hard to come back from. Especially when you can't punch it in twice from the 2 yard line.
He went on to talk about how this was the first time Richard Lagow really played quarterback. Not that he hasn't been performing, but this is the first time he has experienced a crowd and atmosphere like Ohio State's. And he was right, Lagow did look shaky. His numbers weren't atrocious, but he can certainly play better.
Nebraska
After sending his thoughts and prayers to all of the victims of the hurricane, he talked about how incoming Nebraska will be in the top 10 when the polls come out. Now facing 2 top 10 teams in a row, Indiana will have their hands full. Luckily for them, Nebraska poses the same kinds of threats that Ohio State did. They have multiple effective runners, including their quarterback, who is also a lethal passer.
He followed with another remark about attendance at the football games. Although he did say the crowd against Michigan State was great, he wished the stadium would have been full. His frustration isn't surprising. He is in the middle of trying to revive a program that faces a lot of the nation's top teams, and he needs all the help he can get. Like he said, the football program is getting better, and he shouldn't have to constantly remind people to come to the game.
That about wrapped up everything he had to say, and then took questions for the remainder of the press conference.
I always enjoy watching these talks because Wilson does a great job of evaluating the game, as well as communicating it to the media. He gives backhanded compliments, takes shots at his own players, and recognizes great performances when he sees them.
More from Hoosier State of Mind
This article originally appeared on