Key Big Ten Games Week 11: Effect on the Conference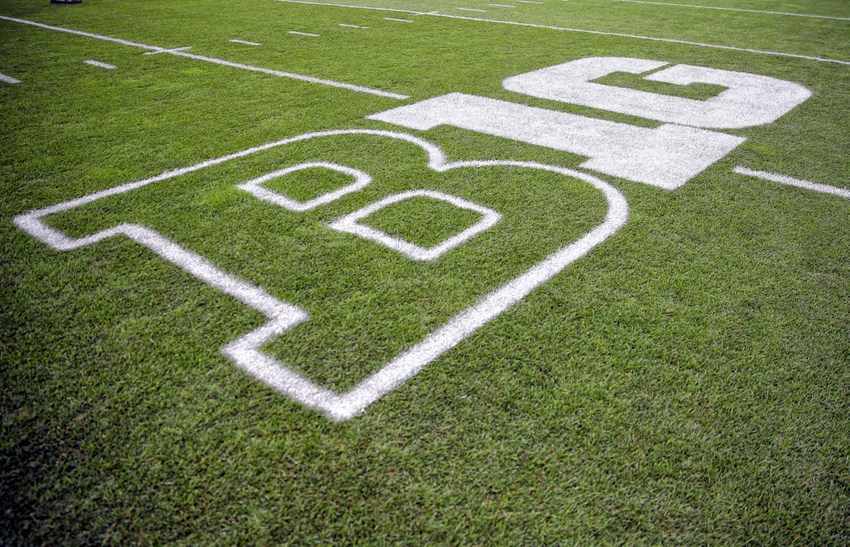 The Recaps of the important Big Ten match-ups in week 11 are here.
This Saturday there were three Big Ten games of interest. A much improved Penn State team went into Bloomington, Indiana to try to put away the Hoosiers. Then in the mid-day game, a much improved Ohio State traveled to College Park, Maryland to put a whipping on the Terrapins
The primetime match-up showcased an 9-0 Michigan team that went on the road to Iowa City, Iowa to continue their push to the CFP (College Football Playoffs) but fell short of the Hawkeyes in a stunner.
Big Ten Game #1:
Final: Penn State 45   Indiana 31
The Penn State Nittany Lions went on the road to notch their sixth straight win (all in the conference) versus the defensively strong Indiana Hoosiers.
In a game that was close throughout, the Hoosiers played very well and let an upset slip through their fingers late in the 4th quarter. With 3:58 left, Penn State sophomore running back Saquon Barkley rumbled into the end zone to regain the lead.
"I am really proud of our guys, I would describe it as gutsy and resilient. Penn State head coach James Franklin said, Nobody panicked. I am proud of our defense."
He spoke of his team's effort and the defense holding tough in the fourth quarter. The Nittany Lions gave up just seven points in the 4th quarter.
On the other sideline, Indiana head coach Kevin Wilson had some criticism for his own team, "Our football team didn't play as well as a group today. Penn State was very solid. They got after us and did a great job."
Penn State quarterback Trace McSorley completed 16 of 30 passes for 332 yards and two touchdowns, while Barkley managed 60 yards and two touchdowns on 33 carries.
It was a back and forth game that kept the Nittany Lions on the edge of their seat. But in the end they managed to put away the Hoosiers and stay near the top of the Big Ten East.
Penn State travels to Piscataway, New Jersey to take on the Rutgers Scarlet Knights next Saturday at 8:00 EST.
Big Ten Game #2:
Final: Ohio State 62   Maryland 3
The Maryland Terrapins hosted the Ohio State Buckeyes in College Park, MD in a mid-day match-up that was an important step for head coach Urban Meyer. It proved that last week's 62-3 beat down of Nebraska was not a fluke. The Buckeyes matched that game with another 62-3 beat down of Indiana.
J.T. Barrett proved to the masses that he still has the touch, as he went 18/23 for 253 yards, two passing touchdowns and two touchdowns on the ground. H-back Curtis Samuel had a big game as well. Samuel ran for 38 yards and caught five passes for 74 yards and three touchdowns.
Freshman running back Mike Weber ran 12 times for 93 yards as the Buckeyes offense put up 581 yards on their way to their 9th victory.
One big takeaway from this game is how Ohio State has turned around their first possession woes and have consistently scored a touchdown in the last three games. You can almost see Ohio State becoming the team they were to start the season.
The nation has to pay close attention now, as the Buckeyes appear to be the most dangerous team behind Alabama, firing on all cylinders at the right time of the season.
Ohio State will travel to Michigan State for their final tune-up before their final game of the season against Michigan at home, which will be like a post-season game.
Big Ten Game #3:
Final: Iowa 14   Michigan 13
The Michigan Wolverines traveled to Iowa City, Iowa to battle the Iowa Hawkeyes.
The Hawkeyes played very tough, making this an ugly but joyful victory against the No.3 ranked Wolverines on a walk off field goal.
More from Scarlet and Game
The Wolverines looked a bit out of sorts, having trouble stopping the run on defense. This is the first we've seen of this on the season.  Michigan head coach Jim Harbaugh had no answer for the Iowa running game.  They ran 48 times for 166 yards (3.45 yards per carry). While that is not a recipe for success on most nights, what it did do is control time of possession. The Hawkeyes controlled the clock using 32:45 versus 27:15.
Iowa head coach Kirk Ferentz masterfully led his team. They held the Wolverines to just 98 yards rushing on 35 carries (2.8 yards per carry). It was the story of the game. Michigan struggled against a good defense, and scored just 13 points (just 201 total yards). This is much like the 14 points they scored against the Wisconsin defense. It has the nation thinking that the meeting with Ohio State on Nov. 26th will be another grind-out game.
Freshman Keith Duncan kicked a 33-yard field goal as time expired and Iowa stunned No.3 ranked Michigan 14-13 on Saturday night, damaging the Wolverines' playoff hopes.
Michigan faces another strong defense as they host the Indiana Hoosiers next Saturday at 3:30 EST.
This article originally appeared on