Kentucky Football: Wildcats November Woes Continue Under Stoops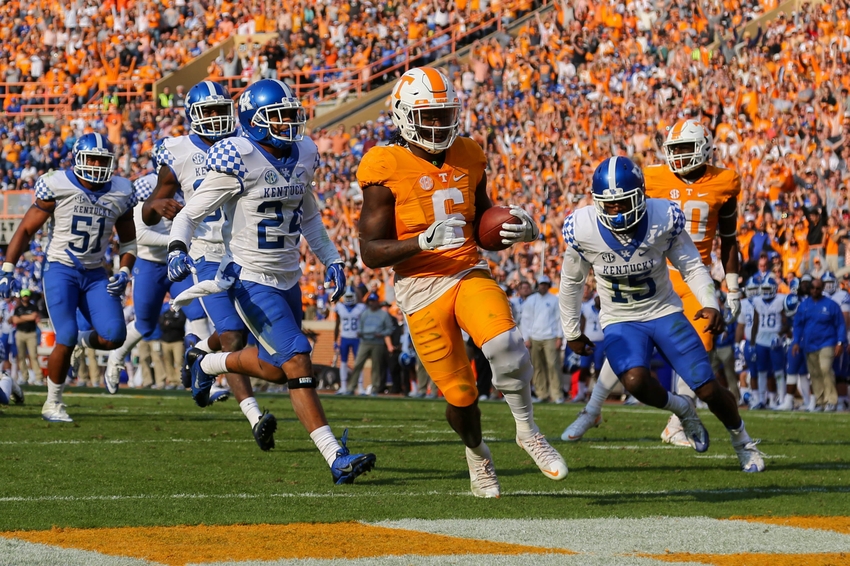 Kentucky football has made some strides under Mark Stoops since 2013 , but not during the month of November.

36

49
It's hard to believe just a few short weeks ago we were talking about the Kentucky Wildcats possibly being in contention to win the SEC East and head to their first ever SEC championship game.
The table seemed set, the Cats were even getting some needed help from other teams in the conference, and the excitement in Lexington was in a place it hadn't been in quite some time.
Then, the inevitable happened. It's called…November.
Since 2013, including this season and today's loss to Tennessee, the Wildcats are 2-13 overall during the month of November, and 0-11 against SEC opponents.
It might be crazy to say, but it's going to be awfully hard to find yourself in Atlanta when December rolls around if you can't win during the month of November.
Stoops Points to Lack of "Edge" in Loss to Georgia
Today's game was more of the same frustration for Kentucky fans. The Wildcats actually dominated most phases of the game against Tennessee, but squandered red zone opportunities and turnovers once again doomed what could have been a huge Kentucky win.
During the first five trips to the red zone, the Wildcats came up with only 16 points – one touchdown and three field goals – and a fumble as the Kentucky offense was nearing the goal line.
Kentucky ended up winning the battles for total yardage, 635 to 599; time of possession, 35:21 to 24:39, and rushing yards 443 to 376, yet still came up on the short end of the score. In fact, FBS teams were 30-0 this season when rushing for over 400 yards (or they were until today).
Two costly turnovers and some untimely penalties made all the difference.
If this team could get out of their own way they'd actually win a few games here and there.
The infuriating part of watching this team is that fundamentals are costing the Cats too many games. Weak tackling, sloppy ball handling, bad routes and poor decisions do not make for good football teams. There has to be some work done on making sure the basic fundamental parts of the game are being coached and executed correctly.
So now the talk has resumed to the all-too-familiar "bowl eligible" chatter for the Wildcats instead of fantasies of the Big Blue Nation inside the Georgia Dome.
The good news is that Kentucky will welcome Austin Peay to Commonwealth Stadium next week, all but insuring that a bowl berth will happen this year. Progress, but not as quickly as anticipated.
Want your voice heard? Join the Wildcat Blue Nation team!
After the FCS cupcake is done, the only real joy for Kentucky fans would be to see the Wildcats travel to Louisville and knock the in-state rival Cardinals completely out of playoff contention. Small victories are still victories.
More from Wildcat Blue Nation
This article originally appeared on