Kentucky Football: This Is The Stephen Johnson Show Now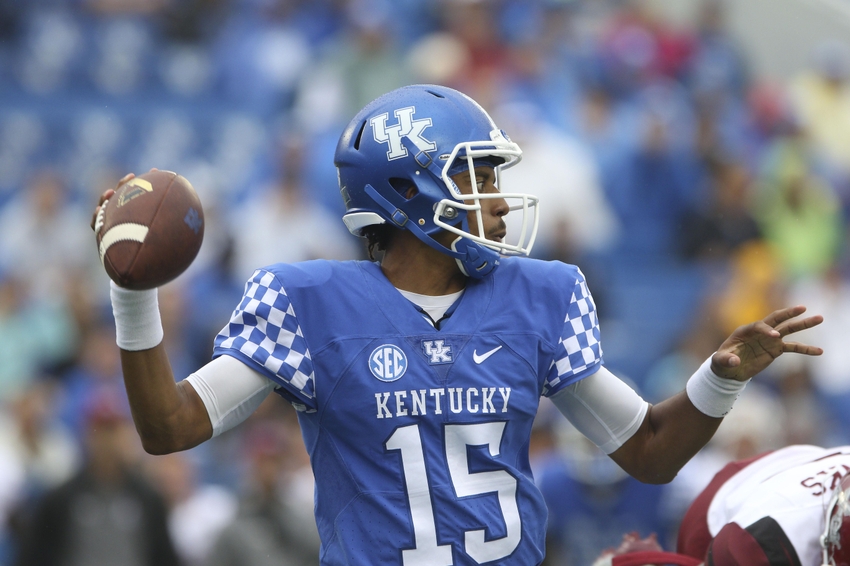 If the Kentucky football program has any hope of turning this season around, then Stephen Johnson must take over as the starting quarterback.
---
The window of opportunity hasn't closed for Kentucky football quarterback Drew Barker. It's entirely possible that Barker will turn things around and become the star gunslinger that Kentucky had pegged him to be.
For the time being, however, the Kentucky Wildcats must become the Stephen Johnson show.
It's become abundantly clear that Kentucky's run defense is going to struggle throughout the 2016 campaign. It's allowed at least 200 rushing yards in three consecutive seasons.
Having acquired that knowledge after three consecutive weeks of abysmal defense, it's time for the offense to gain some firepower.
Barker has the potential to be the long-term answer, but Johnson has just as much potential. He's a junior dual-threat quarterback who can make plays with his arm and extend plays with his legs.
Considering Barker has led the Wildcats to a grand total of zero points since the first half of the Southern Miss game, it's safe to say he's not yet prepared for that role.
Johnson is relishing the opportunity to do so.
Johnson was solid, albeit unspectacular, against the Florida Gators in Week 2. He completed a 45-yard pass, however, and picked up another nine yards on the ground.
After Barker started the game against the New Mexico State Aggies with an interception, Johnson came on to flash his potential and present day ability.
Johnson emerged from the 62-42 shootout victory over the New Mexico State Aggies as a star on the rise. He completed 17 of 22 pass attempts for 310 yards and three touchdowns, and picked up 51 yards on 10 rushing attempts.
With the weight of a potential 0-3 start on his shoulders, Johnson led Kentucky to its first win of the season.
With Kentucky trailing 14-7, Johnson connected with tight end C.J. Conrad for a 72-yard touchdown pass. With UK down 21-14, Johnson found Conrad for a nine-yard touchdown pass.
Even when he wasn't finding the end zone, Johnson was making spectacular plays.
Johnson also found Conrad for a 17-yard touchdown that gave Kentucky its first third quarter points of the season. Conrad, a highly-touted recruit coming out of high school, had a grand total of one reception for five yards with Barker in 2016.
He had five receptions for 133 yards and three touchdowns against New Mexico State.
Johnson continued his string of success during the second half of the clash with the Aggies. He trusted his receivers, made accurate throws, and kept the opposition honest with his ability to escape pressure and pick up yards for a first down.
Though Barker isn't yet out of the picture, Johnson has made Kentucky a team worth believing in again.
Ladies and gentlemen, welcome to the Stephen Johnson show.
This article originally appeared on